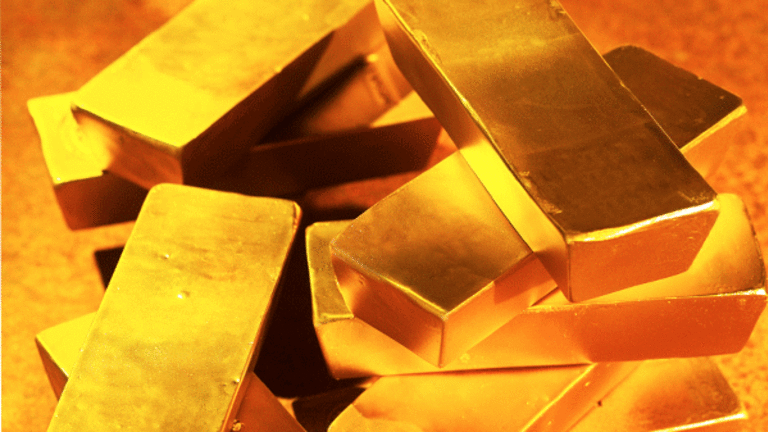 Metals and Mining Sector May Be Shining Again
The precious metals sector may have the momentum and the interest of the investment banking community to run up in the weeks and months ahead.
NEW YORK (TheStreet) -- Things were painful those of us who invested last year in metals stocks such as Barrick Gold (ABX) or Silver Wheaton (SLW) .
But things could be changing. According to market analysts from prominent investment banks including Goldman Sachs, stocks and sectors that performed terribly during a previous year tend to do better in the first quarter of a new year.
Maybe that's why the metals and mining stocks are mainly going up while the rest of the stock market fizzles after the Federal Reserve'slatest decision to reduce its bond-buying program by another $10 billion per month.
This can be seen in the performance this month of two exchange-traded funds, the PowerShares Dynamic Basic Materials ETF (PYZ) - Get Invesco DWA Basic Materials Momentum ETF Report and the Market Vectors Gold Miners ETF (GDX) - Get VanEck Gold Miners ETF Report. PYZ includes some commonly held companies such as Alcoa (AA) - Get Alcoa Corporation Report and Freeport-McMoRan Copper & Gold (FCX) - Get Freeport-McMoRan, Inc. Report.
GDX includes in its top three holdings Barrick Gold (almost 15% of the ETF's holdings), Goldcorp (GG) (almost 13%) and Newmont Mining (NEM) - Get Newmont Corporation Report (over 8% of the fund's holdings). Wednesday, after the Fed's announcement, GDX rallied 2.6% to $24 while the PYZ, which focuses mainly on industrial metals and basic materials, traded up 6 cents to nearly $49. Both ETFs pay a dividend yield that has on average been slightly less than 1%.
Here's a chart of each of the above-mentioned ETFs as evidence that up until today both have moved nicely higher from their 52-week lows. Let's begin with PYZ.
Even if you need reading glasses as I do, you can clearly see how far this sector has soared since June of last year. Also note that PYZ has corrected about 5% from its 52-week high of $51.37 since the beginning of this year. This isn't surprising with all the talk of slowdowns in China, Turkey and the emerging markets.
An article in The Wall Street Journal back on Jan. 11 quoted Thomas Lee, the chief U.S.equity strategist at JPMorgan Securities, who said, "We are bullish on metals and mining". He went on to say that "a lot of bad news is baked in, and it's a group that no one is really paying attention to." Really?

Since those words one part of the metals and mining sector has come alive, although not in a big way. Check out this next chart of GDX and it convincingly illustrates that although the precious metals miners are coming back from the dead, they still have a long way to go to return to levels not seen since March 2013.
It's too early to proclaim that a bottom was put in the last month of 2013, but the first month of 2014 certainly suggests the possibility. To help support that notion, The Wall Street Journal article made reference to "The rally in highly rated metals and mining bonds has been driven by major players such as Barrick Gold, Rio Tinto (RIO) - Get Rio Tinto Plc Report and Teck Resources (TCK) ". This means the credit market is buying the debt offerings of this sector, a most encouraging sign.
Part of the good news with the sector is that many of these companies have faced the belt-tightening realities of lower metals prices in the past year. With a determination to reduce operating costs, leverage and to maintain their credit ratings, the group has taken numerous precautionary measures.
With the possibility looming that big metals consumers like China and Brazil may be facing a prolonged slowing in demand, mining company executives are "becoming more financially conservative, which benefits bondholders at the expense of equity investors," according to Harry Mateer, a credit analyst at Barclays.
But equity investors in companies like Teck Resources, which pays a dividend yield-to-price of 3.43% and Goldcorp, with a dividend yield of 2.43%, are being paid a competitive yield to hang tight and be hopeful.
Those dividends compete nicely with the yield on the 10-year Treasury Bond which, after the Fed's decision on Wednesday, fell to 2.67%, the lowest it's been since last summer. Hmm...on the day that the rest of the market tanks, precious metals stocks rally along with Treasury Bonds.
Treasuries don't have much upside potential from here, especially with the Fed tapering its bond-buying program. On the other hand, the precious metals sector may have the momentum and the long-awaited interest of the investment banking community to keep running up hill in the weeks and months ahead.
In the final analysis, the metals and mining sector may not outperform most stock sectors in 2014 but there's a growing chance it will at least outperform the bond sector.
At the time of publication the author had positions in ABX, SLW, GDX, GG and NEM.

This article represents the opinion of a contributor and not necessarily that of TheStreet or its editorial staff.
Marc Courtenay is the founder and owner of Advanced Investor Technologies, LLC, as well as the publisher and editor of www.ChecktheMarkets.com.
Courtenay holds a Master's of Science degree in Psychology from California Polytechnic State University, and is a former senior vice-president of Investments for two major brokerage firms. He's been a fiercely independent investment "investigator" and a consulting contributor to the investment publishing world for over 30 years. In addition to his role as an investment publisher and analyst, he serves as a marketing consultant to the investment media industries.
In his role as a financial writer and editor, he specializes in unique investment strategies, growth with income stocks, overlooked investment themes, tax-advantaged themes, risk management, technologies to capture gains and reduce losses, real estate related opportunities,effective wealth preservation techniques, and the use of ETFs for diversification and asset allocation. He also follows and frequently writes about technology, health sciences, energy and resource companies. Because of his training and background in Clinical Counseling and Psychology, he enjoys writing about investor behavior, the herd mentality, how to turn investment mistakes into investment breakthroughs and the stock market's behavioral trends and patterns.