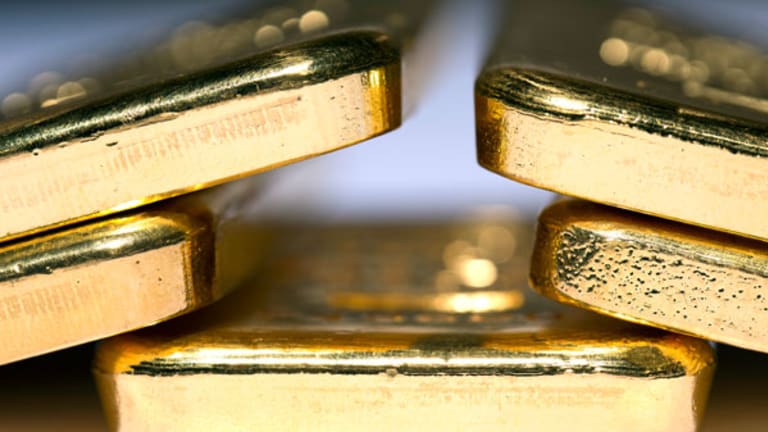 Merk Gold Trust ETF Lowers the Bar for Physical Gold
A new gold ETF makes it easier for investors to convert their shares into physical gold.
A new gold ETF makes it easier for investors to convert their shares into physical gold.
NEW YORK (TheStreet) -- Gold has staged a rebound in 2014, and a new exchange-trade fund offers a fresh twist for investors looking to gain access to the precious metal.
After an epic 12-year bull run, gold slumped 28% in 2013. So far this year, however, it's reversed course, and the largest gold-related ETF is up more than 6%.
Merk Gold Trust (OUNZ) - Get Report is a newly newly available ETF that claims to make it easy for investors to exchange their shares for physical gold. The ETF owns a patent (No. 8,626,641) for the "deliverable commodity investment vehicle."
The ETF holds gold in the form of allocated London Bars, similar to other ETFs. Merk has a proprietary process -- hence the patent -- for converting London Bars into gold coins and bars. This is the big difference for the Merk fund, as its investors need to hold only about 100 shares to exchange their stakes for physical gold. Rival SPDR Gold Shares (GLD) - Get Report requires investors to own 100,000 shares to convert their stakes into physical gold.
With the Merk ETF, delivery of physical gold is done in three easy steps:
Investor files a delivery application
Broker is instructed to submit OUNZ shares to take delivery of gold
Gold is sent to investor
Merk Gold enters the market with an expense ratio of 0.40%. The fund could see strong interest from money managers, as they can convince their clients that the shares can be converted easily into physical gold. 
Fund manager Axel Merk had this to say: "There are many investors that still like the option to take delivery, even if many may never take advantage of this option. We wanted to make sure this option isn't only theoretical."
The biggest ETF in the gold sector is SPDR Gold Shares, which has $32.6 billion of assets under management. An iShares gold ETF traded under the ticker IAU has a lower expense ratio with 0.25% and has $6.9 billion assets under management.
Demand for gold could be picking up. A new report suggests India could increase its demand for gold. Import restrictions might be lifted in the country under a new leader, which could see Indian buyers flocking to the precious commodity.
Other funds run by Merk include: Absolute Return Currency Fund, Asian Currency Fund, Hard Currency Fund, and Enhanced U.S. Equity Fund. This new fund could move Merk up the ladder of prominent ETF families.
Merk Gold began trading on Friday. The ETF has average volume of around 67,000 shares traded. So far, the ETF has attracted minimal inflows, but I believe the fund will be grab new investors with its promise of easy convertibility.
At the time of publication, the author held no positions in any of the stocks mentioned.
This article represents the opinion of a contributor and not necessarily that of TheStreet or its editorial staff.