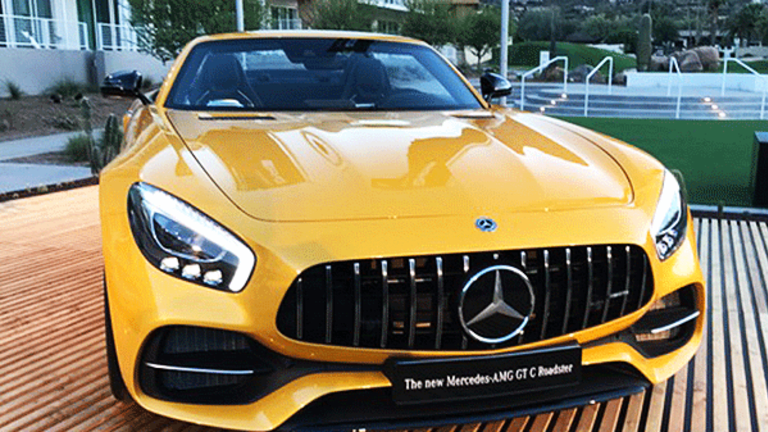 Publish date:
Mercedes' AMG GTC Roadster Epitomizes Its CEO's Challenge to BMW
The German maker of high-end cars turns hipper and more stylish.
The German maker of high-end cars turns hipper and more stylish.
If a single car model epitomizes the image makeover from dowdy to hip that last year vaulted Daimler (DDAIF) to the global leader as a maker of premium automobiles, it could be the Mercedes AMG Roadster GTC.
The firebreathing two-seater generates 557 horsepower and 502 lb-ft of torque, is able to accelerate to 60 mph in 3.7 seconds, with top speed limited to 196 mph. Lowslung, crammed with sophisticated technology such as rear-wheel-steering and styled to convey assertiveness rather than restrained Mercedes elegance, the GTC carries the banner for Mercedes' fashion forward attitude.
The matte gray color treatment -- or, if you dare, the Big Bird yellow -- help to further distinguish the roadster, which also is available as a slightly less powerful (469 horsepower) GT, without the C. Pricing for the U.S. hasn't been announced, though the two models should sell in the $120,000 to $170,000 range.
Credit goes to Dieter Zetsche, Daimler's CEO, who announced five years ago that the automaker intended to jazz up its snooty, white glove approach to luxury, which was better suited to aging dowagers and mature bankers than rock musicians. The idea was to challenge the sportiness of then global sales champ, BMW. Up and down the Mercedes model line, styling indeed got younger, colors grew bolder and variations proliferated, including the ultra-high end AMG performance division.
Sales volume has been helped by Mercedes' determination to explore new niches and create models like the Mercedes-Benz GLA small SUV, priced as low as $32,000 -- territory usually dominated by Hyundai (HYMLF) , General Motors' (GM) - Get Report Chevrolet and Buick and Toyota (TM) - Get Report .
In 2014, Daimler introduced the first in the AMG GT line, the 456-horsepower Mercedes AMG GT coupe. it was the first model since the Mercedes AMG SLS, introduced four years earlier, built and designed by AMG, distinct from other Mercedes models. The idea has been to expand and strengthen the tonier AMG name above Mercedes, much in the same manner as BMW has done successfully with M versions like the BMW M3 and Volkswagen's (VLKAY) Audi S version models.
In terms of power, price and prestige, Mercedes AMG Roadster GTC and the other GTs enter a category occupied by Porsche 911 Turbo, Audi R8, Jaguar F Type SVR, Acura NSX and other exotic sports cars.
"We are strategically expanding the AMG GT family by two exciting variants. AMG GTC Roadster is a variant to which we have transferred main performance-related components from our top sports car, the AMG GT R," said Tobias Moers, chairman of Mercedes-AMG. The AMG GT R is mostly for racing.
In early January, Mercedes-Benz reported 2016 sales of 2.08 million vehicles worldwide, a scant 80,000 ahead of BMW, which had outsold its arch-rival every year since 2005. AMG, a spokesman said this week, had sales of about 100,000 vehicles last year, including AMG versions of other Mercedes-Benz models.
Doron Levin is the host of "In the Driver Seat," broadcast on SiriusXM Insight 121, Saturday at noon, encore Sunday at 9 a.m.
This article is commentary by an independent contributor. At the time of publication, the author held no positions in the stocks mentioned.