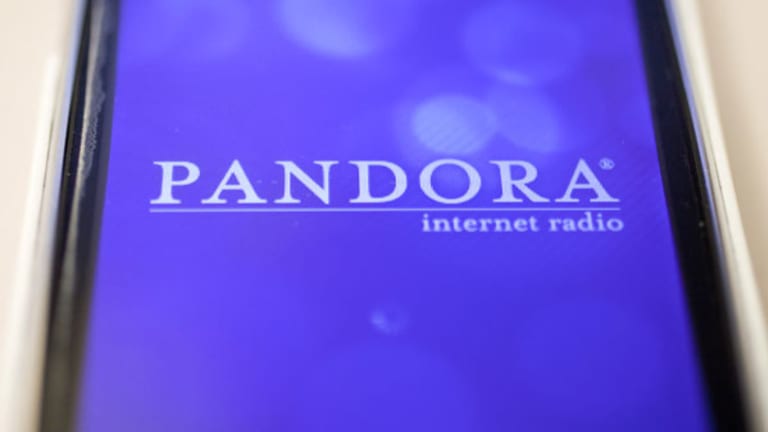 Publish date:
Meme Alert: Apple Will Crush Pandora Like Spotify Has
The Music Genome Project and first-mover advantage matter for Pandora, but <I>focus</I> matters more.
The Music Genome Project and first-mover advantage matter for Pandora, but <I>focus</I> matters more.
NEW YORK (TheStreet) -- Our friends at Mashable just posted a summary of an NPD Group study on radio listening habits.
Here's the set of takeaways:
Young people (13-35 year olds) listen to Internet radio in their cars, not the default option, AM/FM radio; Much of this listening happens via mobile devices (obviously); and

Of the Internet radio services available, the free version of Pandora (P) leads in popularity, with a 39% share of streaming music usage among ages 13 to 35. iHeartRadio comes in distant second with an 11% share, followed by the free version of Spotify (9%) and Grooveshark (2%). No paid music service had greater than 2% share.
These data support Monday's contention that
Pandora's Not Screwed, It's in The Driver's Seat
.
Despite the hype that surrounds
Spotify
, Pandora absolutely blows it away. To be fair, I don't consider the two direct competition, but popular memes claim Spotify has/will/might/could/someday should
crush
Pandora.
As the discovery/personalization pioneer, the major Internet radio player
and
emerging sales alternative for advertisers, Pandora owns first-mover advantage. This matters more in the Web radio space than any other. No matter who you are.
On the relatively low end,
Slacker
continues to make an impressive push aimed squarely at Pandora. It has upgraded its platform, added all sorts of content and gone on the advertising offensive against Pandora. While I admire the company's pluck, it shows a lack of focus. That's the other edge Pandora has that so many bears ignore --
focus
.
Slacker is all over the place content-wise. It's difficult to make sense of what Spotify is any more -- streaming radio? on-demand like iTunes? social music platform? iHeart Radio is little more than a last-ditch attempt by Bob Pittman's
Clear Channel
at something resembling relevancy.
I mean . . . seriously. I get a newsletter via email everyday from RadioInfo.com. They call themselves "The music radio trade publication." The headline from today's edition:
Digital Will Drive Radio's Fortunes
. Really!? Way to be ahead of the curve, but you're still drawing a distinction between "digital" and "radio."
Get out of your bunkers and start blurring the lines that have been clearly blurred to the rest of us for years.
And then there's the possibility of iRadio from
Apple
(AAPL) - Get Report
. Again, the focus problem. As great as Apple is, it's not immune to dinging itself thanks to a lack of focus on making beautiful hardware. There's a long list of support for that statement. In the music realm, just look to
Ping
. And, of course,
iTunes
continues to underwhelm us. When Apple spreads its wings, things sometimes get ugly.
The Music Genome Project and first-mover advantage matter for Pandora, but
focus
represents the difference maker. Big time. Pandora wants little to do with anything else other than being the modern day version of radio -- personalized radio -- and a major advertising platform for clients looking to exit dying terrestrial radio with a fresh multi-platform approach that captures the coveted 18-to-34-year-old demo.
--
Written by Rocco Pendola in Santa Monica, Calif.
Rocco Pendola is
TheStreet's
Director of Social Media. Pendola's daily contributions to
TheStreet
frequently appear on
CNBC
and at various top online properties, such as
Forbes
.