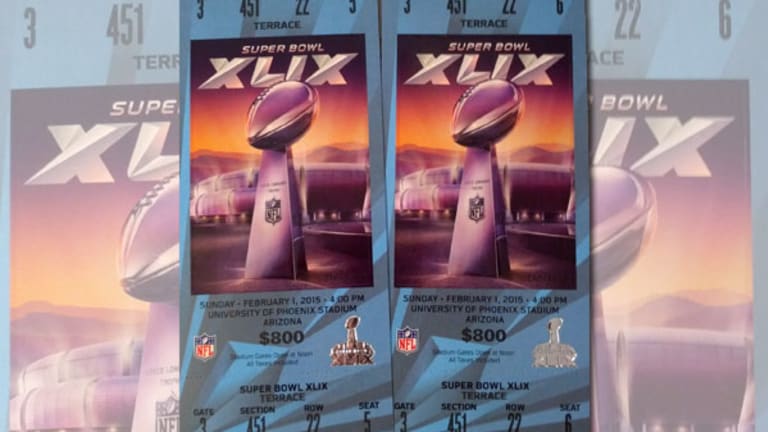 Publish date:
Membership Sites Can Save You Tons of Money When Buying Expensive Event Tickets
An elimination of service fees by Ticket Club could make a big impact on ticket buying.
An elimination of service fees by Ticket Club could make a big impact on ticket buying.
NEW YORK (TheStreet) -- Fees that most ticket resale sites charge can add up to hundreds of dollars a ticket for premium events like the upcoming Super Bowl.
Firms like StubHub, Liquidator and Vivid Seats can charge anywhere from 10% to 20% on the resale cost of a ticket, and when tickets cost $2,500 a piece -- as they often do for an event like the Super Bowl -- that adds up to hundreds of dollars in fees for each ticket. 
Fans can save money on tickets to premium events by signing up for membership ticket sites like Ticket Club, a year-old business from online ticket sales site TicketNetwork. A $49.99 annual membership allows members to buy tickets without paying individual fees. In the case of the Super Bowl, this can mean huge savings. 
The cheapest pair of Super Bowl tickets currently available at Ticket Club is $4,800 ($2,400 per ticket.) If you purchase a Ticket Club premium membership for $49.99, you'd be able to buy two tickets for just $4,849.99.
Meanwhile, the cheapest ticket at StubHub is $2,787, almost $800 more expensive than a purchase through Ticket Club (StubHub shows all-in pricing so that you don't get any surprise fees at checkout). The site is clear that each ticket actually costs just $2,400 and you will need to pay roughly $375 (about 16%) in service fees per ticket. Vivid Seats appears to be a relatively cheaper option, with two tickets available for as little as $4,250 but it charges $450 per ticket in service fees, more than a 20% additional fee. The total purchase would come out to approximately $5,245. At Ticket Liquidator, you'll find a similar type of issue with the cheapest tickets starting at $2,203 per ticket, but the site charges a $550.75 fee, about 25%. That is the highest service charge of any seller in the secondary marketplace. Though the initial price shown is lower than both Ticket Club and Stub Hub, you'd be paying much more.
Ticket Club now has close to 6,000 members with approximately 200 of those coming in the days leading up to the Super Bowl last year, according to the company. Typically there will be a spike when there are events that, like the Super Bowl, have high ticket prices with their associated fees. During the start of One Direction's 2014 tour, Ticket Club saw a big spike in sign-ups. The company recorded another increase in July and August, with the U.S. Open Championship. January has been the biggest sales month in the history of Ticket Club with almost $200,000 in sales, as of January 21st. TicketNetwork, Ticket Club's parent, sells more than $1 billion worth of tickets every year, according to CEO Don Vaccarro. 
This article is commentary by an independent contributor. At the time of publication, the author held no positions in the stocks mentioned.