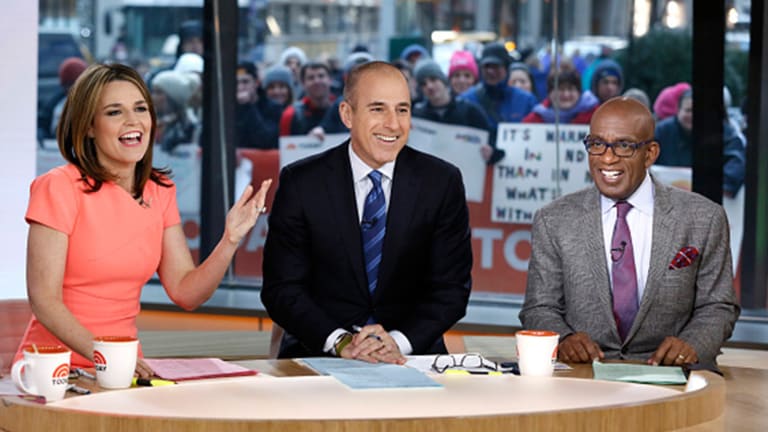 Megyn Kelly Says She'd 'Heard Rumors About Matt' Lauer
Kelly says she's losing track of all the network anchors fired because of sexual harassment.
When Megyn Kelly woke up Wednesday, Nov. 29, she said she hadn't heard anything official about Matt Lauer, the host of NBC's "Today" who was fired following a sexual harassment allegation made by a colleague.
Yet because of her work covering sexual harassment, both at Fox News Channel and at her current position at NBC News, Kelly intimated that she had gotten wind that something was brewing.
"Because of the work I do, and the stories I cover, and the connections I have in the industry, I had a general feeling," Kelly said at Business Insider's Ignition conference. "I'd heard rumors of Matt, but that's all they were, and my feeling on it was that a rumor isn't the same as reportable facts." 
On Wednesday though, NBC, a unit of Comcast Corp. (CMCSA) - Get Free Report , fired Lauer from his job at "Today" after receiving a detailed complaint from a colleague alleging inappropriate sexual behavior. NBC News chairman Andy Lack said Lauer's actions were a "clear violation of our company's standards."
Lack informed employees in a memo about Lauer's dismissal after "Today" anchors Savannah Guthrie and Hoda Kotb told viewers that Lauer had left the company after 20 years as an anchor on the morning talk show.
Lauer's firing comes a week after another morning talk show host, Charlie Rose, was ousted from CBS Corp. (CBS) - Get Free Report after at least eight women told of unwanted sexual advances by the longtime talk show host including nudity, groping and lewd phone calls. PBS and Bloomberg TV, which aired Rose's evening talk show, also cut ties with him.
Kelly did say, "I knew the Charlie Rose thing was coming."
Lauer, 59, and Rose, 75, are the latest in a string of firings in media and entertainment in the wake of the flood of sexual harassment allegations against powerful Hollywood producer Harvey Weinstein that led to his public shaming and removal from the company he founded with his brother that carries his name.
Though the complaint was said to be the first against Lauer, Lack told employees that there was "reason to believe" it may not have been an isolated incident.
"Our highest priority is to create a workplace environment where everyone feels safe and protected, and to ensure that any actions that run counter to our core values are met with consequences, no matter who the offender," Lack said.
For Kelly, Lauer's firing comes after she spoke to executives and outside lawyers hired by Twenty-First Century Fox Inc. (FOXA) - Get Free Report to investigate sexual harassment allegations against Roger Ailes, the former Fox News chairman, who was fired from the company in July 2016. 
"I had no inside knowledge at all," Kelly said. "But I knew people were sniffing around the issue, and I hoped it wasn't true, and wouldn't have been surprised if none of that had materialized and he'd had a long and enjoyable last many years he wanted to be at the 'Today' show."
Kelly said it also marked yet another in a long line of media anchors whom she has worked with who were fired for inappropriate sexual behavior.
"O'Reilly was a colleague, Roger Ailes was my boss, Eric Bolling was a friend," she said. "Yes, I'm losing track of all of them, but a lot."
Lauer's firing leaves a huge hole at "Today," which has long been in a heated, sometimes bitter, rivalry with ABC's "Good Morning America." The ABC show ousted "Today" from its top spot among weekday morning shows though "Today" counts more viewers among younger people.
As for her own experience, Kelly said she was sexually harassed by Ailes early in her career at Fox News. She said that on three occasions, she was called into his office, where he shut and locked the door.
"He tried to grab me three times, tried to make out with me -- which I didn't," she said. "I was scared when it happened to me. I was a second-year reporter at Fox. I wasn't the me that I am now. I had no power in the industry. No power."
Being that she was young and just starting out at Fox, and in broadcast news, Kelly said she was afraid that if she went public with the allegation, Ailes would fire her.
"It was explicit quid pro quo," she said. "You sleep with me and I'll give you a promotion. The harassment that I got at the beginning wasn't really harassment, but then it got worse and worse and worse."
Kelly left Fox in January for NBC, where she hosts an hour of the "Today" show, an hour that had been Matt Lauer's slot since 1997.
Comcast is a holding in Jim Cramer's Action Alerts PLUS Charitable Trust Portfolio. Want to be alerted before Cramer and the AAP team buy or sell CMCSA? Learn more now.
More of What's Trending on TheStreet: