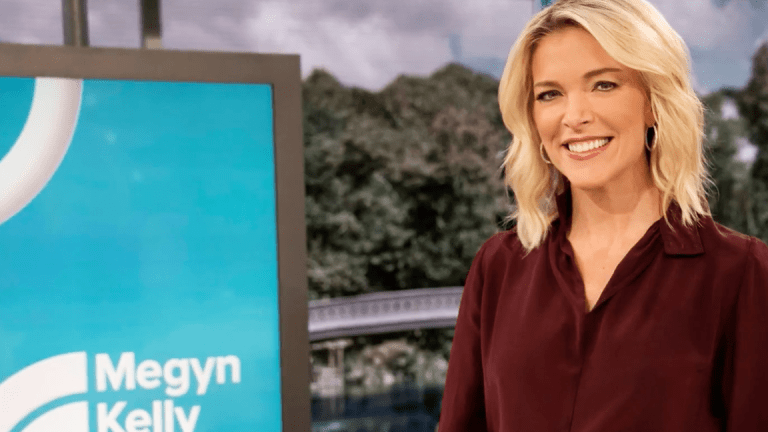 Megyn Kelly and the Pitfalls of Paying for Past Performance
Megyn Kelly was signed for $17 million per year by NBC, in hopes that she would bring her Fox News star power to the Peacock Network, but has endured a bumpy first week.
TV anchors are a lot like All-Star baseball players. Their talents usually don't travel well.
Megyn Kelly, who left the Fox News Channel in January under a hail of bullets shot by her highest-profile colleagues, has been all but trashed this week -- here and here, to cite just two examples  -- following the Sept. 25 debut of her new morning talk show, "Megyn Kelly Today," on Comcast Corp.'s (CMCSA) - Get Free Report NBC.
Interviews with actress Jane Fonda and the cast of NBC's own "Will & Grace," featuring Debra Messing, were riddled with moments of cringing and exasperation. Fonda was visibly peeved when asked about her plastic surgery, countering that with Robert Redford alongside her, there were better subjects to discuss.
Messing was equally confused when Kelly brought a so-called "super fan" from the TV audience, and curiously asked him, "Is it true that you became a lawyer, and that you became gay, because of Will?" She later added, "I don't know about the lawyer thing, but I think the 'Will & Grace' thing and the gay thing is going to work out great."
Twitter (TWTR) - Get Free Report and other social media platforms lit up, alternating between indignation -- you don't become gay -- and scorn.
Kelly, of course, was famously poached from Twenty-First Century Fox Inc.'s (FOXA) - Get Free Report  cash-printing cable network in January after building a large and fawning fan base over a 12-year career, hoing a talent for trashing liberals while also fencing with a decidedly sexist president candidate. For even as Kelly looked the part of the conservative blonde Fox News anchor, she also flexed enough principle to distance herself from the network's trademark demagoguery.
NBC was quick to sign Kelly once it became clear that her best-known colleagues at Fox News deeply resented her decision to corroborate Gretchen Carlson's allegations that the network's right-wing co-founder, the late Roger Ailes, had been party to sexual harassment for years.
But here we are some nine months later, and Kelly's move to the Peacock Network is looking a lot like the Los Angeles Angels' 2011 decision to sign first baseman Albert Pujols to an eye-popping 10-year contract totaling more than $240 million after his previous deal with the St. Louis Cardinals came to an end. Pujols was a three-time most valuable player, nine-time All-Star, two-time World Series winner and terrific ballplayer. He was also 31.
Six years into his contract, Pujols is a middling power hitter who grounds into a league-leading number of double plays, has declining on-base skills and eats up about 16% of his team's payroll. As much as he might deny it, Angels owner Arte Moreno paid for past performance, and his team has suffered because of it.
It's very, very early to make any lasting observations about Kelly's new show, or whether NBC News chief Andy Lack erred when he signed the former Fox News anchor for $17 million per year. Kelly's news magazine show "Sunday Night With Megyn Kelly" was pulled two airings short of its initial schedule. In retrospect, it may be best known for giving a nationwide platform to malicious radio host Alex Jones, who infamously doubted that the murder of children in Sandy Hook, Conn., in 2012 actually took place. (Families of Sandy Hook victims have endured harassment and threats by conspiracy theorists for years, The New York Times reported.)
But one thing is clear: The four-hour "Today Show" block is a pillar of NBC's profits. It's a longtime cash cow for a network that faces the same challenges as every network: an accelerating transition to digital platforms and away from television.
Signing Kelly, who made her mark talking hardball politics for a network that skews heavily male, was a bet that her middle-American charm would translate into the kind of celebrity chitchat that pleases the morning talk show crowd.
So far, though, it looks as if NBC may be paying for past performance. 
Comcast is a holding in Jim Cramer's Action Alerts PLUS Charitable Trust Portfolio. Want to be alerted before Cramer and the AAP team buy or sell CMCSA? Learn more now.
More of What's Trending on TheStreet: