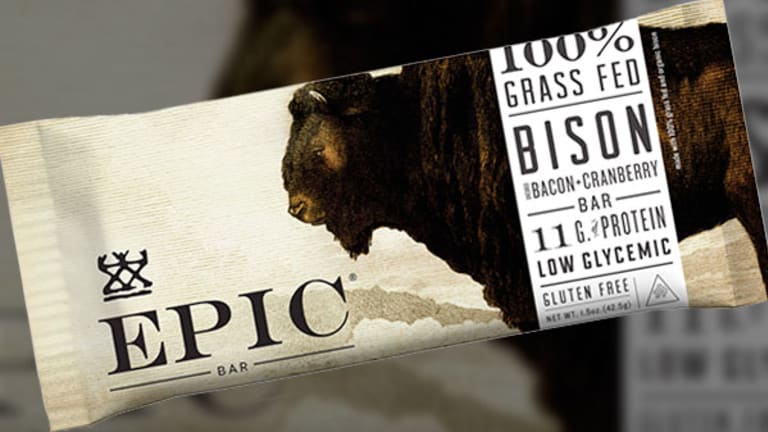 Meet the Meat Bar: The Next Big Food Trend You've Never Heard of
Meat bars were in bloom at the Natural Products Expo West, where the hottest food trends are now driven by acquisitions.
Forget kale, quinoa and kambucha: The next big food trend to take over supermarket shelves in the U.S. is going to be meat bars and other similar snacks.
In January, General Mills Inc. (GIS) - Get General Mills Inc. Reportacquired fast-growing meat snacks maker Epic Provisions LLC for $100 million, five times its revenue, spurring a bit of stampede toward the category. And at the Natural Products Expo West, an event held in Anaheim in early March, many variations on the meat bar theme were on display.
data by
Wild Zora Foods LLC, which is based in the Denver area, is doing its part to ensure a healthy supply of meat bars, but it is differentiating itself by adding vegetables. Its lamb and veggie bar, made with rosemary and spinach, was one of the products it featured at Expo West.
Wilde Brands LLC, based in Boulder, Colo., is purely focused on the meat bar, offering a range of flavors from turkey cranberry to maple bacon blueberry. The company raised $1.6 million in funding last year and its investors include Finn Capital Partners LLC.
Country Archer Jerky Co. recently received an investment from Los Angeles-based private equity firm Monogram Capital Partners. The San Bernardino, Calif.-based company, which cut its teeth on jerky, hopes to entice consumers' taste buds with a BBQ flavored version.
Another trick jerky makers are trying is to mix their preserved meat with trail mixes consisting of nuts, berries and seeds to provide an overall healthier snack. Dick Stevens, a jerky brand owned by DS Brands LLC, is one such company. It now offers a jerky-powered trail mix that comes in four varieties.
Beyond Meat Bars
The evolution of meat snacks underlines an even bigger trend that has consumed the natural and organic food space in recent years, and that is foods that are high in protein and can be eaten on the go.
Whether its snack bars made with cricket flour or yogurt strained of its water, resulting in a serving size higher in protein, the protein trend is not fading.
P.S. Lets Eat Inc., for example, is bringing to the masses quark, a German-style cheese that is creamy, under the brand Elli Quark. Elli Quark claims to have more protein and half the fat per serving compared to Greek yogurt, according to the company's website.
By combining the quark with natural sweeteners that have zero calories and fresh fruit, Irvine, Calif.-based Elli Quark hopes it has a product to rival Chobani's popular Greek yogurt.
While protein remains the dominant theme, there is an emerging conversation from entrepreneurs around foods that are high in fiber, too. Dave Hirschkop, the founder of San Francisco-based Dave's Gourmet Inc., noted that consumers are eating more protein than what is recommended, but aren't including nearly enough fiber.
The Jackfruit Co., based in Cambridge, Mass., is not only offering a food that is high in fiber, but also a product that replaces meat in way that provides an appealing flavor while not being highly engineered.
The company's products are made from jackfruit, a fruit with a meaty textrue that grows wildly in places like India. The company's products such as curry jackfruit and teriyaki jackfruit can sometimes even be confused with actual meat.
Whole Foods Market Inc. (WFM) was bullish enough on the potential of the snack that it sells the start-up's products across its regions, giving immediate national exposure not long after launching, a rare feat.
The Jackfruit Co. is not without competition. Chicago-based Upton's Naturals Co. also has a jackfruit offering, which can also be found in Whole Foods. In this case, Upton's Naturals jackfruit is shelf-stable until opened, unlike The Jackfruit Co.
Consumers can also drink their fiber. Daklen Nutrition LLC, based in Los Angeles, sells a line of fresh juice drinks high in dietary fiber under its Juiceology brand that is sold by major retailers such as Kroger Co., Whole Foods and Wal-Mart Stores Inc.
And then there is JicaChips parent Orto Foods Inc., which makes snacks from jicama, a root vegetable from Central America high in fiber often described at the "Mexican potato." The Congers, N.Y.-based company offers a number of flavors for its JicaChip brand, including spicy soy ginger and cinnamon sugar.
Acquisitions Driving Products
For fleeting moments at Natural Products Expo West, it was possible to imagine what the trade show featuring natural and organic products was like in its yesteryears, as the harmonious sounds of quiet folk music wafted above the crowd. But the show is now more known more for its deal-making, straying from its communal, mission-based, earth friendly roots, with the resulting mergers and acquisitions emphasizing the most important food trends.
In fact, the importance of natural and organic products to the consumer packaged goods conglomerates and the Wall Street analysts who cover them has turned Expo West into the de facto premier consumer goods conference in the U.S.
Alongside the buyer for a mom-and-pop natural food store, outfitted in jeans and flannel and Birkenstocks, may well be an investment banker or a managing director, sporting a blue blazer, representing the biggest banks and private equity firms on Wall Street.
So it's no surprise that deals such as General Mills' acquisition of the Austin-based start-up Epic Provisions for its growing meat snack business was inspiration for entrepreneurs with a Silicon Valley mindset.
When consumers have all the meat snack choices they want, what will be the next big trend? Watch the acquisitions to find out.