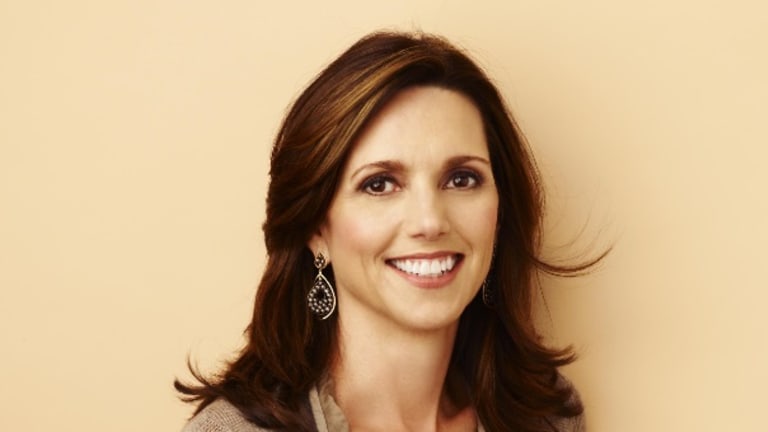 Meet the GE Exec Who's Reinventing Thomas Edison's Light Bulb
General Electric announced this week that longtime Chief Marketing Officer Beth Comstock has been named a vice chairman. She's the first woman to hold the position.
NEW YORK (TheStreet) -- Reinvention is something Beth Comstock knows all about, whether it's within her own career or for a product as iconic as Thomas Edison's light bulb.
It's a skill she'll need as the newest vice chairman at General Electric (GE) - Get General Electric Company (GE) Report , the iconic manufacturer that CEO Jeffrey Immelt is reshaping to focus on its industrial roots. Comstock is the first woman to hold the position at the 137-year-old company, and the career path that led her there is markedly different from her original vision of becoming a doctor.
"You have to go with your strengths," said Comstock, 55, who earned a biology degree from The College of William & Mary in 1982, transitioned to science journalism, and eventually moved up the ranks in NBC's (CMCSA) - Get Comcast Corporation Class A Report corporate communications department.
The television network was owned by Fairfield, Conn.-based GE at the time, and in 1998, then-CEO Jack Welch promoted her to vice president of communications at the parent company. Not long after Jeffrey Immelt succeeded Welch as CEO, he promoted Comstock to chief marketing officer.
"I have been a very business-innovation focused person, and I have been able to forge a path with a lot of great colleagues," she said in a telephone interview. "I have been able to have very different experiences, and have had very different careers at one company."
Comstock's duties now include overseeing GE innovations, as well as GE Lighting, ventures and licensing, sales and communications, and corporate marketing.
"Beth has a proven reputation inside and outside GE for transforming the enterprise and being a catalyst for digital innovation and growth," Immelt said in in a statement this week announcing her promotion to vice chairman. "She has spearheaded our investment in the Industrial Internet -- driving our evolution to a digital industrial company."
While her current duties seem a world away from journalism, Comstock is quick to point out a common denominator. "The thing from journalism and media is that you know and work with a lot of people who tell great stories," she said. "You learn that storytelling is fundamental, and that is very important in our business."
A clear narrative is essential, especially for a corporation as complex and diverse as GE, to keep the attention of both customers and investors. "Your customers need to know what you stand for, and what you're about," she said.
Comstock is particularly enthusiastic about the company's Industrial Internet, a catchy name for an esoteric cloud-based network that uses GE's proprietary Predix software to connect industrial equipment and optimize performance in businesses from wind farms to railroads.

"The idea is to take software and analytics to make our hardware perform better and to give better performance to our customers," she said. "You're looking at new business models. New ways of revenue generation and new ways of delivering services to customers."
The future of Predix could be in lighting towns and cities, according to Comstock. GE has already teamed with San Diego, Calif., and Jacksonville, Fla., in setting up a basic level of lighting connectivity, and Comstock expects more contracts in the coming year.
"Lighting is just a great example," she said. "It's our oldest business, and the seeds of GE were planted in the light bulb."
The development of LED bulbs, the latest and most energy-efficient alternative to the incandescents developed by Edison, has made it easier to embed controls and sensors into systems from homes to offices and factories, according to Comstock. 
"One fixture is able to talk to another; one lamppost in a city is able to talk to another," she said. "It allows you do to things remotely, but over time it allows you to connect to Predix. A city can put its lighting on Predix."
What is happening in lighting at GE is also occurring across the company's businesses: Healthcare, aviation, and oil and gas are sharing technologies to cut cost margins and pioneer a way forward, she said.
"In a job like mine, you get to work horizontally across the company, and connect the dots, and see that things are a lot more alike than they are different," she said.