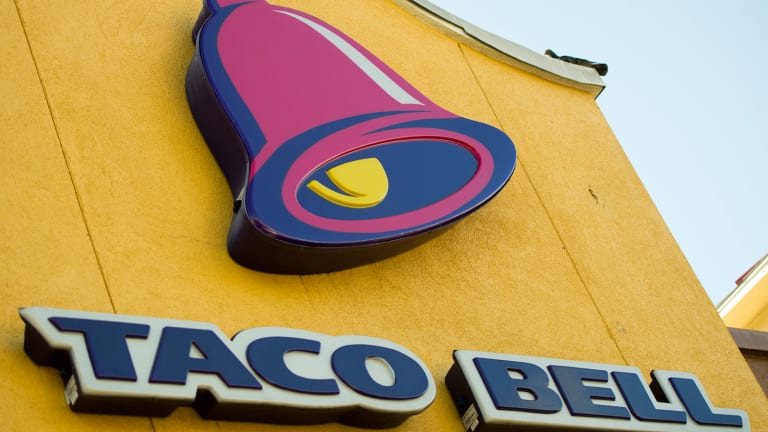 Meet Taco Bell's Latest Crazy Concoction -- the Quesalupa
The Yum Brands chain officially unveiled the new premium menu item during Super Bowl 50. But it won't be the only new move Taco Bell undertakes this year.
A new take on a fried taco shell isn't the only thing Taco Bell is cooking up this year to lure people to its restaurants.
On Super Bowl Sunday, Yum! Brands (YUM) - Get Yum! Brands, Inc. Report Taco Bell debuted a 30-second TV spot for its new item called the Quesalupa, which will be available nationwide starting Monday.
Originally tested at 36 restaurants in Ohio last year, the Quesalupa keeps the thick, fried shell of Taco Bell's signature chalupa -- except the shell is stuffed with cheese. Inside the caloric bomb is the typical Taco Bell fare of ground beef, cheddar cheese, lettuce, tomato and sour cream. Price: $2.99, about 50 cents more than a beef chalupa supreme.
Taco Bell initially built buzz around its latest product launch by emailing people a week in advance and asking them to order a mystery item. Those who pre-ordered the said mystery item began to pick up their prize on Saturday, with many taking to social media to showcase their winnings.
For Taco Bell, which has a history of introducing zany concoctions such as slushies with Starburst candy flavoring, and a taco shell made from Doritos, its latest premium offering comes in advance of a bigger push toward value this year. In January, for example, Taco Bell revamped its $1 menu to include several crunch-wrap sliders with sriracha chicken and spicy beef.
"The emphasis will be on value [this year] to build on the great momentum we had in 2015," said Yum! Brands retiring CFO Pat Grismer on a Feb. 4 earnings call. Taco Bell's system-wide sales rose 8% in 2015, with operating profit margins increasing to 27.1% from 25.8% a year ago. 
But the possible roll-out of even cheaper grub this year is expected to take a bite out of Taco Bell's bottom line. Added Grismer, "My expectation is that margins will be up above 20%, perhaps a bit below where they were in this year because of the more aggressive push on value and a more temperate approach to pricing." 
Taco Bell's emphasis on value comes amid widespread discounting in the fast food industry early on this year to drive traffic.
Yum! Brands Pizza Hut division in early January began offering what it calls the "$5 Flavor Menu." The menu offers consumers a choice of several items, including a medium one-topping pizza, eight buffalo wings, and a pasta dish, for $5 each.
McDonald's (MCD) - Get McDonald's Corporation Report debuted its new McPick 2 menu in January as well, offering a pair of items from a list of favorites, including the McDouble or McChicken, for $2.  Restaurant Brands' (QSR) - Get Restaurant Brands International Inc Report Burger King chain launched its 5 for $4 value menu that allows consumers to purchase five specific menu items -- a bacon cheeseburger, small fries, small drink, four-piece chicken nuggets and a chocolate chip cookie -- for four dollars.
And now Dunkin Brands (DNKN) - Get Dunkin' Brands Group, Inc. Report , which battles Taco Bell for the stomachs of those yearning for quick breakfast food, is getting into the discount wars.  
"We have steered away from national promotions -- having said that, for the first time in my time here we expect to have three national value promotions this year -- the whole idea is to drive people to the store and then we have these more premium items they could buy," said Dunkin Brands chairman and CEO Nigel Travis in a Feb 4. interview with TheStreet.
When asked about the potential to do something more dramatic to get value-seekers through the door, Travis dropped an interesting hint. "We've tried a dollar menu before, and I think we may do that in certain markets," Travis said.