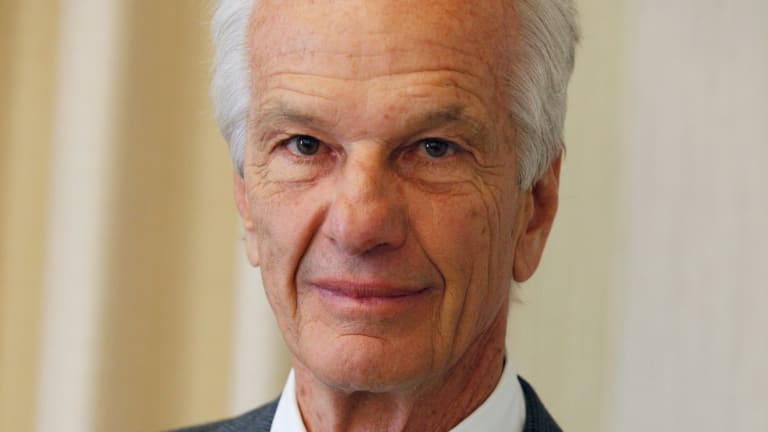 Meet Buffett's Buddy Jorge Lemann, the Other Billionaire on the Heinz-Kraft Deal
Warren Buffett has called the Heinz-Kraft merger "my kind of transaction." And Jorge Lemann, the other billionaire in the mix on the deal, is his kind of guy.
NEW YORK (TheStreet) -- Warren Buffett has called the Heinz-Kraft merger "my kind of transaction." And Jorge Lemann, the other billionaire in the mix on the deal, is his kind of guy.
In a CNBC interview on the Kraft Foods Group (KRFT) -Heinz Co. deal, the Oracle of Omaha described Lemann's private equity group 3G Capital as "wonderful" and "perfect." As for Lemann, Buffett has said on numerous occasions that he believes the Brazilian billionaire is a class act.
Lemann is at the helm of 3G Capital, which alongside Berkshire Hathaway is investing a combined $10 billion to form the Kraft Heinz Company. Although his private equity firm controls the corporations behind a number of well-known brands, including Budweiser, and has teamed up with Berkshire on other huge deals, far more people know who Buffett is than Lemann.
So what's the scoop on Warren Buffett's billionaire bud?
Of Swiss-Brazilian nationality, Lemann grew up in Brazil but headed to the United States to attend Harvard. In his younger days, he was a tennis champion, though he eventually traded in his racket for a briefcase and dove into the banking world.
Since then, he has built a personal fortune Forbes estimates to be $25.1 billion, largely through ventures in investment banking and private equity. Today, he is Brazil's richest man.
Lemann founded 3G Capital alongside longtime business partners Marcel Herrmann Telles and Carlos Alberto Sicupira in 2004. Roberto Thompson Motta and Alex Behring are also listed as founding partners at the firm. With offices in New York and Rio de Janeiro, 3G is described on its website as "a global investment firm focused on long-term value."
Lemann and his partners have undertaken some major plays over the years. In 2008, they drove the creation of Anheuser-Busch InBev (BUD) - Get Report, now the world's largest beer company, in a $52 billion takeover bid.
In 2010, 3G Capital bought Burger King and took it private in a deal valued at $4 billion -- the largest ever leveraged buyout of a fast-food chain. Eighteen months later, BKW went public again, as fellow billionaire Bill Ackman's specialty purpose acquisition company, Justice Holdings, agreed to paid 3G $1.4 billion for a 29% stake. As for 3G, it maintained 71% of the company.
Late last year, 3G Capital's fast food play came full circle with King's $11.4 billion of takeover of Tim Horton's. The final result: Restaurant Brands International (QSR) - Get Report and and an enormous profit for 3G. Buffett was in the mix as well, as Berkshire Hathaway helped to finance the deal to the tune of a $3 billion preferred stake.
That wasn't their only big deal together. In February 2013, Berkshire and 3G joined forces for a $23 billion of Heinz. The acquisition was completed in June.
While 3G Capital's bread and butter may be in the takeover game, it is into equity investing as well. A look at its most recent 13F, corresponding to the fourth quarter of 2014, tells a story of where else Jorge Lemann is placing his bets.
The billionaire's largest public equity position is in the SPDR S&P 500 ETF (SPY) - Get Report, valued at $164.4 million at the end of the fourth quarter. The ETF happens to be one fellow billionaire Ray Dalio is a big fan of, too. But unlike Dalio, Lemann seems to be hedging. His second biggest position, valued at nearly $100 million, is a put option in the same ETF.
Lemann's other equity holdings worth noting include Santander Consumer USA Holdings (SC) - Get Report, in which he reported a $61.7 million position, Twenty-First Century Fox (FOX) - Get Report, $60.7 million, and Time Warner Cable (TWC) , $56.1 million.
Interestingly, Lemann doesn't overlap with billionaire buddy Buffett on equities very much. In fact, as per their most recent 13F filings, they only have a handful of common stock holdings in common, including Phillips 66 (PSX) - Get Report, Suncor (SU) - Get Reportand Precision Castparts (PCP) .
Differences aside, Buffett continues to be one of Jorge Lemann's biggest fans. 
This article is commentary by an independent contributor. At the time of publication, the author held no positions in the stocks mentioned.
iBillionaire provides access to the investment data and strategies of the world's most successful, self-made billionaires. It is available for
and
.