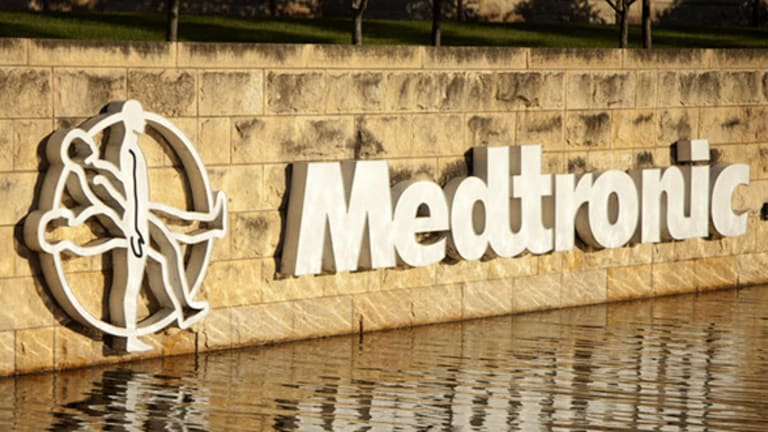 Publish date:
Medtronic Well-Positioned to Take Advantage of Health Care Trends
The suspension of the hated medical device tax combined with the government's sweeping transformation of American health care is a tonic for this device maker, which reports earnings next week.
The suspension of the hated medical device tax combined with the government's sweeping transformation of American health care is a tonic for this device maker, which reports earnings next week.
Whether you think its sound social policy or a Bolshevik plot to destroy free enterprise, the Patient Protection and Affordable Care Act (aka Obamacare) will expand coverage to an estimated 32 million Americans. That will boost the health care sector and its best-positioned players.
One of the most attractive health sector opportunities now is Ireland-based medical device major Medtronic (MDT) - Get Report , which is scheduled to report third-quarter fiscal 2016 earnings on March 1, before the opening bell.
Medtronic is a manufacturer of medical devices for use in clinical and home settings. The company offers laparoscopic instruments, surgical staplers, soft tissue repair products, hernia mechanical devices and a range of vascular products.
The company also provides nursing care products for incontinence, wound care, enteral feeding, urology and suction products, as well as accessories, electrodes, thermometry, chart paper and syringes. Medtronic belongs to a class of health technology innovators that are tapped into secular, multi-year trends.
The analyst consensus is for Medtronic to report diluted earnings a share (EPS) of $1.06, compared to diluted EPS of 98 cents in the same quarter a year ago (which at the time represented a healthy year-over-year increase of 31%).
This medical device giant will benefit from Obamacare as well as new tax policy, putting it among a group of health services plays that should beat the broader market's expected declines this year.
Obamacare is the law of the land and dispassionate investors who are wise enough to put aside personal politics can make big profits from its implementation. Meanwhile, in late December Congress passed and President Obama signed a budget bill that delayed a planned tax on medical devices for two years, a rare bipartisan move that's a boon for Medtronic.
Device industry leaders have decried the 2.3% medical device tax ever since Congress in 2009 included it on medical devices in President Obama's health care reform legislation.
Year to date, Medtronic stock is roughly where it was a year ago, compared to a nearly 5% decline for the S&P 500 and 4.67% for the iShares US Medical Devices ETF. Medtronic is faring better than the broader markets and its peers because it occupies a sweet spot for exploiting Obamacare's expansion of coverage, as well as demographic trends that fuel the need for medical devices. As people get older, they increasingly need devices to keep them alive and maintain quality of life.
With a market cap of $108.8 billion, Medtronic is the world's largest stand-alone medical device maker (it bought number two device maker Covidien in 2015). No other device maker can match Medtronic's market clout, research and development wherewithal, and economies of scale.
Although Medtronic is a cyclical stock that tends to benefit from an overall recovery, its health orientation also makes it less sensitive to swings in the economy, providing downside protection as investors nervously ponder chaos in China, a depressed energy sector, an indebted global banking sector and strife in the Middle East.
With a trailing 12-month price-to-earnings (P/E) ratio of about 44, Medtronic seems pricey compared to the trailing P/E of about 28 for its industry. However, Medtronic boasts an impressive earnings growth history that makes the premium worth it. Last quarter, the company delivered a positive earnings surprise of 3%. Medtronic's earnings results have handily exceeded Wall Street's estimates in all of the past four quarters, for an average earnings beat of 3.15%.
Medtronic shares are trading at about $77. The median analyst one-year price target for the stock is $87.50, for a gain of nearly 14%. 
By contrast, major competitor Stryker, with a TTM P/E of about 27, enjoys a median analyst one-year price target of $109, for a gain of only 7.9%.
Medtronic is a great play on the unstoppable growth of the health services sector. We've also found a small-cap biotech "rocket stock" that's about to take off. UCLA researchers are stunned by a Nobel Prize-winning cancer breakthrough that's proven in clinical trials to eliminate lethal forms of cancer with a single dose. One small company owns the patent to this life-saving treatment. Now trading at about $5 a share, the stock of this innovative company is projected to surge 2,700% on an imminent FDA announcement. To download the full report, click here.
John Persinos is editorial manager and investment analyst at Investing Daily. At the time of publication, the author held no positions in the stocks mentioned.