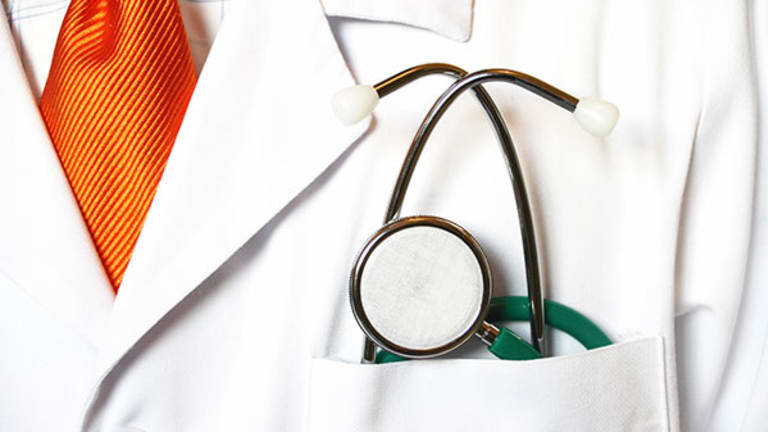 Medtronic Is a Healthy Investment Despite Recent Struggles
The medical-device maker recently reported disappointing earnings but the stock looks like a buying opportunity for patient investors.
NEW YORK (TheStreet) -- Last week Medtronic (MDT) - Get Free Report announced third-quarter net earnings of $762 million, or 75 cents per diluted share, a decrease of 23% compared to the same period in the prior year.
That hasn't stopped investors from buying shares, which are up nearly 29% over the past year and up a fraction of a percent for the year to date, as of the Monday close of $57.60.
What do investors see?
My conclusion is they see a financially sound and viable company that is gradually transitioning beyond medical devices, taking definitive steps to expand within the current health care environment and connecting directly with patients as it morphs into a health-services company.
Part of the Minneapolis company's setback in its previous quarter involved its Symplicity system, a renal denervation technology that is specifically designed to deliver low-level radio frequency energy through the wall of the renal artery to achieve renal denervation. This promising and innovative therapy for treatment-resistant hypertension patients failed the preliminary efficacy test during its first U.S. clinical trial.
The company hoped Symplicity would be a new source of revenue and earnings growth. With a number of its flagship products like defibrillators and pacemakers not selling at past levels, the company had used a growth-by-acquisition strategy to try and fill the void. This included the 2010 purchase of Ardian and its technology to help treatment-resistant patients such as those with renal diseases.
Between Medtronic's earnings disappointment and lowering its EPS guidance for fiscal year 2014, one would have expected its share price to take a hit. Here's the one-year chart, which includes its declining diluted quarterly EPS numbers (the orange line below).

Instead, after the early 2014 market correction and the January clinical trial setback -- which temporarily tanked the share price -- the stock has been rallying along with the stock market's rebound. From a low of $53.33 on Feb. 4, shares  have risen nearly 9% to the intraday high on Monday of $58.04.
The company's financial needs will be boosted at low interest rates by a recently announced offering of senior notes to the public. The closing of the offering is expected to occur on Thursday, subject to satisfaction of customary closing conditions.
Medtronic intends to use the net proceeds for working capital and general corporate purposes, which may include repayment of its debts. The funds could also help the company maintain or even increase its dividend payout, which now represents a payout ratio of over 30% of earnings.
More than ever I like Medtronic as an investment theme. It's reflected by an acquisition it made last summer.
The $200 million acquisition of Cardiocom, which provides monitoring services to patients with chronic diseases, synchronizes with the company's new business model. As the baby boomers increase the aging demographic and with growing evidence the new U.S. health laws will add more patients to the health care system, this acquisition should soon pay off.
Iif shares of MDT correct, take advantage of the opportunity knowing you're not buying the old version of Medtronic but the emerging new one.
At the time of publication the author had no position in any of the stocks mentioned.
This article represents the opinion of a contributor and not necessarily that of TheStreet or its editorial staff.
renal denervation system is specifically designed to deliver low-level radio frequency (RF) energy through the wall of the renal artery to achieve renal denervation (RDN) - See more at: http://www.medtronicrdn.com/intl/healthcare-professionals/symplicity-rdn-system/index.htm#sthash.ro5e3mL5.dpuf
Marc Courtenay is the founder and owner of Advanced Investor Technologies, LLC, as well as the publisher and editor of www.ChecktheMarkets.com.