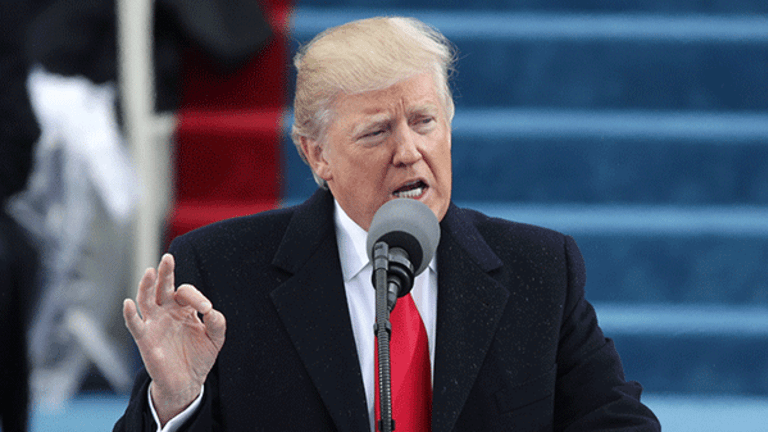 Media Stocks Run Into Realities of 'Structural Decline' as Trump Rally Slows
Media stocks have been on fire since Trump was elected president, but as the new administration takes office, uncertainties about future policy and economic growth are dampening the sector's outlook.
Ever a pessimist, or maybe just a skeptic, Bernstein media analyst Todd Juenger is urging investors to reassess the sector before jumping in, or quickly exiting.
More than most, media stocks have been on a tear since Donald Trump was elected president on Nov. 8, but as the Republican leader takes office with numerous administration positions unfilled, the sector's vulnerabilities are resurfacing amid a sense that the future isn't quite as clear as it seemed 11 weeks ago.
"For the most part, we are more stuck than ever on 'what to do,'" Juenger said in a investor note on Monday. "We are not inclined to recommend these stocks based on unpredictable political/macro and a [mergers and acquisition, over-the-top] story we won't believe will play out. On the other hand, we find it difficult to short most of them, fighting all those forces whether they ultimately prove true or not."
(For media industry novices, over-the-top refers to online services such as Netflix (NFLX) - Get Free Report or AT&T's (T) - Get Free Report DirecTV Now that don't require a cable TV subscription.)
In the 11 weeks since the election, media stocks have surged on the outlook that Trump will lower corporate taxes, pull back on net neutrality restrictions and allow for greater media consolidation. The S&P media industry group index, a collection of 16 large-cap stocks including those just mentioned, has jumped 16% since Nov. 8. Sprawling content and distribution conglomerates AT&T and Comcast (CMCSA) - Get Free Report  have been among the sector's biggest gainers, as have television/film content creators such as Disney (DIS) - Get Free Report and 21st Century Fox (FOXA) - Get Free Report .
Disney has gained 13.2%, a stunning run considering the stock's struggles over the past year as ESPN, its primary profit center, lost subscribers. Comcast,owner of NBCUniversal, has surged 19.1%, a reflection of investor confidence that the broadband provider stands to benefit if the Federal Communications Commission under Republican Chairman Ajit Pai rolls back net neutrality, Obama-backed rules designed to even the internet playing field.
Elsewhere, AT&T has added 13.5% on the assumption that Trump regulators will ultimately approve its $85.4 billion cash-and-stock acquisition of Time Warner (TWX) . Charter Communications (CHTR) - Get Free Report , which closed its purchase of Time Warner Cable last year, has jumped 19.7%.
It should be noted that the recent run-up in media stocks follows roughly two years of underperformance compared with the benchmark S&P 500 index, which has gained 6.2% since Nov. 8, a still very respectable uptick. But can this enthusiastic-though-brief era of good feeling really continue?
Comcast is a holding in Jim Cramer'sAction Alerts PLUS Charitable Trust Portfolio. Want to be alerted before Cramer buys or sells CMCSA? Learn more now.
On Monday, stocks across the board were trading lower as investors grappled with uncertainty over Trump's policies, particularly on protectionist trade moves. In his inauguration speech on Friday, Trump spoke of an administration focused on "America first," a theme that could lead to higher tariffs for imports as well as U.S. companies that manufacture product overseas for export.
To start his initial work week as president, the New York real estate developer signed an executive order pulling the U.S. out of the Trans-Pacific Partnership accord with 11 other nations including Japan, Australia, Singapore and Malaysia.
It's too early to know whether Trump's unilateral moves to remake U.S. trade policy will hurt media companies, many of which license their networks, films or TV productions to foreign operators. 
Yet the biggest concern for media investors attempting to handicap the new administration is that the overarching trend in video consumption is away from traditional pay-TV to smaller online offerings known as "skinny bundles." While AT&T's DirecTV Now, Dish Network's (DISH) - Get Free Report Sling TV and Sony's undefined PlayStation Vue are adding subscribers, the overall trajectory for the pay-TV business is downward. 
"We believe the U.S. television industry is entering a period of prolonged structural decline, caused by a migration of viewers from ad-supported platforms to non-ad-supported, or less-ad-supported, platforms," Juenger wrote in a not-so-veiled reference to Netflix, which last week reported having 49 million U.S. subscribers and another 44 million abroad.
The new skinny bundles, Juenger added, "are not going to succeed in attracting a material number of net new paying subscribers," for the simple reason that users of mobile platforms want on-demand viewing and not traditional linear TV. Viacom (VIAB) - Get Free Report and Discovery (DISCA) - Get Free Report , he said, own too many low-profile cable TV networks, making them particularly vulnerable. (Viacom and Discovery shares nevertheless have gained 7% and 10.6%, respectively, since Election Day.)
Yet all isn't lost for media stocks.
Juenger acknowledged that if a growth scenario does take hold -- lower taxes, higher GDP, more leeway to raise rates -- media stocks generally will benefit. CBS (CBS) - Get Free Report and Scripps Networks Interactive (SNI)  stand to lead the group, considering that they own a smaller number of networks with large and loyal followings. Disney is also well positioned, he said, given that it holds an assortment of revenue streams besides pay-TV networks, i.e. theme parks, consumer goods and a film slate that travels very nicely abroad.
For media investors, though, Juenger provides a more sobering outlook overall.