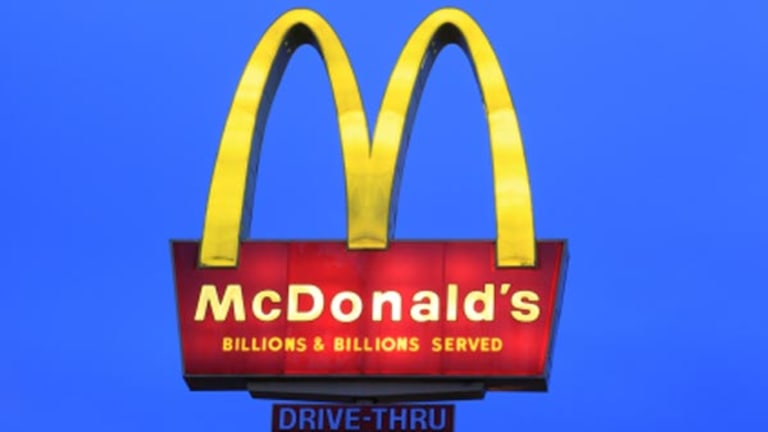 McDonald's Uses Ronald to Beef Up Its Social Media Presence
Ronald McDonald is coming to Twitter. Will he build an appetite for McDonald's shares?
Ronald McDonald is coming to Twitter. Will he build an appetite for McDonald's shares?
NEW YORK (TheStreet) -- Can fast food thrive in the fast-moving world of social media? McDonald's (MCD) - Get Report has taken steps to expand its presence in social media using mascot Ronald McDonald.
As part of its announced campaign to spruce up its 51-year-old icon, McDonald's has launched#RonaldMcDonald on Twitter to exploit "the magic and happiness of the McDonald's brand."
According to a company release, Ronald McDonald "will take an active role" on McDonald's social media channels around the world."
[Read: The New No. 16 Most Shorted Dow Component: McDonald's]
Ann Hould-Ward, theatrical designer for musicals including Beauty and the Beast, has created a new look for the old clown. He keeps his trademark red and yellow colors but gets a more hip look including yellow cargo pants and vest, red and white striped rugby shirt and, on special occasions, a new red blazer.
McDonald's is not new to social media but it hopes using Ronald McDonald boosts the brand and bring in some new customers. McDonald's has 2.3 million followers on Twitter and 30 million fans on Facebook, which places it well ahead of restaurant rivals. By contrast, Yum! Brands' (YUM) - Get Report Taco Bell, which is taking on McDonald's using real-life Ronald McDonalds to push its own breakfast menu, has 1.2 million Twitter followers.
But will Ronald McDonald appeal to the targeted audience of millennials? McDonald's needs a boost in sales in the United States, a region where it has struggled lately.
In the first quarter, McDonald's reported a 1.7% decline in same-store sales in the United States. This compared to a gain of 1.4% in Europe and 0.9% in the Asia Pacific Middle East and Africa regions. Total revenue for McDonald's increased 1% thanks to the sales outside of the United States. Net income and earnings per share also fell in the first quarter.
[Read: Bad News for the Class of 2014]
In fiscal 2013, global sales increased only 0.2% at McDonald's. Despite the mediocre performance, shares increased 8% in 2013. Shares are currently at $100.45, up 3.5% for the year to date.
Ronald McDonald may not be the savior for McDonald's sales problems, but it shows the company is not clowning around when it comes to marketing and drawing in new customers.
At the time of publication the author held no positions in any of the stocks mentioned.
This article represents the opinion of a contributor and not necessarily that of TheStreet or its editorial staff.
>>Read More: