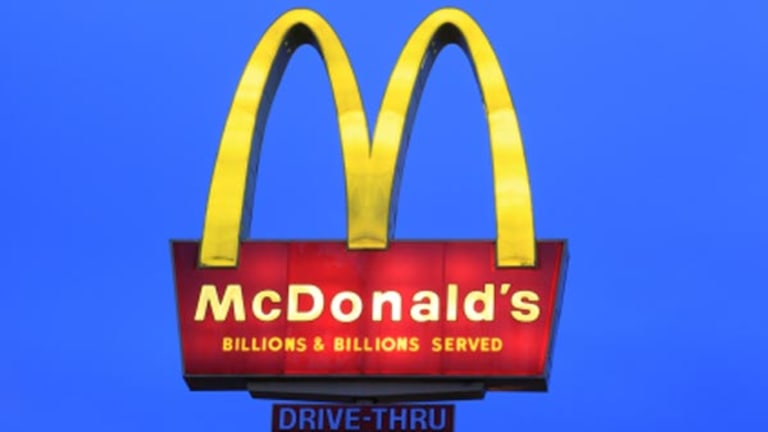 McDonald's Still Pushing All the Right Buttons
The company remains unparalleled when it comes to strategic pricing and outside-the-box thinking.
NEW YORK (TheStreet) -- Shares of McDonald's (MCD) - Get McDonald's Corporation Report got a boost of almost a 2% on Monday after the hamburger giant reported May sales rose 2.6% worldwide for restaurants that have been opened at least one year, including a 2.4% gain in U.S. sales.
The company said new items such as egg white sandwiches, chicken wraps and various Dollar-Menu offerings helped results. These are certainly encouraging numbers from a sector that includes
Chipotle Mexican Grill
(CMG) - Get Chipotle Mexican Grill, Inc. Report
and
Yum! Brands
(YUM) - Get Yum! Brands, Inc. Report
, which have posted pretty uninspiring results, to put it mildly.
While McDonald's golden arches have been the gold standard, the soft patch in restaurants stocks played no favorites. While other stocks were getting chewed by analysts, McDonald's got burned. But McDonald's has been through much worse, and the company's ability to innovate and deliver solid profits doesn't change the long-term story of value for which this brand is known.
Monday's news was just one example. But looking at the company's relative performance, I think the Street exaggerated how bad thing were. With revenue rising just 1% year over year, I can see why it would be easy to get discouraged. But investors need to keep things in perspective. With McDonald's being one of the largest franchisors in the business, revenue growth is not always an accurate indicator of how well this company is really doing.
>>Also see: How to Survive the VeriFone Slide >>
To that end, franchised stores posted a 2% year-over-year increase in revenue, while sales from company-owned stores were flat. Again, this is only one part of the story. Meanwhile, comps, which is another way to say same-store sales, leads every chapter. Comps is the metric that tracks the sales performance of restaurants that have been opened at least one year.
Relative to Chipotle, which posted 1% growth in comps and is not nearly as large, the fact that McDonald's comps were down 1% wasn't as alarming as some made it out to be. Worldwide sales have not been up to the company's usual standards. But the company made this up by a 2% year-over-year increase in Europe and the APMEA (Asia Pacific/Middle East/Africa).
It was not a great performance, but as demonstrated on Monday, management has a solid history of surprising investors when they least expect it. It also looks as if the company's decision three months ago to drop products from its menu, such as the Chicken Selects and Fruit & Walnut Salad, was a smart move.
Meanwhile, rival
Wendy's
(WEN) - Get Wendy's Company Report
and
Burger King
(BKW)
were beginning to chip away at McDonald's margins with lower-priced items. It didn't help that beef costs were on the rise. It was at that point that McDonald's decided to tweak its menu to find the right mix of value for its customers, while still delivering on the bottom line for its investors.
>>Also see: Wine and Art Lead Investing >>
Here again, this move worked to perfection. McDonald's management has been pushing all of the right buttons, which has manifested itself in the company's favorable news on Monday. In this soft environment, which is causing chains like Chipotle to consider raising menu prices due to higher food cost, margin leverage is what McDonald's seeks.
The soft comps performance last quarter notwithstanding, McDonald's still has a strong balance sheet and I believe that margins will improve. If you ever walk into any McDonald's during a lunch hour it would be hard to tell that such underlying struggles existed. There are smiles all around.
The company remains unparalleled when it comes to strategic pricing and outside-the-box thinking. As such, this is not a stock that should be assessed for one quarter or even one fiscal calendar. I would still be a buyer here. Investors with patience will enjoy a stable brand that offers one of the best dividend yields on the market.
At the time of publication the author had no position in any of the stocks mentioned.
Follow @saintssense
This article was written by an independent contributor, separate from TheStreet's regular news coverage.
Richard Saintvilus is a private investor with an information technology and engineering background and the founder and producer of the investor Web site
. He has been investing and trading for over 15 years. He employs conservative strategies in assessing equities and appraising value while minimizing downside risk. His decisions are based in part on management, growth prospects, return on equity and price-to-earnings as well as macroeconomic factors. He is an investor who seeks opportunities whether on the long or short side and believes in changing positions as information changes.