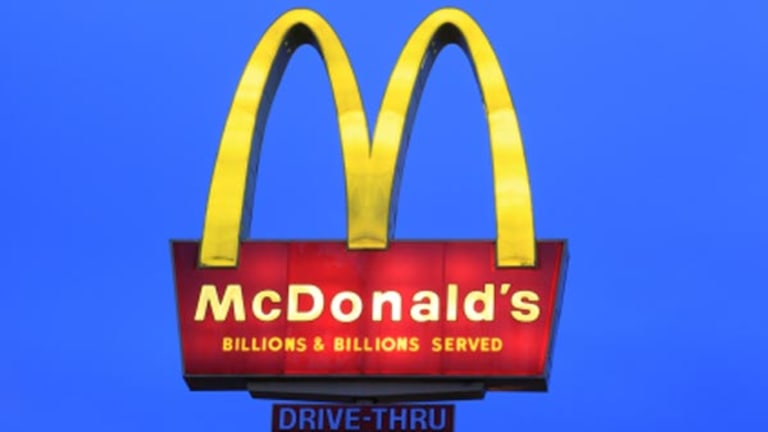 McDonald's Now on the Value Menu
McDonald's stock looks cheap on the basis of its 10% long-term free-cash-flow growth rate.
NEW YORK (TheStreet) -- Shares of McDonald's (MCD) - Get Free Report have been under pressure -- losing as much as 5% ever since the fast food giant reported second-quarter earnings results.
Although Mickey-D's golden arches have long been the golden standard in the U.S. quick-service space, the tough consumer spending environment, which has also hurt strong brands like
Coca-Cola
(KO) - Get Free Report
, has shown no favorites as same-store sales continue to disappoint. Consequently, so has the stock, which is down almost 10% since April.
I'm not going to deny that McDonald's has underperformed. But given the company's size and scale, we need to keep things in perspective.
I'm reading articles suggesting that analysts are no longer "loving McDonald's." But this is not a situation where the company is losing market share.
Sales do need to improve. But that's also the case at rival restaurants like
Yum! Brands
(YUM) - Get Free Report
, which, like McDonald's, posted 1% growth in same-store sales for restaurants open for at least a year.
What's more, both companies trend neck-and-neck, including posting similar 1% growth in U.S., while experiencing soft sales in the rest of the world.
The fact that consumer confidence has yet to fully emerge out of its pre-recession slump is a concern. I believe this has taken a toll on not only McDonald's, but even
Wal-Mart
(WMT) - Get Free Report
has seen a reduction in store traffic.
Read: The Deal: The Trouble With Being United
And as with Wal-Mart, revenue growth alone is not always an accurate indicator of how well McDonald's is actually performing, especially given that it's one of the largest franchisors in the business.
Still, as you can imagine, with such meager sales results, profitability is certain to take a hit. Here too, I believe McDonald's struggles with profitability have been exaggerated. There's no denying that margins have been under pressure.
As we have seen with
Chipotle Mexican Grill
(CMG) - Get Free Report
, rising costs of protein can add pressure on menu items. But McDonald's has been through much worse.
And let's not discount the fact that even though operating margin declined in the recent quarter, the company still posted a 2% increase in operating income. Essentially, amid rising food and labor costs, management still figured ways to squeeze a strong profit, helped by efficient cost controls.
It also looks as if the company's decision last quarter to drop items such as chicken selects and the fruit and walnut salad was a smart move. These changes come as the company recently added new breakfast items, including egg white sandwiches and chicken wraps, along with various Dollar-Menu offerings.
In that regard, I believe McDonald's remains unparalleled when it comes to strategic pricing and outside-the-box thinking. Management never wastes time trying different things, nor do they hesitate to pull items off the menu that are not performing as expected.
It is this mindset, along with the company's ability to innovate and its continued focus on service and value, that leads me to fully expect McDonald's to emerge from this rough patch with solid long-term profits.
I'm not pretending that the company's near-term struggles don't matter. But I believe it's pointless and narrow-minded to assess McDonald's on the basis of one quarter or even one fiscal year.
Read: Why Millions of Job Openings Are Unfilled
And I do see an opportunity here for McDonald's to overcome its near-term growth struggles, especially with the rising popularity of its dollar menu.
Remarkably, though, if you ever walk into any McDonald's during a lunch hour, you likely wouldn't be able to tell that the company was experiencing such underlying struggles, which is a testament to its sound management. To that end, I believe investors with patience can do well taking a position in McDonald's.
Very few companies have as strong a balance sheet and I believe that margins will improve. At around $95 a share, I see the stock as cheap on the basis of 10% long-term free-cash-flow growth rate. I believe that the stock will regain its $100 mark before the end of the year and enter 2014 with gourmet results.
At the time of publication, the author held no position in any of the stocks mentioned
.
Follow @saintssense
This article was written by an independent contributor, separate from TheStreet's regular news coverage.
Richard Saintvilus is a co-founder of
where he serves as CEO and editor-in-chief. After 20 years in the IT industry, including 5 years as a high school computer teacher, Saintvilus decided his second act would be as a stock analyst - bringing logic from an investor's point of view. His goal is to remove the complicated aspect of investing and present it to readers in a way that makes sense.
His background in engineering has provided him with strong analytical skills. That, along with 15 years of trading and investing, has given him the tools needed to assess equities and appraise value. Richard is a Warren Buffett disciple who bases investment decisions on the quality of a company's management, growth aspects, return on equity, and price-to-earnings ratio.
His work has been featured on CNBC, Yahoo! Finance, MSN Money, Forbes, Motley Fool and numerous other outlets.
Follow @saintssense