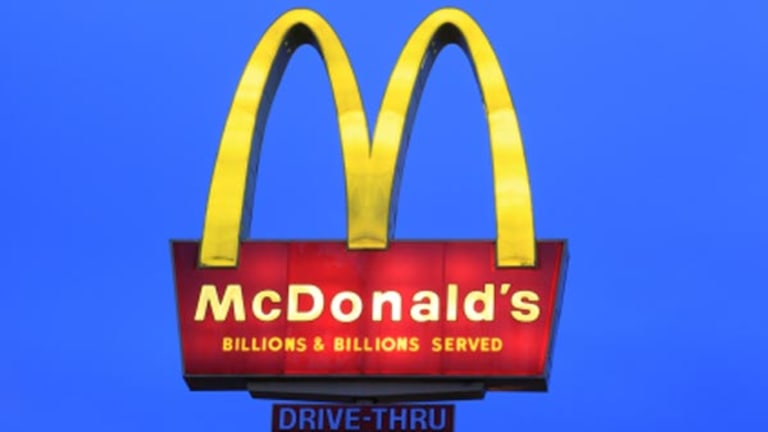 McDonald's No Longer Overcooked
The company still has a strong balance sheet and margins will improve.
NEW YORK (TheStreet) -- Fast food giant McDonald's (MCD) - Get McDonald's Corporation Report is without a doubt the gold standard among its peers, a group which includes names such as Burger King and Wendy's (WEN) - Get Wendy's Company Report. For that matter, there are very few companies performing as well as McDonald's in any category -- including growing average annual sales by 6% while more than doubling its operating margins.
However, for as dominant as the company has been over the past decade, it rarely ever gets mentioned among the best-run operations on the market. But on the heels of a somewhat disappointing quarter, opportunistic investors may find long-term value as a result of a market's overreaction to the company's short-term hiccup.
Q3 Wasn't Juicy, but Still Edible
McDonald's reported third quarter net income of $1.46 billion, or $1.43 per share and missing analysts' estimates of $1.47 per share. The decline in net income by 3% year over year was particularly disappointing since it followed the second quarter, during which profits also fell off by 4.5%. On the other hand, revenue was impressive.
Although revenue dipped 0.2% year over year, the company managed to exceed estimates with sales reaching $7.15 billion vs. analysts' estimates of $6.94 billion. Consequently, sales totals were not enough to prolong the company's streak of four consecutive quarters of revenue growth.
Operating income was a little soft -- showing a 4% decline to $2.29 billion. Likewise, due to increased competition, operating margins registered at 32% -- shedding by 140 basis points. But impressively, same-store sales (comps) were not too adversely impacted.
U.S. restaurants produced comps growth of 1.2%. Similarly, comps in Europe also performed well. Despite the ongoing fiscal concerns abroad, the company enjoyed same-store-sales growth of 1.8%. This means that McDonald's has found ways to grow market share in the region despite stiff competition; 1.4% comp growth in the Asia/Pacific and Africa division was equally impressive.
Moving Forward
Overall, this was not a quarter of gourmet status, but the company didn't exactly burn the happy meal either. Operating income and margins were a little disappointing. Likewise, revenue fell 0.4% and 0.1% from company owned and franchise owned restaurants respectively, speaking to not only the effect of the global economic slowdown, but also the impact of competitive pressure -- all of which resulted in a 4% decline in total operating income.
In terms of outlook, it doesn't seem as if analysts are expecting much improvement as Q4 estimates have fallen from $1.59 per share to $1.54. Likewise full-year projections have moved down to $5.55 from $5.71 over the past three months. But statements by the company seem to support the less than rosy view. During the announcement, Don Thompson, the company's CEO offered the following:
While our sales momentum and current financial results reflect today's challenging conditions, we continue to see significant long-term opportunities for brand McDonald's and remain confident in the underlying strength of our business model. We expect near-term top- and bottom-line growth to remain pressured as we focus on driving guest traffic and market share by leveraging our strategies and competitive advantages in response to the global economic, operating and competitive challenges. As we begin fourth quarter, October's global comparable sales are currently trending negative.
Bottom Line
Earnings were not spectacular and outlook is uninspiring, but so what. This is not a stock for one quarter or even one fiscal calendar. McDonald's will overcome this near-term turbulence and regain its dominant form. The company is unparalleled when it comes to strategic pricing and outside-the-box thinking.
With the stock having suffered a pullback of late, I would be a buyer here at current levels. The company still has a strong balance sheet and margins will improve. In the meantime, investors with patience will enjoy a stable brand that offers one of the best dividend yields on the market.
At the time of publication, the author held no position in any of the stocks mentioned
.
This article is commentary by an independent contributor, separate from TheStreet's regular news coverage.
Richard Saintvilus is a private investor with an information technology and engineering background and has been investing and trading for over 15 years. He employs conservative strategies in assessing equities and appraising value while minimizing downside risk. His decisions are based in part on management, growth prospects, return on equity and price-to-earnings as well as macroeconomic factors. He is an investor who seeks opportunities whether on the long or short side and believes in changing positions as information changes.