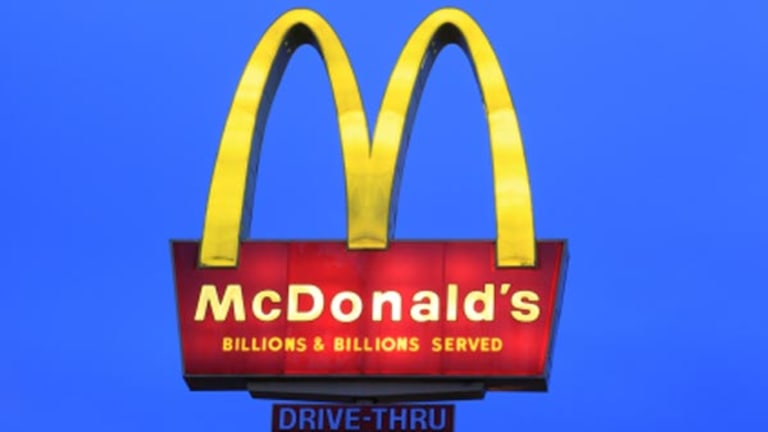 McDonald's Needs to Focus on Fat
The company -- whose stock offers long-term value -- should get back to its roots.
NEW YORK (TheStreet) -- On Monday morning, McDonald's (MCD) posted third-quarter earnings that beat estimates by a penny but provided a lackluster same-store outlook for the fourth quarter.
While nothing incredibly optimistic stuck out from the report, it's likely that many shareholders are be becoming discontented with management's fumbling in the changing fast-food industry.
McDonald's has cited a poor economy and health trends for its slumping same-store sales figures.
The healthy trend is legit, taking away customers. But you would think that a poor economy would
help
a fast-food chain such as McDonald's.
Rather than fighting the healthy dining trend that has pushed stocks such as
Panera Bread Company
(PNRA)
and
Chipotle Mexican Grill
(CMG)
through the roof in recent years, McDonald's is joining it -- err, well sort of.
Putting fresh fruit and juice instead of fries and soda in Happy Meals is a noble idea. But while premium McWraps are probably tasty for some, the company is veering too far from its roots.
The adoption is not working. Consumers don't go to McDonald's for a berry salad and a smoothie. Why would they? If they want something like that, they can go to Panera or
Potbelly
(PBPB)
.
Maybe I'm the weird one, but I go to Mickey D's when I'm looking for a quick bite on the go, don't feel like spending money, or, quite frankly, am feeling guilty and craving a double cheeseburger and some fries. Maybe a McFlurry on the really guilty occasions.
And I think that's exactly the customer McDonald's should start to cater to once again: The value-oriented, non-health nut consumer looking for a quick bite.
Let's face facts -- someone who actually cares about their health isn't going to eat there. Not now, not ever.
It's got chicken wings, the value menu, salads, wraps, ribs, fish, premium burgers -- basically everything it seems like. What happened to the simple stuff?
The company tried to mix it up and offer healthy, premium food. But it's not working. It needs to scrap the whole thing. If management wants to do healthy, it will need to spin off a different chain under a different name.
McDonald's should go back to what works: Burgers and fries. Of course, chicken sandwiches and some other variations are fine. But the menu is getting overwhelming. Before we know it, it'll be like the one from
Cheesecake Factory
(CAKE)
.
Besides, healthy isn't
always
better. How much noise has been made about the pretzel bun burger from
Wendy's
(WEN)
or
Yum! Brands'
(YUM)
Doritos Locos Taco?
The taco
Taco Bell, one of Yum! Brands' chains, post a 13% gain in same-store sales in the first full quarter following its introduction, besting the 2% decline in the prior quarter.
McDonald's should focus on what its foundation is. Yes, companies must adjust to changing environments, but when the change doesn't work, sometimes it pays to go back to what you do best.
With all that being said, and as frustrating as it is for some shareholders, the stock is kind of attractive near these levels. Below $90 and it becomes quite compelling.
The company has a solid dividend yield at 3.4% and incredible global brand recognition.
More so, the company is dependable. I don't own a lot of blue-chip stocks, but the ones I do own are consistent at returning cash to shareholders. If you want double-digit growth, the Golden Arches aren't for you.
McDonald's is a cash cow, which explains why the company has increased its dividend by 10% or more in each of the past 10 years, with the exception of 2008 when it was raised
only
9.33%.
Furthermore, in six of those 10 years, the company raised the dividend by 20% or more.
While it might take CEO Don Thompson some time to get it right, long-term investors have a chance to scoop up shares when all of the news surrounding the stock is nothing but sour -- the perfect time to buy.
Plus, it fits the requirements for a
While shares are up just 7% year-to-date and trailing the
S&P 500's
22% run, the stock seems ripe for long-term accumulation.
At the time of publication, the author was long McDonald's and Panera.
-- Written by Bret Kenwell in Petoskey, Mich.
Bret Kenwell currently writes, blogs and also contributes to Robert Weinstein's Weekly Options Newsletter. Focuses on short-to-intermediate-term trading opportunities that can be exposed via options. He prefers to use debit trades on momentum setups and credit trades on support/resistance setups. He also focuses on building long-term wealth by searching for consistent, quality dividend paying companies and long-term growth companies. He considers himself the surfer, not the wave, in relation to the market and himself. He has no allegiance to either the bull side or the bear side.