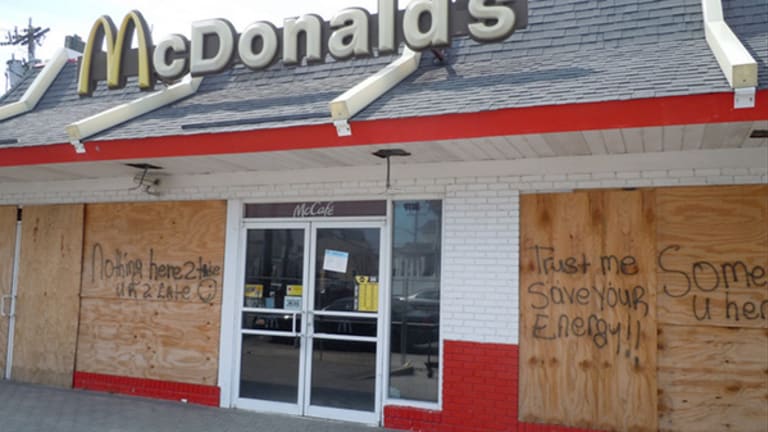 McDonald's to Close About 500 Restaurants in 2016
McDonald's continues to weed out weaker-performing stores in a bid to bolster profits.
McDonald's continues to weed out weaker-performing stores in a bid to bolster profits.
Updated to include additional details from earnings call.
McDonald's (MCD) - Get Report will shutter more stores from its supersized global restaurant network in 2016 in a bid to serve up better profits.
On Monday, McDonald's said it intends to open about 1,000 restaurants in 2016.  In total, the Golden Arches anticipates a "net addition" of 500 restaurants this year, indicating that 500 locations from around the world will be closed. Many of the closings are likely to be concentrated in the U.S. as the company acts to shut down weaker-performing, company-operated locations.
McDonald's spokeswoman Becca Hary declined to comment on the precise number of U.S. restaurants that will close in 2016. Of its previously announced U.S. store closings for 2015, Hary said via email that "it's important to note that while we will have a net reduction in restaurants [in the U.S.], the impact is minimal in comparison to the 14,000 restaurants we operate across the U.S." She added that "we consistently review our restaurant portfolio and make strategic decisions to better position our business for the future."
The news continues the theme articulated by McDonald's CEO Steve Easterbrook early on in his tenure atop the fast food chain that running the right restaurants is paramount. In April of last year, McDonald's announced that it would close about 350 under-performing restaurants in 2015, primarily in Japan, the U.S. and China. Those restaurant closings, McDonald's said at the time, were in addition to the 350 global restaurant closings originally planned for 2015. 
Based on data McDonald's shared on Monday, it had 14,259 restaurants in the U.S. as of Dec. 31, down 91 year over year. According to McDonald's, it opened 115 restaurants in the U.S. last year and closed 206.  In Japan, the total number of restaurants weighed in at 2,956, a decrease of 137 from the prior year.
McDonald's ended 2015 with 36,525 restaurants globally, up about 267 from 2014.
Being a smaller, more focused restaurant operation is something the stock market has seemed to embrace from McDonald's.
Over the past year, McDonald's shares have tacked on an impressive 30%, while the Dow Jones Industrial Average has dropped 9%, as the availability of all-day breakfast has started to pull in more customers. And the efforts to weed out unproductive locations may finally be starting to appear favorably on the profit line. 
Fourth quarter operating income for McDonald's U.S. surged 30%. Elsewhere, operating income for what McDonald's calls international lead markets (such as the U.K., Canada and Australia) rose 8% in the quarter, excluding the impact of the stronger U.S. dollar. The company's high-growth segment, comprised of countries like China, saw operating income spike 45% excluding the impact of the strong U.S. dollar.
Some of the cost savings stemming from closing lagging McDonald's restaurants will be reinvested back into more profitable locations. For instance, McDonald's expects to "re-image" (remodel) 400 to 500 restaurants in 2016, with enhancements including the addition of side-by-side drive thrus and potentially, digital menu boards in all U.S. restaurants.
In total, McDonald's has pegged its capital expenditures at $2 billion in 2016, with half allocated to reinvestment in its best locations. The other half will be used to open roughly 1,000 new restaurants.
Shares of McDonald's rose about 1.5% in midday trading on Monday.