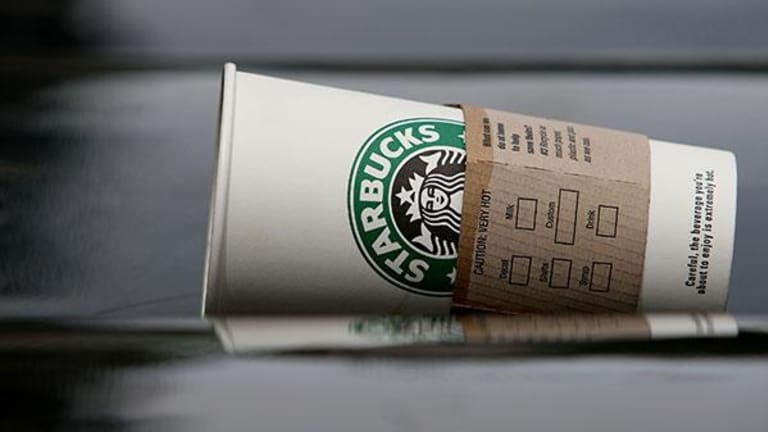 McDonald's, Starbucks Prep for the End of the World
The world is a tough place to do business in right now, at least according to McDonald's and Starbucks.
The world is pretty grim right now -- or so suggested the CEOs of two colossal restaurant companies that fell short in their second-quarter results. 
Shares of fast-food behemoth McDonald's (MCD) - Get Report were down as much as 4.5% in afternoon trading Tuesday, as the company reported that same-store sales in its largest market, the U.S., rose 1.8% from the prior year, badly missing Wall Street forecasts for a 3.2% increase.
McDonald's had been enjoying success with its all-day breakfast menu, and it isn't selling high-priced steak. Its sales slowdown likely came as a true shock to Wall Street.
Same-store sales growth cooled drastically from a 5.4% increase in the first-quarter, which is concerning. McDonald's promised it will add additional items to its all-day breakfast menu and enhance its core items this fall in a bid to jump-start sales.
The tepid results from the Golden Arches reflects a broader slowdown in the restaurant space in the second quarter. Consumers are more cautious globally, but especially in the U.S.
"There is a broader level of uncertainty in the minds of consumers with regards to their financial security," said McDonald's CEO Steve Easterbrook on an analyst call.
McDonald's surprising performance in the U.S. overshadowed several positive areas. Earnings, adjusted for one-time items, came in at $1.45 a share, handily beating Wall Street estimates for $1.39 a share. And McDonald's bottom line continued to benefit from its cost-saving efforts, which mainly involve unloading company-owned stores to franchisees and cutting expenses at headquarters.
Same-store sales at the company's International Lead segment rose 2.6%, in line with analyst estimates, due to momentum in the U.K., Canada and Australia. Sales gained 7.7% in the Foundational Markets segment, surpassing estimates for a 6.7% increase, as McDonald's said it experienced "very strong" demand in Japan.
But it was Easterbrook's tone on the state of the world that likely did its part to fuel selling of McDonald's stock.
Certainly, investors took a similar approach -- sell first ask questions later -- when hearing Starbucks (SBUX) - Get Report CEO Howard Schultz strike a downbeat note on the state of the world after its sales numbers were released.
The world seems pretty dreary right now, if one asks McDonald's and Starbucks.
Starbucks reported that same-store sales for the fiscal third quarter ended June 26 rose 4%, snapping a 25-quarter stretch of 5% growth or greater.
Results also marked a steep slowdown from 7% same-store sales growth delivered in the preceding quarter.
Starbucks is a holding in Jim Cramer's Action Alerts PLUS Charitable Trust Portfolio. Want to be alerted before Cramer buys or sells SBUX? Learn more now.
Schultz called the slowdown in the U.S. an "anomaly" and did his best to remind investors that Starbucks has seen pockets of sales softness tied to prevalent economic conditions in the past, only to bounce back.
"I think we have a situation where you have a very uncertain election [in the U.S.], you have domestic civil unrest with regard to race, and I think the issues around terror have created a level of anxiety -- so we are no longer looking at just an economic downturn, there are a number of things that we are facing as citizens and, I think, the direction of the country," Schultz told analysts on a July 21 call.
He added, "We will do everything we can to not only meet the guidance -- as we've done in the past, try and overachieve it. But no one should misinterpret or in any way look at the challenges that we and many, many other companies are facing as something that has been done before. This is quite unusual, it's unsettling, it's unnerving, and as a result of that, it requires an approach that is quite different than anything we've done before."
Unlike McDonald's, however, the disappointing sales for Starbucks weren't limited to the U.S.
Net sales rose 7% from the prior year to $5.2 billion, falling shy of Wall Street estimates for $5.34 billion. Starbucks Americas delivered a 4% same-store sales increase, below estimates for a 5.6% improvement.
Starbucks Europe notched a 1% same-store sales drop, likely due to reduced tourism in key markets such as France in the wake of several high-profile terrorism incidents. Wall Street saw sales for Starbucks Europe rising 2.4%.
Even China, where Starbucks continues to open new stores aggressively and expand its offerings, came up short relative to Wall Street expectations. Same-store sales in China increased 3%, shy of forecasts for a 4.4% gain.
Shares of Starbucks fell as much as 4% in the immediate aftermath of its earnings release, but have rallied back to 0.5% gains.