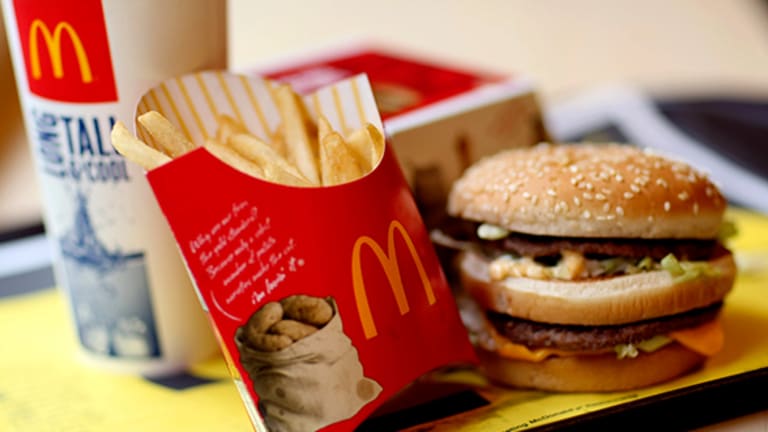 McDonald's Just Served Up a Sizzling Quarterly Report
The fast food giant recorded its best performance in the U.S. since the first quarter of 2012, lending more fuel to its turnaround story.
Updated to include comments from McDonald's CEO on earnings call.
Plenty of Americans ate at the re-energized McDonald's (MCD)  over the holidays, lending more fuel to the fast food giant's turnaround story. 
On Tuesday, the Golden Arches reported that fourth-quarter same-store sales in the U.S. surged 5.7%, trouncing Wall Street estimates for a 2.7% gain. The results in the U.S. marked the second consecutive quarterly increase, and the best performance by McDonald's since it reported an 8.9% same-store sales gain in the U.S. in the first quarter of 2012. Global same-store sales increased 5.0%, compared to estimates for 3.2% growth.
"Customers are noticing a difference in things such as food quality, friendliness and order accuracy," said McDonald's CEO Steve Easterbrook on a call with analysts.
While customers may have had a more pleasureful dining experience at their local McDonald's, full credit for the big U.S. sales gains goes to the company's all-day breakfast platform. Launched in October last year, the ability to buy Egg McMuffins and pancakes around the clock has drawn in customers who were no longer visiting the fast food heavyweight.
"All-day breakfast exceeded our expectations, it's driving incremental business," said Easterbrook, adding, "all-day breakfast was the primary driver of the quarter."
As icing on the cake, operating income surged 30% for McDonald's U.S. business, underscoring the profit potential that exists this year amid better sales and McDonald's actively slashing expenses and re-franchising restaurants.
Shares of McDonald's rose by about 1.5% in midday trading on Monday as investors wagered that even stronger sales -- and profits -- in the company's largest market lay ahead, due to customers also embracing the new "McPick 2" value menu that launched nationwide on Jan. 4. McDonald's fourth quarter ended Dec. 31, so it does not reflect the likely favorable traffic impact of its new value menu.
The new value menu is being well-received by customers in the early going, suggested Easterbrook. "McPick 2 appears to be resonating with customers," he said, calling out the menu's double cheeseburger and mozzarella sticks as top-selling items. But the McDonald's chief did not fully commit to the McPick 2, noting the company is exploring a "more permanent value platform later this year."
Elsewhere, consumers also seemed to embrace the focus by Easterbrook on improving the customer experience by serving food more quickly andhotter. Sales in what McDonald's calls international lead markets rose 4.2%, led by the U.K, Canada and Australia. Operating income for the division fell 5%, but increased 8% when excluding the impact of the stronger U.S. dollar. The company's high-growth segment saw sales rise 3%, with operating income up 27%, or 45% excluding the impact of the strong U.S. dollar.
With the stock market worried about growth in China, McDonald's echoed comments made by Starbucks (SBUX) last week, that Chinese consumers are continuing to spend, at least when it comes to eating out -- sales were "positive" in China, said McDonald's. Furthermore, McDonald's will open 250 restaurants in China this year, the most of any market, according to Easterbrook.
(Starbucks is an Action Alerts Plus holding, a charitable trust managed by Jim Cramer.)
McDonald's also continued to convey confidence to investors in its turnaround by aggressively repurchasing its stock. During the fourth quarter, the company repurchased 13.6 million shares of its stock for $1.5 billion, bringing the total number of purchases for the year to 61.7 million shares for $6.2 billion.