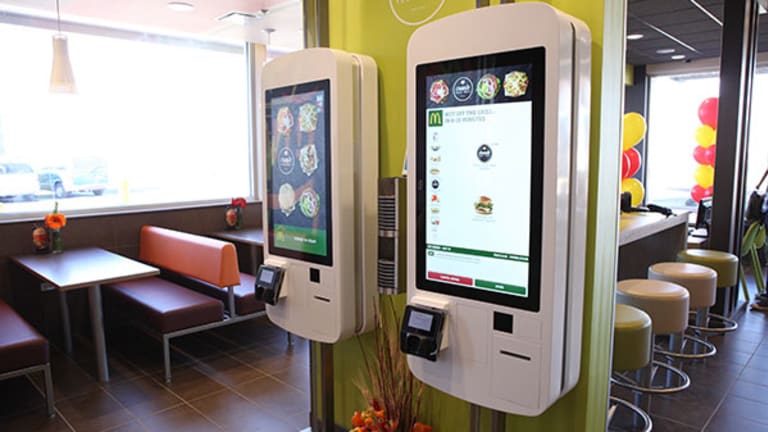 Publish date:
McDonald's Rolling Out Self-Ordering Kiosks in Europe; Will U.S. Be Next?
Ordering McDonald's hamburgers at almost half of its 7,900 restaurants in Europe has quietly gotten very easy.
Ordering McDonald's hamburgers at almost half of its 7,900 restaurants in Europe has quietly gotten very easy.
Updated from original story on March 30 with information from McDonald's Worldwide Convention this week.
Ordering McDonald's (MCD) - Get Report hamburgers at almost half of its 7,900 restaurants in Europe has quietly gotten very easy -- and the U.S. may soon be next.
"We have in-store kiosks in about 45% of our restaurants in Europe," McDonald's chief digital officer,  Atif Rafiq, told TheStreet in an interview on Friday. Part of McDonald's "Create Your Taste" initiative launched several years ago, the giant tablet-like devices allows customers to skip the counter and customize everything for a burger order. That includes the type of bun to the variety of cheese to the litany of toppings and sauces that the Golden Arches has available. 
Over 90% of McDonald's restaurants in France now boast the ordering kiosks, said execs on a call with analysts Oct. 22. McDonald's continues to be mum on its kiosk roll-out plans, but it's believed that Australia and the U.K. -- which often serve as testing grounds for new initiatives -- also have many restaurants with the Create Your Taste layout.   Judging by the tweet below, the kiosks have also landed in China.
McDonald's spokeswoman Becca Hary declined to share any additional specifics on the overseas roll-out plans. But she did highlight one of several benefits for McDonald's.  
"McDonald's has used kiosks to streamline the customer experience in various geographies including Europe and Asia," said Hary. Additionally, McDonald's may get better at managing employee and food costs due to customers skipping the counter and choosing precisely what they want to eat. 
On a July 23 call with analysts, McDonald's CEO Steve Easterbrook said that kiosk ordering "takes the stress away from the front counter, and therefore you divide some of the pressure during the busiest times." He added, "from a commercial perspective, we see higher average checks because customers can browse the menu for a little bit longer, feel a little less pressure and they just tend to spend more."
McDonald's hasn't said too much about its kiosk plans in the U.S., its largest market at over 14,000 restaurants.  According to a source attending the annual McDonald's Worldwide Convention this week, the company now has kiosks in 600 U.S. restaurants. By year's end, it plans to have them in 1,000 locations. In addition, the kiosks have a much sleeker look than earlier iterations (photo below).
New @McDonalds (slim) front counter kiosks but it's frustrating...you can touch but you can't buy!!! #McDWW16pic.twitter.com/qU5eXXHmRb
But should the majority of McDonald's in the U.S. get self-order kiosks, it could help franchisees reduce labor costs -- and boost profits -- just as state minimum wages are on an uptrend. Ordering burgers and fries on tablet-like devices would also assist in adding some cool factor back into the McDonald's brand just as it prepares to launch its first-ever loyalty program and likely, mobile ordering. 
"We are testing them [kiosks] in the United States, and haven't announced any additional specifics," says Hary. 
McDonald's began testing ordering kiosks in four Southern California restaurants in 2014, and then expanded that to 30 locations in five more states in early 2015. The five additional states were Illinois, Wisconsin, Georgia, Missouri and Pennsylvania.   
The kiosks installed so far in McDonald's U.S. locations may be having a positive effect on business. "I do not have the kiosks yet, but I have friends who have them -- they are seeing very positive results, with a higher average check and a high percentage of customers using them," a McDonald's franchisee with several locations in New York City told TheStreet.
It does look like our friends north of the border in Canada have recently scored McDonald's kiosks, too. 
"I use the kiosks almost all the time up here in Canada -- at times maybe I spend more on them, unless there is a combo deal that makes it a better purchase," said Walter Tychnowicz who lives in Edmonton, Canada. Tychnowicz added one other succinct benefit of tablet ordering at McDonald's. "There is also no language barrier," he said.