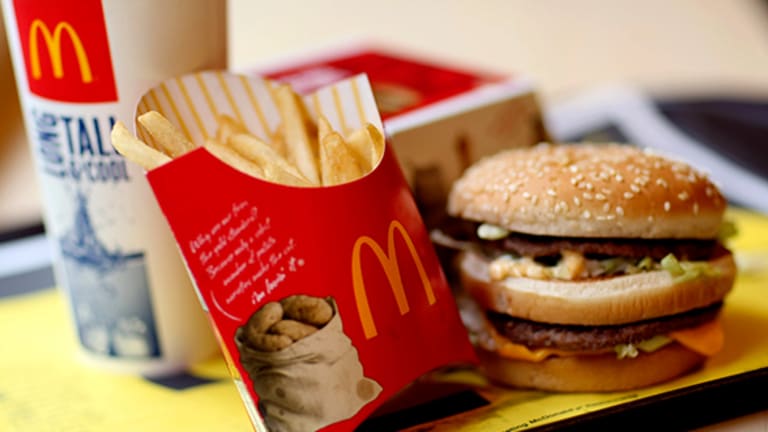 McDonald's New McPick Menu Has One Big Advantage Over the Dollar Menu
McDonald's new value menu comes at an opportune time for the fast food giant.
Thanks to some favorable pricing trends, McDonald's (MCD) - Get McDonald's Corporation (MCD) Report may have more success with its new value menu debuting in January than it did with its Dollar Menu.
Starting Jan. 4, the fast-food giant will launch the "McPick 2" menu, which will let customers select two of the following items for $2: a McDouble (two all-beef patties and a slice of cheese), a McChicken sandwich, small fries and mozzarella sticks. The offering will be available in U.S. restaurants for a five-week stint. Following the trial period, McDonald's said it may alter the details of the offering, but that it intends to stay with the "McPick" concept and name.
The plan, designed to get customers back into restaurants that are trying to feature better service and food quality, arrives at an opportune time for the prices of some key ingredients found on the McPick menu.
According to USDA Market News, U.S. beef prices have plunged about 20% since January. Prices have been driven down by record carcass weights; growing supplies of competing meats such as chicken; and soft export sales, which have led to elevated supplies of beef.
The outlook for beef prices seems to be attractive as well. According to the Livestock Marketing Information Center (LMIC), feeder cattle prices will drop year-over-year by 3% to 5% in 2016 and another 1% to 4% in 2017. Prices for a block of cheese, according to USDA Market News, have dropped about 5.1% since their peak achieved in June.
Cheaper prices for beef and cheese should allow McDonald's franchisees to more profitably sell things like the McDouble and mozzarella sticks.
"Certainly cheaper beef and cheese costs will help," said one McDonald's franchisee who operates several locations in the Southeast. The franchisee was optimistic that the new plan would bring people more frequently into McDonald's, noting mozzarella sticks on the new value menu were especially appealing in his region given a lack of competitors offering them.  
The pricing environment for key ingredients such as beef and cheese is different from when McDonald's killed the dollar menu in Oct. 2013 after an 11-year run, switching then to its "Dollar Menu and More" platform. At the time, the shift was fueled by franchisees complaining they couldn't earn money on the items due to increasing inflationary pressure.  
"There was a lot of pressure at the time due to high beef prices," said the franchisee, who added the Dollar Menu wasn't resonating with consumers as it once had.
Beef prices began to tick higher in October 2013, before exploding in 2014. From Oct. 2013 to Oct. 2014, beef prices surged about 53% amid thinning cattle supplies, caused primarily by severe droughts in the Midwest and California. Cheese prices were also impacted, rising about 37% from Oct. 2013 to their peak in March 2014.
Should inflationary pressures unexpectedly return, McDonald's may be back in the same boat it was with the original dollar menu. For the time being, the Golden Arches has a window of opportunity to lure in consumers with a catchy new promotion while franchisees benefit from the better economics of the items on the McPick.