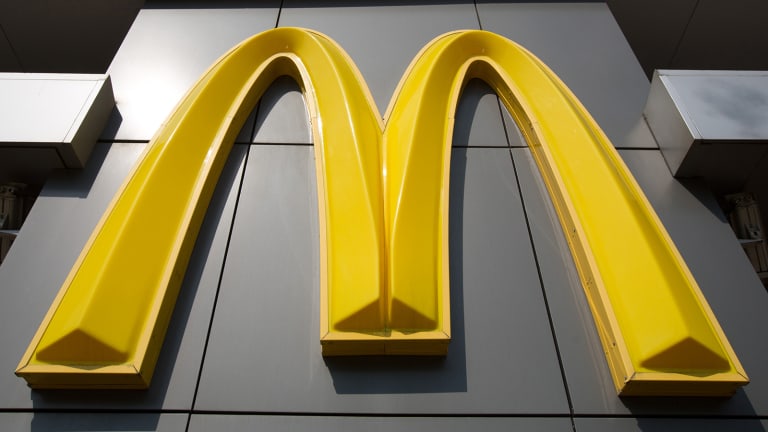 McDonald's Is a Bright Spot for Profits in 2016
McDonald's just reported stellar fourth-quarter results after decades of stagnant growth. Here's how the fast-food giant is out to revolutionize its business... and gain "supersized" profits along the way.
Every cloud has a silver lining, they say, and if there's been a silver lining to the terrible start we're off to in 2016, it's been the fact McDonald's (MCD) is now serving Egg McMuffins all day long. But beyond being a way to satisfy your breakfast cravings 24-hours a day, the fast-food giant's new menu strategy has given the company a significant earnings boost. Far from being one of the many dangerous stocks on the market today, MCD now looks like a solid bet for profits this year.
Fourth-quarter results released today credit the October launch of all-day breakfast, along with increased demand in "high growth" markets such as China and Russia, with better-than-expected sales. Global same-store sales were up 5%, beating analysts' estimates of 3.2%. In the U.S. alone, same-store sales increased by 5.7%.
data by
McDonald's net income for the quarter surged to $1.21 billion, or $1.31 per share. Compare that to the fourth quarter of 2014, when earnings stood at $1.1 billion, or $1.13 per share. Analysts polled by FactSet had forecast earnings of $1.23 per share, and as late as September, the consensus expected only $1.17 per share.
Revenue slipped by 3.5%, from $6.57 billion last year to $6.34 billion, but still beat the average analyst estimate of $6.22 billion and is likely due to a strengthened dollar.
However, McDonald's Chief Executive Officer Steve Easterbrook doesn't see the momentum slowing into the new year. "As we enter 2016, we expect continued positive top-line movement across all sectors," he reported on Monday. This is a refreshing difference from the doom and gloom we've been hearing as many stocks plummet thus far in the year.
Easterbrook took the reins at the company in March 2015 and in less than a year has accomplished what many critics considered unthinkable: He has made the once-tired fast-food outlet relevant and competitive in a world of trendy burger joints such as Five Guys and Shake Shack.
The biggest change has been the introduction of the all-day breakfast menu. This development is bringing more customers in under the Golden Arches. A study conducted by researchers from the NPD Group revealed that as many as 30% of the diners who purchased breakfast menu items after the former 10:30 a.m. cutoff time hadn't visited McDonald's at all during the month previous to the change.
In addition, the study showed that 61% of the all-day breakfast purchasers bought items on other menus and typically visited the restaurant during lunch, which has traditionally been McDonald's slowest-growing time.
Other innovations made to McDonald's during Easterbrook's tenure include the introduction of McPick 2. Replacing the company's tired Dollar Menu, McPick 2 allows customers to choose two items from a menu for $2.
And the company is also adding items for a more gourmet taste, which will allow McDonald's to better compete with casual eateries such as Panera Bread and Chipotle and outperform other fast-food retailers such as Burger King and Wendys. Sweet potato fries, quinoa, and menu items containing kale are currently undergoing -- or are about to be subject to -- testing at locations across the country. In addition, within the next two years, McDonald's expects to serve only hormone- and antibiotic-free chicken and milk at all locations.
Interestingly, the company that once prided itself primarily on speed is shifting to a slightly slower pace. As Lance Richards, vice president of menu strategy, says, "Operational efficiency has actually moved down in the ranks of priority because we want to focus most of all on the food." Although Easterbrook has vowed to improve speed of service and efficiency, clearly quality has become a priority at the fast-food retailer.
And nowhere is this demonstrated more clearly than at the company's first experimental McDonald's Next location in an upscale neighborhood of Hong Kong. Featuring a colossal salad bar, gourmet coffee, and table service after 6 p.m., it's a far cry from a greasy fry counter.
While the company has not revealed further plans for the Next concept, it's obvious that McDonald's is focused on improving many aspects of its business, making MCD a stock to watch. Already since the beginning of January trading the stock is up by more than 2.5%, leading the Dow. MCD now trades around $120... but should have plenty of room for growth.
As you can see, McDonald's looks like a great buy for investors right now. On the flip side, this group of 29 dangerous stocks is a terrible place for your money today. In fact, using a little-known financial "health test," the stocks on this list are a failure in every category! Click here now to make sure you don't make the mistake of owning one.
This article is commentary by an independent contributor. At the time of publication, the author held no positions in the stocks mentioned.