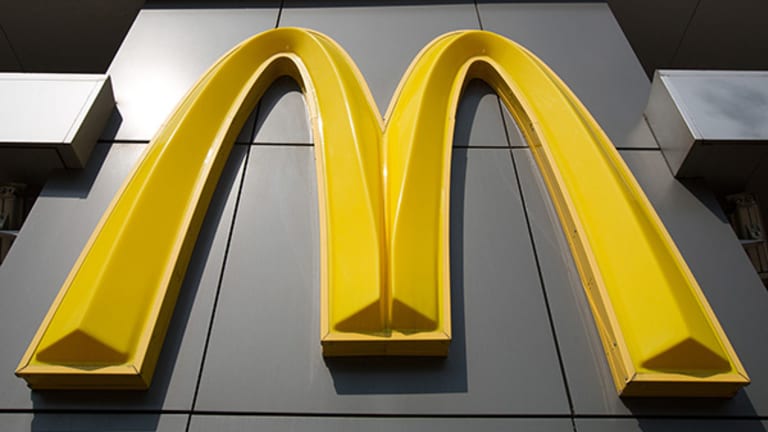 McDonald's: Has the Burger Bubble Burst?
The fast-food stock is down today, thanks to low expectations for the burger industry. But is there value still left in the Golden Arches?
The fast-food stock is down today, thanks to low expectations for the burger industry. But is there value still left in the Golden Arches?
Editor's pick: Originally published June 22.
Shares of McDonald's (MCD) - Get Report are down today, following a downgrade from a major investment analysis firm and an industry customer satisfaction report that suggested burger-centric restaurants are falling out of favor.
Should you be looking for the exit doors under the Golden Arches? Or is this a temporary setback that will provide investors with a tasty opportunity to load up on more shares?
Along with McDonald's, Nomura downgraded fast-food chain Wendy's today, writing that both businesses would suffer this year as burger joints become no longer "a beacon of brightness for the [restaurant] industry."
Nomura's Mark Kalinowski cut his price target for McDonald's to 129 from 142 and labeled it as "neutral." "With the U.S. restaurant industry looking like it could remain sluggish for the remainder of 2016... we believe MCD stock is more likely to be range-bound for the rest of this year," he wrote.
Critics of the chain are concerned that last year's excellent sales rebound was too heavily influenced by October's launch of All Day Breakfast. As the novelty wears off, they're expecting sales to weaken.
In addition, Kalinowski wrote that competition from fast-casual burger chains, such as Shake Shack, is crippling the company. Fast-casual restaurants generally present themselves as having a focus on better-quality foods and service, which consumers find appealing.
These sentiments were echoed by the American Customer Satisfaction Index Restaurant Report for 2016, which was released yesterday. The report, which was based on responses from nearly 500 diners in March, showed McDonald's falling in at 18th place, below Wendy's, as well as Restaurant Brands' Burger King. The top spot among fast-food chains went to Chick-fil-A, which doesn't serve burgers at all.
McDonald's stock has ticked lower today. This is actually creating a great opportunity to load up on shares.
Although short-term trends are pointing away from McDonald's popularity, keep in mind that restaurant-goers are notoriously fickle. Chipotle Mexican Grill was one of the country's most beloved outlets -- and one of the hottest stocks around -- until a brief food safety scare sent the company's shares and sales rocketing downward within a few months.
McDonald's, however, is no flash-in-the-pan brand. It's a household name and practically invented the fast-food industry. It's a long-term play, for sure.
In addition, the company is currently working on transforming its image to align itself more with popular fast-casual restaurants such as Panera Bread. While the highlight of the McDonald's menu will always be its burgers, the chain is testing new recipes featuring higher-quality ingredients that should hold more appeal for so-called "foodies." Plus, McDonald's is currently in the process of relocating its headquarters from the Chicago suburbs to a hip neighborhood downtown, where it should attract a millennial work force and reinvigorate its brand.
McDonald's is down today, but it will be back up again... although this may not happen tomorrow. It's a great long-term play, and any dips should be seen as opportunities to grab more shares at a discount.
---
McDonald's remains one of the best stocks to hold for the long term. But what if I told you there is a way to make $67,548 per year - or more - without stocks, just by following this simple step-by-step process? The trader who is sharing this secret has been right more than 8 out of 10 times, turning $5,000 into more than $5 million for himself. Click here to see how easy it is to follow his lead and collect thousands of dollars in "Free Money" every month.
This article is commentary by an independent contributor. At the time of publication, the author held no positions in the stocks mentioned.