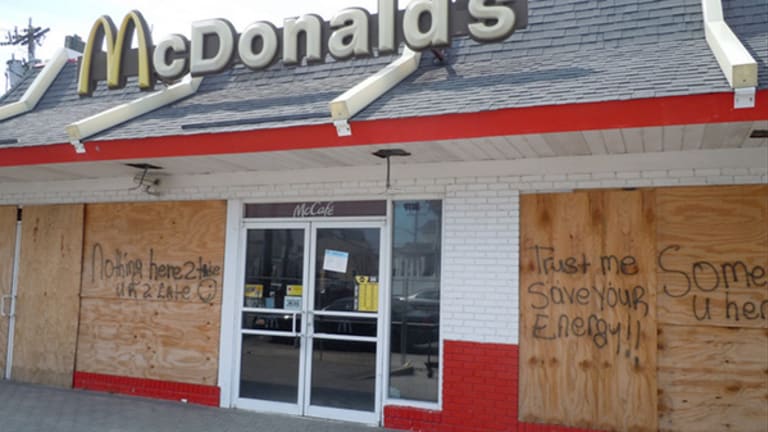 McDonald's Earnings Offer Some Good News but Highlight the Company's Struggles
Amidst increasing interest in healthy eating, the iconic fast food chain needs to change its image.
Fast food king McDonald's (MCD) - Get Report reported earnings on Tuesday which came in mixed. Wall Street traders had sent the stock down more than 4% by the end of trading.
Wall Street was expecting $6.27 billion in revenue and earnings per share of $1.38. The Golden Arches posted revenue of $6.26 billion and adjusted earnings per share of $1.45. So it was a beat and a miss. Furthermore, despite same store sales rising 1.8% in the U.S., they fell short of expectations of a 3.2% increase.
(If you don't want to get caught owning a falling stock, check out these stocks that will help protect your portfolio!)
McDonalds posted higher margins during the quarter but is still falling short on store traffic. Jim Cramer's answer to this was that the company needed to run more promotions. While that idea would likely increase store traffic, it would inevitably hurt margins.
Another CNBC contributor, Tim Love, noted that McDonald's rolled out the all-day breakfast around the time Chipotle Mexican Grill was having its e-coli issues. Love implied that the bump McDonald's saw in the fall may have had more to do with customers not going to Chipotle instead of the all-day breakfast.
Barclay's analyst Jeffrey Bernstein noted that the fast food sector has slowed from its peak, implying McDonald's likely is just feeling the industry wide slow-down, more than anything else.
Both Love and Bernstein make great points. When Chipotle's health issues rose, the company saw a massive decline in customer traffic and McDonald's posted better-than-expected numbers. But the fast food market is also struggling with changes in eating trends with McDonald's at the forefront of these struggles. 
With the increasing push into health food and healthy eating options, McDonald's has been losing customers for years.
Places like Panera were better positioned from the start to benefit from healthier eating than a McDonald's or even a Chipotle, and in its most recent quarter, the company posted a 4.2% same-store sales increase.
McDonald's has tried rolling out healthy options like salads and fruits in the past, but it still has an image problem. Someone who is health conscious isn't going to a McDonald's regardless of what menu items it has because of this stigma.
Cramer is right about McDonald's doing more marketing, but it's not promotions it needs to push; rather, the company needs to market itself as a better, healthier place to eat and focus more on changing the way people view the company.
It needs to think creatively. A partnership with a company associated with healthy eating, Whole Foods Market for example, would give the company credibility and do more in the long run than expanding breakfast or expanding its menu. 
---
How many times have you heard someone on CNBC say, "I actually think the economy is fine here in the United States. Buy stocks!"? If you're like many Americans, you've probably heard it more than once. But just because they're saying it, doesn't make it true. Because I can tell you with absolute certainty it's not. America is in deep trouble. And the crisis looming on the horizon has the potential to make 2007-2008 look like child's play. The window to protect yourself is rapidly closing. I'll show you how here.
This article is commentary by an independent contributor. At the time of publication, the author held no positions in the stocks mentioned.