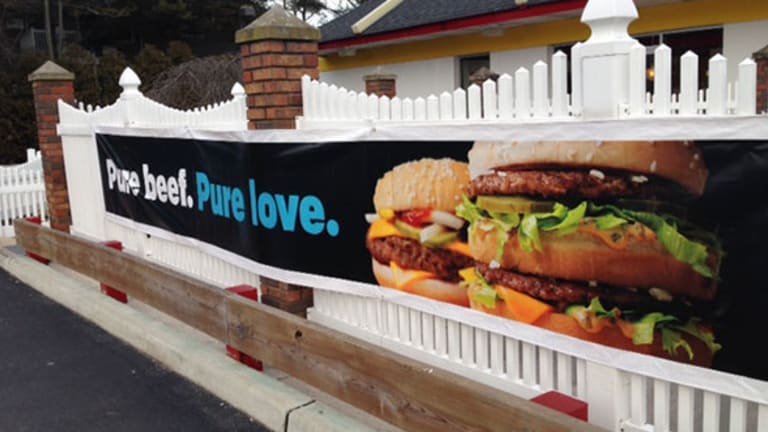 McDonald's Offers Up a Jumble of Confusing News to Investors
Investors may be uncertain what to do next following a raft of news, including that the fast food giant won't be spinning off its real estate holdings.
Updated to include more information and analysis on the announcements by McDonald's.
Investors who have bid up shares of fast-food giant McDonald's (MCD) - Get McDonald's Corporation Report by 15% in the past three months may be uncertain on what to do next following a confusing investor day. 
At its investor meeting on Tuesday, McDonald's execs led by CEO Steve Easterbrook delivered a welter of both positive and negative news. One negative was a confirmation that McDonald's will not be spinning off its property holdings into a real estate investment trust (REIT) after months of evaluating such a transaction with the help of outside advisers. "The risk is too great," said Easterbrook.
The decision stands in stark contrast to the views of one prominent hedge fund manager. Larry Robbins, of Glenview Capital Management, which owns a small stake in McDonald's, said in a March letter to investors that McDonald's could unlock at least $20 billion in value if it were to spin off its U.S. real estate.
Robbins did not immediately return a request for comment. 
But apparently the risk wasn't too great for McDonald's to add what it called a "meaningful" amount of new debt to its balance sheet to help fund aggressive share repurchases into 2016. A prime consideration in the new debt financing, said McDonald's, are historically low interest rates -- a dynamic that the Federal Reserve may be poised to change before year end.  
Rating agency S&P promptly slashed its credit rating on McDonald's to BB+ from A-.The new rating leaves McDonald's credit rating at three notches above "junk" status.
As an extra bit of bad news for investors bullish on McDonald's, which is coming off a much better-than-expected third quarter of sales in the U.S., execs acknowledged that domestic traffic to its restaurants "remain challenged."  
Easterbrook and his team did toss several bones to optimistic investors, however.
McDonald's said it now plans to re-franchise about 4,000 restaurants by 2018, up from a target shared in May of 3,500. With the completion of the re-franchising initiative, about 93% of McDonald's locations will be franchise-operated compared to 81% today. The initiative will help lower McDonald's costs and expenses by about $500 million by the end of 2017 as it moves away from directly operating restaurants.
The company also suggested that the fourth quarter, which started off well, continues to be on track as it reiterated its sales guidance. Said Easterbrook, "we have really had an encouraging start to the quarter," pointing to continued enthusiasm by consumers for buying breakfast foods around the clock.  
But Easterbrook did add an interesting wrinkle to his comments on current sales trends, refuting an analyst at the event who speculated that sales in the U.S. are trending stronger than the 0.9% increase seen in the third quarter.
"I won't assume anything," said Easterbrook. 
McDonald's stock price reflected the general confusion from the whirlwind of news. After being briefly halted in midday trading on Tuesday pending the company's press release, shares reopened up about 1.2%.  
Then, as McDonald's presentation wore on and the negative news mounted, shares dipped into the red by roughly 0.2%. The stock finished the session 0.26% higher.