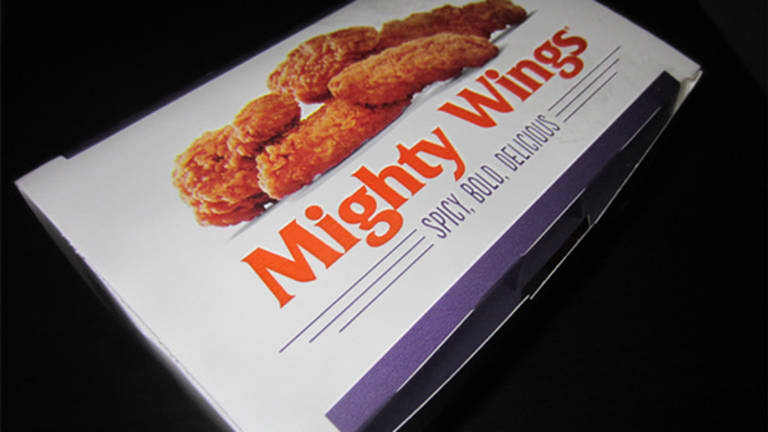 McDonald's Brings Back Mighty Wings
McDonald's Mighty Wings are back, despite their checkered past.
Editors' pick: Originally published April 28.
McDonald's (MCD) - Get McDonald's Corporation Report mightiest chicken wings are back.
A company spokeswoman told TheStreet that McDonald's recently brought back Mighty Wings as a limited-time offering at 285 restaurants throughout Atlanta. The bone-in chicken wings, with a somewhat spicy breading, are available until mid-June. Even if this test is successful, Mighty Wings are not likely to become a permanent item on the menu given their high purchase cost, according to a source. Their price has not yet been disclosed.
Mighty Wings have a checkered history for the Golden Arches. The product originally launched in 1990, but had been taken off the menu in 2003. 
McDonald's re-introduced Mighty Wings in September 2013 nationally after a year of testing, and they were a colossal failure as consumers shunned them because of their extra spicy breading and expensive price. The company was forced to discount millions of wings in order to work through excess inventory. They were removed from the menu, only to return for a limited-time in Detroit last summer. 
Fried chicken wings are the latest in a series of product tests for McDonald's as franchisees, which now have more creative control over their menus, look to spice up sales. 
McDonald's said Wednesday it started to test Chicken McNuggets with no artificial preservatives in 140 stores in Oregon and southwest Washington in March. 
The new McNugget is still made with 100% white-meat chicken, no artificial flavors or colors and the company's signature seasonings and crispy breading. But the ones being tested in Portland have no artificial preservatives.
McDonald's has also started testing a "Grand Mac" and "Mac Jr." in more than 120 restaurants in the central Ohio and Dallas areas. The Grand Mac, which will cost $4.89, is made with two, 1/6-pound beef patties on a larger sesame seed bun, compared to a traditional Big Mac, which has two, 1.6-ounce beef patties. The Mac Jr. is essentially a single-layer Big Mac that will go for about $2.39 or $2.59, depending on location.