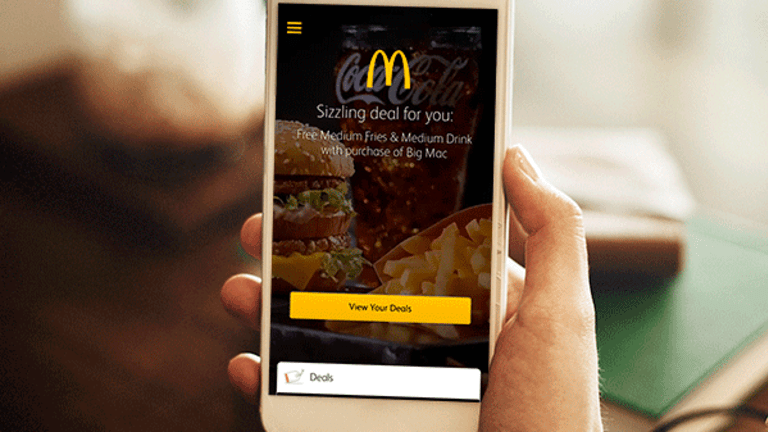 McDonald's App Versus Burger King App: Which Is Better for You?
How much money are you actually saving through fast food apps? We crunch the numbers.
I will preface this by saying I love the Burger King (BKW) and McDonald's (MCD) - Get Free Report apps and have for years now. I'm not proud of it, but if I'm going to cut corners, it may as well be as part of my meal choices in the wee hours of the morning. I'm not saying that the apps or the food is that good, but they work when you need them, which usually happens to be in your darker moments. 
While McDonald's and Burger King are lagging in the digital ordering department, Starbucks (SBUX) - Get Free Report and Dunkin' Donuts (DNKN) - Get Free Report (go Patriots!) have seen success with loyalty programs and in-app ordering. While I don't use either of the latter, I can attest to the fact that the Wall Street Sweetgreen always has a line going out the door around lunchtime, and the only way to get a salad within a half hour is to order through the app. And as much as I hate to think about it, ordering via amalgamation apps like Seamless for the benefit of loyalty programs is the quick meal fix du jour and the future. 
So how much money are you saving through the apps? Let's look at a few examples of McDonald's and Burger King app deals compared to what they would cost off the menu. The prices are taken from fastfoodmenus.com.
McDonald's
Sizzling Deal - free medium fries and drink with a purchase of a big mac  — $3.99 anyway sans app thanks to the value meal, prices don't include the solo price of a big mac 
Free 6 pc chicken mcnuggets with any purchase — a 6 piece isn't listed but 4 piece Mcnuggets are $1.99 a and a 10 piece is $4.49 — while a 20 piece is $4.99. Let's assume you're saving around $2
Free medium fries with any purchase — save $1.79
Additionally, you get McDonald's McCafe rewards - buy any 5 drinks of any size, receive your next size free. In NYC, you also get push notifications for a free medium fries without having to purchase anything whenever the Brooklyn Nets win. McDonald's also told BI in November it would roll out in-app ordering in 2017, but we don't know when.
Burger King 
Free whopper with the purchase of a whopper — save $4.19 
10 piece chicken nuggets + large classic fries for $3 — save $2.39 (fries) + $2.99 (10 piece) = save $2.28
$5 whopper meal — normally $6.49, so you're saving $1.50
Free croissan'wich with the purchase of a croissan'wich — save $4.29 but a two croissan'wich meal is normally $5.99 

Overall? The Burger King app is better, but Burger King is slightly pricier than McDonald's anyway. You're not saving a lot of money, but you weren't spending a lot to begin with. So if you have the phone space and regularly frequent these two bastions of hospitality, it might be worth saving $2 here and there. At the very least, it'll help justify the calories.