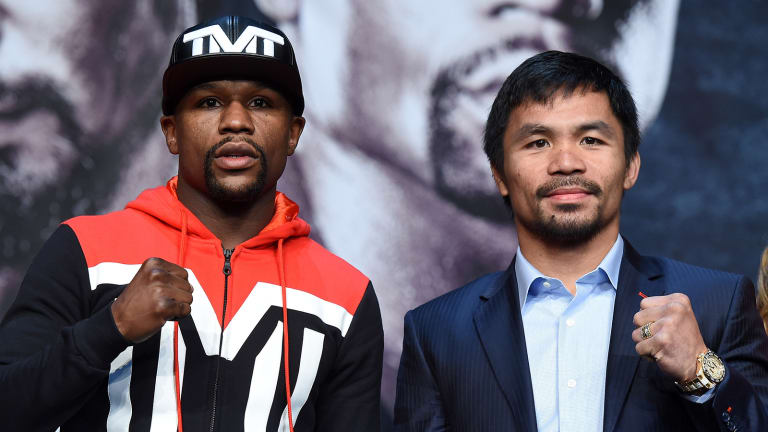 Mayweather-Pacquiao Fight Could Beat Super Bowl in Revenue
With record pay-per-view projections and $350,000 ringside seats, the Mayweather-Pacquiao boxing match this weekend could break records.
With record pay-per-view projections and $350,000 ringside seats, the Mayweather-Pacquiao boxing match this weekend could break records.
NEW YORK (TheStreet) -- With $350,000 ringside seats and record-breaking pay-per-view orders expected, the May 2 prizefight between Floyd Mayweather, Jr. and Manny Pacquiao will be the richest boxing event in history. It also could outpace the gold standard when it comes to rich sporting events: the NFL's Super Bowl. 
"The 2014 Super Bowl generated $500 million in revenue from tickets, broadcasters and more, and the Mayweather-Pacquiao has a chance to challenge that figure," said Kurt Badenhausen, a Forbes senior editor who covers the business of sports.
Despite a bizarre ticket debacle -- they only just now went on sale last week with astronomical price tags -- tickets sold out in seconds for an official total live gate of $72 million, nearly three times the previous $20 million record set by Mayweather and Saul Alvarez two years ago. (For desperate fans, there are some available on the secondary market, but at sky-high prices.)
Ticket sales, foreign broadcast rights and other revenues are expected to come to about $130 million. But the real money is in pay-per-view proceeds. 
The fight will be shown in a rare joint venture broadcast between fierce premium cable rivals Showtime (CBS) - Get Report and HBO (TWX) .
"It's the biggest fight I've ever seen in my whole life," boxing promoter and former head of HBO boxing Lou DiBella said. "I remember as a kid, Ali-Frazier, hearing how big of an event that was. I was around a lot of big fights, but the enormity of this blows my mind."
The two richest fights in history -- each with Floyd Mayweather on the bill -- grossed $130 million (from 2.5 million total buys, a record) and $150 million (2.25 million) from pay-per-view, respectively.
Even with a record-high $99.95 price tag, Mayweather-Pacquiao is expected to crush those numbers for buys, as well.
"I think it's gonna do over four million, it might be closer to five million," the fight's promoter Bob Arum said during an ESPN broadcast last month.
While Arum's assessment of how high it will go should be taken with caution, others say records will be broken.
"We fully anticipate that his will be our highest-grossing boxing event ever," said Michael Berman, executive vice president of programming and general counsel for iN DEMAND, which is one of the major cable distributors that will have Saturday's fight. "We could possibly reach our highest buy number as well, although that is much less of a certainty."
Matt Baird, director of product management at DISH Network (DISH) - Get Report, another broadcasting partner, said "The response we have seen to the Mayweather versus Pacquiao fight has been tremendous, and we expect this fight to be DISH's most popular pay-per-view fight to date."
Bookies are even getting in the game of projecting pay-per-view buys. A betting line has the over-under at 3.8 million purchases.
Pay-per-view revenue is to this fight as advertising revenue is to the Super Bowl. February's Super Bowl XLVIII took in more than $330 million dollars in ad revenue, according to Statista. If pay-per-view performs as projected, it would eclipse Super Bowl ad revenue by a comfortable margin: five million streams at about $100 each means half-a-billion in revenue; the betting line of 3.8 million would put revenue at about $380 million.
"I think it's going to be in that neighborhood, I think it could, which is amazing for boxing," DiBella said.
The fighters themselves are set to make historic purses. The previous record for one night's work is the $41.5 million, set by Mayweather in his fall 2013 bout with Saul Alvarez.
On fight night, Pacquiao will receive $50 million (though about a third will go to taxes). Due to a unique financial structure, Mayweather could take home over $180 million Saturday night, an unprecedented figure in sports.
"We are hopeful that Mayweather versus Pacquiao will set new records and take the sports' momentum to a higher level," said Ken Hershman, president of HBO Sports.
This article is commentary by an independent contributor. At the time of publication, the author held no positions in the stocks mentioned.