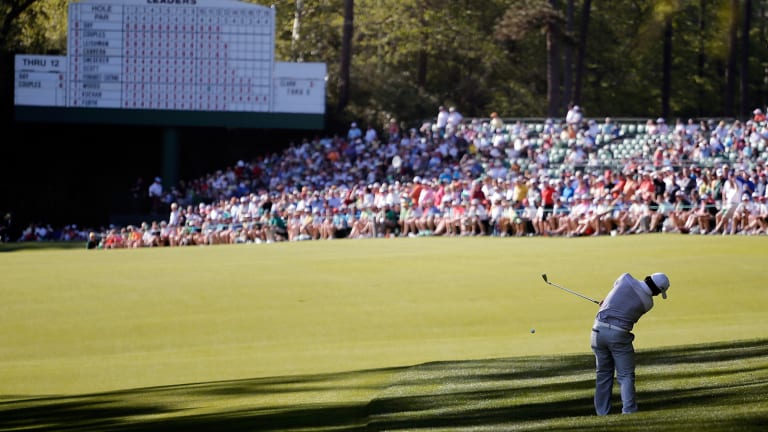 Masters Golf Tournament Winner up for Huge Potential Earnings on and Off the Course
Winning the Masters could bring big rewards for golfers off the course.
NEW YORK (TheStreet) -- There will be much more than just prize money on the line next week in Augusta.
In any individual high-profile sport if you win one of the top events your potential marketability can explode. When golfers converge at Augusta National in Augusta, Georgia, for the upcoming 79th edition of the Masters -- the golf season's first major championship -- taking home the event's top prize is just the beginning for the winner.
Not only does the winner see immediate financial gains for winning on the course (Watson earned $1.62 million for his 2014 victory), but the victor's off-course earnings will see a huge bump for years to come. For instance, Watson, who also won the high-profile championship in 2012, commands an estimated $100,000 appearance fee, and garners $25,000 for a sponsored tweet according to Thuzio 360, a database that includes sponsorship and appearance fee information on over 20,000 athletes and sports personalities.
Watson also has numerous lucrative sponsorship deals in place with top companies such as Oakley, PING, and Titleist as per the database, which has over 300,000 data points across its player profiles.
2013 and 2009 winners, Scott and Angel Cabrera respectively, also command an estimated $100,000 for appearances, while Cabrera's Twitter fee is $10,000 on Thuzio 360. Johnson, the 2007 Masters Champ, doesn't garner as much in appearance fees, but still receives as much as $50,000 for showing up at events, and $7,500 for Tweets. Schwartzel, a South African golfer who captured the title more recently in 2011, collects $40,000 for appearances, and $7,500 for Twitter posts. Trevor Immelman, another South African golfer, won the event in 2008. He currently earns approximately $20,000 for appearances, and $5,000 for a Tweet.
One golfer who already does very well financially on and off the course is Phil Mickelson, a three-time Masters champion. Rising star Rory McIlory could break into such lofty status with his first Masters victory. He is fast becoming among the most marketable golfers in the world, and a win at the most prestigious tournament on the schedule would only further cement his star power.
So, who is up for this huge windfall? Going into this year's tournament, some of the game's experts have players like Adam Scott and Bubba Watson as two of the most likely golfers to take home the winner's share of the approximately $9 million purse. As far as the Las Vegas odds-makers are concerned, prospects range widely for previous winners, such as Watson at 18-to-1, Scott at 20-to-1, Phil Mickelson at 25-to-1, Charl Schwartzel at 55-to-1, Zach Johnson at 65-to-1, and Trevor Immelman at 300-to-1 (though odds may change as the event draws nearer).
The Masters winner is on top of the golf world and will have his name mentioned alongside some of the sport's all-time greats for years to come. This level of recognition can bring a previously unknown golfer tremendous off-course earning power, or bring an already established champion to a tier that few athletes in any sport inhabit. 
This article is commentary by an independent contributor. At the time of publication, the author held no positions in the stocks mentioned.