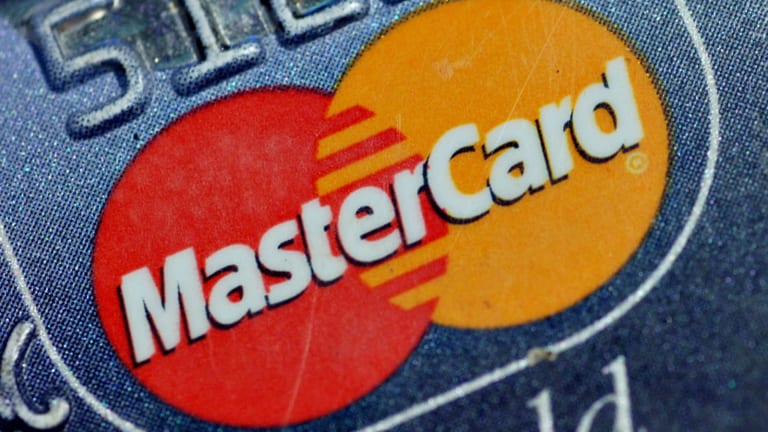 Mastercard: Growth Unimpeded, Stock Is a Buy
Mastercard left behind any lingering concern over global economic growth deceleration by delivering robust third quarter results. Despite rich valuations, the stock looks like a buy at current levels.
Concerns over deceleration in global economic growth and softer consumer spending has been put to rest, at least for now. On Oct. 29, ahead of the opening bell, Mastercard  (MA) - Get Report  posted third quarter results that were stronger than even the most optimistic analysts had been expecting: the $2.15 in adjusted EPS topped the high end of the estimate range by nearly a dime.
Strength Across The Board
The Purchase, New York-based company delivered robust top-line growth of about 16% in currency-neutral terms, although M&A contributed with one percentage point of the total year-over-year increase. While the lumpy and often unpredictable data, service and cyber solutions business performed particularly well in the quarter, adding an estimated seven percentage points to the total company revenue increase, all of Mastercard's key operating metrics looked healthy, to say the least.
The graph below highlights the main drivers of the payment processing company's third quarter top-line results. From assessments to transactions and cross border fees, Mastercard delivered double-digit percentage growth across the board.
Not even fears over the impact of Brexit, trade tensions and deterioration in business sentiment were enough to slow down growth that, in certain geographic segments, even accelerated compared to the second quarter of this year. Total worldwide purchase volume and transactions increased by nearly 14% and 20%, respectively, with all main regions outside Canada experiencing growth in both metrics by at least 10%. The numbers not only reflected resilience in global consumer activity, but are also consistent with favorable secular trends in electronic payments adoption and Mastercard's expanded partnership with merchants and financial institutions.
On the expense side, operating costs remained under check, which allowed operating margin to remain stable year over year at an enviable 59.4%. Lastly, about four cents of the solid 38-cent increase in adjusted earnings per share was facilitated by continued share repurchases, a benefit of Mastercard having produced more than $5 billion in cash from operations so far this year.
Expensive For A Good Reason
Mastercard is far from being a bargain stock, as shares currently trade at a forward earnings multiple of over 30 times while a dividend yield of only 0.5% provides little incentive to income-seeking investors. But growth opportunities and revenue predictability, not to mention balance sheet robustness, are a few reasons that justify buying the stock even at relatively high valuations.
The story begins with Mastercard's massive (and expanding) network of partners, merchants and card users that allow the company to defend its competitive advantage against potential disruptors of the Mastercard-Visa (V) - Get Report duopoly in payment services. The implication to financial performance is stable revenue growth, along with eventual margin expansion as the company continues to gain scale.
To be fair, a scenario of more pronounced global economic weakness could impact Mastercard's results and the stock price negatively, when or if consumer activity deteriorates. For reference, the company lost a bit more than 50% of its market value, from peak to trough, during the 2008 Great Recession.
However, considering the business fundamentals, the risk-reward dynamic seems to favor an investment in this growth stock at current levels.
The author has a long position in Visa.