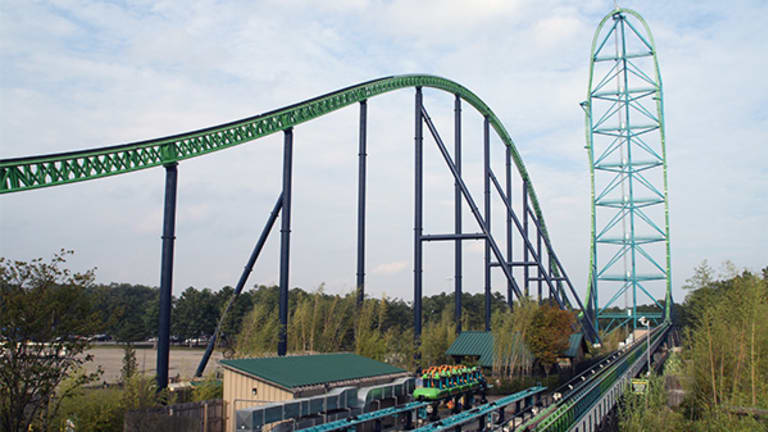 Marvel at Imax. Go for a Ride With Six Flags
William Blair & Co. partner Mike Balkin says that motion-picture technology and amusement-park companies offer promising opportunities for investors, along with cloud-services provider J2 Global.
NEW YORK (TheStreet) -- Michael Balkin sees a blockbuster in ImaxCorp. (IMAX) - Get Report.
In an interview with TheStreet, the partner at Chicago-based William Blair & Co. said that the motion picture technology company's stock was primed to move higher. Balkin said this was partly because "the movie slate over the next two to three years is as good as we've ever seen it." 
But Balkin also said he was enthusiastic by promising initiatives abroad and new technological innovations. Over the past year, the stock of Ontario, Canada-based Imax has risen more than 50%.
During the discussion, Balkin also touted theme-park chain Six Flags (SIX) - Get Report and media and cloud-services provider J2 Global (JCOM) - Get Report
Balkin co-manages the William Blair Small Cap Growth Fund, which is part of his firm's menu of products for investors, including funds focused on mid- and large-cap companies. William Blair funds have SIX, IMAX and JCOM holdings.
Saying that Imax was "going gangbusters in Japan and Korea, Balkin added, "That's where there's a lot of opportunity." 
He highlighted an Imax laser-projection technology that will enable the company to adapt its digital platform to "the big, wow theaters" for which the company is best known. "We think this is a great stock to over the long run," he said.
Over the past year, the stock price of Grand Prairie, Texas-based Six Flags has increased about 15%.
Asked if he thought the price was high, Balkin acknowledged that Six Flags "was priced toward the upper end of the comp group." 
But he likes the company's cash flow. He also praised the management team for resurrecting the company from since taking it over in 2010 in the aftermath of a bankruptcy filing. "This management team has really turned the ship around," he said. 
Six Flags recently announced that it would be expanding its theme-park concept to China and Dubai. For its efforts, the company will receive development licensing fees and royalties.
Balkin also quipped that in the summer when many people flock to theme parks, "this is a good time to own the stock."
J2 Global is less well-known than Imax or Six Flags. The Los Angeles-based company initially achieved recognition for a technology that allowed consumers and small business users to send and receive faxes by phone and fax machines. "That's a business that has been treading a little bit every year," Balkin said.
He praised J2's expansion into cloud services and storage and its acquisition of Ziff Davis Media, after it declared bankruptcy. J2 closed Ziff Davis' print magazines and turned this unit into a digital media and advertising firm. 
"It's a really diversified business," Balkin said.
This article is commentary by an independent contributor. At the time of publication, the author held no positions in the stocks mentioned.