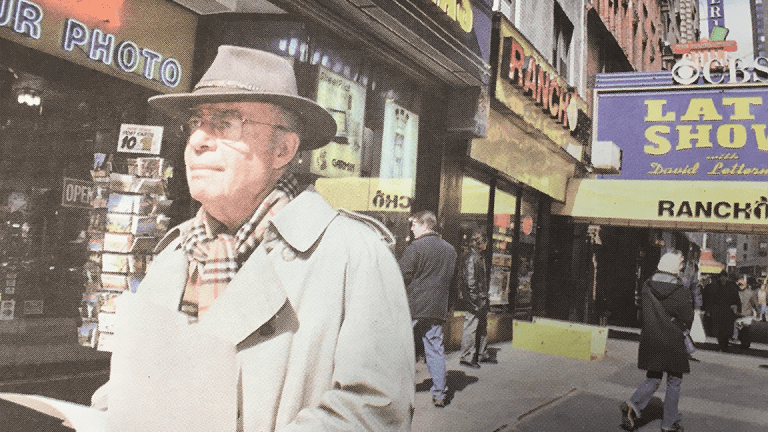 Marshall Loeb and the Pride of Journalism: Appreciation
In a media landscape that sorely needs a hero now, Marshall Loeb was a world-striding reminder of why we do this.
Whenever I'm asked why I'm a journalist, I think of Marshall Loeb.
The founder of modern business journalism, who died this past weekend at 88, built his lasting legacy at Time, Fortune, and Money magazines. Late in life, he was a columnist for CBS MarketWatch, where I had the good fortune to edit him. In his late 70s and early 80s, Marshall didn't rest on his fame. He lived journalism every day. 
He greeted everybody as if he was interviewing them -- "How's business?" He fact-checked and double-checked his columns. He quizzed me constantly for themes and ideas he could write about. He brainstormed with me over long, wine-soaked lunches about strategies for creating the best digital news company. He was obsessed with presidential politics, having covered every national party convention back to Eisenhower. On Marshall's birthday eight years ago, we ran the headline "Web Journalist Turns 80," for a story in which I noted he was the hardest-working journalist on the staff. 
He himself wrote a column headlined, Recalling 60 years of sea change in history, journalism.
Marshall would call me Boss. It felt like Babe Ruth calling the bat boy Coach. He would do video for our CBS MarketWatch Weekend television show, once dressing up as Santa Claus for a holiday-themed spot on how to invest for the coming year. When MarketWatch opened an office in what was then the David Letterman building/Ed Sullivan Theater on Broadway, Marshall's office commanded the only window looking downtown, and he would love telling visitors, "I finally made it to old Broadway."
Hunched and frail from the beginnings of his battle with Parkinson's disease, Marshall remained impeccably dressed at work, donning a full suit with dark-brown trench coat and Borsalino hat. As a swashbuckling reporter and editor, he traveled the world for decades, interviewing Nelson Mandela ("the greatest African who ever lived"), John F. Kennedy, and Mikhail Gorbachev ("part Fortune 500 chief executive and part Chicago ward heeler.") He certainly wasn't going to dress down for the digital newsroom at MarketWatch, or his meetings and lunches with me.
Marshall came to MarketWatch through Larry Kramer, founder and CEO, who had worked for him as an intern at Time a few decades before. When the two of them got together, it was like a history lesson for me of newsmakers and world-changing headlines, from World War II to the kidnapping of Patty Hearst. For Marshall, it was all about the story, and the adventure. The romantic and duty-bound notion of our craft as a responsibility to readers and to democracy consumed him.
"You must be cleaner than clean," Marshall would advise us whenever a journalist got into ethics trouble. I hear him saying that now as one by one, these past few months, notables in the media have fallen short of his ideals.
In 2008, as Marshall's disease began to seriously limit his movement, I decided to bring him to the Democratic National Convention for one last political hurrah. It was in Denver that year, where Barack Obama accepted the nomination for President. Our team of five journalists rented an apartment downtown. Much of our effort was spent getting Marshall to and from the convention center. One day we rented a rickshaw and I can still see Marshall hurtling through the crowds like a warrior in a chariot. Determined to contribute from his chair, he'd grab any delegate who got within reaching distance of his arms, and begin to interview them, scribbling on his ubiquitous note pad. Night after night, he'd sit in his assigned seat in the convention center, observe the chaos around him, and file some of the most insightful commentary we ever published at MarketWatch.
Read The New York Times obituary: Marshall Loeb, Editor Who Shaped Money and Fortune Magazines, Dies at 88
After I left MarketWatch to join USA Today in Washington, D.C. in 2012, I'd visit Marshall from time to time when I was in New York. By then homebound at his son's brownstone uptown, his handler would prop him up and we'd chat over lunch (no wine) about presidential politics and the state of journalism. While he could barely move, his mind was as sharp as always, and he was up on every latest headline. If he raged for being a prisoner in a deteriorating cell, he never showed it. The women in our office always said he was a gentleman among gentlemen, and that's how he always behaved.
Last year I moved back to my hometown of New York after 35 years on the road to become CEO of TheStreet, an original digital competitor to MarketWatch back in the day, and now an international news and data company. I often thought about visiting Marshall again, including just last weekend, perhaps at the moment he was passing. But I never followed through and now I regret it.
So long, old friend. In a media world that sorely needs a hero now, you were a world-striding reminder of why we do this.
More of What's Trending on TheStreet: