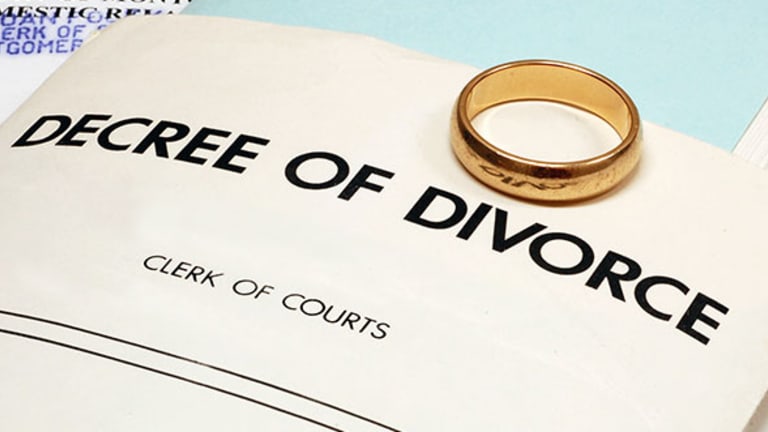 Publish date:
Marriage Going Bust? Protect Your Retirement Plan From Going Bust, Too
In the event of divorce. retirement plans are particularly complex assets to divide equitably. Here's how to protect your hard-earned savings.
In the event of divorce. retirement plans are particularly complex assets to divide equitably. Here's how to protect your hard-earned savings.
Divorce hurts, but it doesn't have to be financially painful, too. Make no mistake: Divorce court is deadly serious theater. If you don't play it right, your finances could get impaired for many years.
What's more, the past decade has seen a sharp increase in the number of divorces involving spouses over the age of 50, which puts an increasing number of retirement plans into contentious play.
Divorce has been described as getting your wallet torn out through your heart. The financial pain of martial separation is especially acute when major assets such as a retirement portfolio is involved.
There is a bewildering variety of retirement plans in the U.S., including state and federal government plans, military plans, and private sector plans. Each feature a specific set of rules for what that plan requires when dividing a participant's account.
Distinctions can also appear in terms of geographic location or profession. For example, an attorney located near a military base will probably see more military plans, as well as holdings in defense firms such as Lockheed Martin (LMT) - Get Report or Northrop Grumman (NOC) - Get Report , while an attorney located in Atlanta will likely encounter more Coca-Cola (KO) - Get Report pensions.
Because there are so many retirement plans nationwide, there's enormous diversity among the plans in terms of the regulations governing them and the rules for splitting them among warring spouses.
Retirement accounts are problematic, because they rear their heads in high asset, high income cases, such as in cases involving celebrities, CEOs, doctors, or professional athletes, but they also crop up in cases involving lower income, lower asset cases.
The level of income doesn't necessarily reflect the value of the retirement account. A stock broker earning $850,000 annually may have a $600,000 retirement plan, but a military enlisted man earning $70,000 per year may have a $1.7 million retirement plan.
What's more, "retirement plan" is a vague description that encompasses a wide variety of assets, including investment accounts, annuities, cash, equities, employer-sponsored plans, individually established accounts, and all of the accompanying benefits.
The third area of complexity is that retirement plans can be fluid and elude precise parameters.
Let's say a 401(k) is at issue, and the 401(k) is legally titled in the name of the wife. It has $200,000 in it as of the parties' agreed valuation date, which is the date that the parties separated. The date of separation is now three years ago. The parties agree that the husband gets 50% of the account.
What does the husband get? Presumably, half the account would amount to $100,000. However, that is $100,000 as of three years ago. Over the last three years, the account has changed in value, rising and falling with the markets. Other complications include a possible loan against the 401(k), fees charged to divvy-up the account, and the tax consequences of the transfer.
Determining what specifically needs to be addressed to properly divide a retirement plan is invariably more complex and maddening than expected. That's why, to protect your retirement plan in a divorce, you need professional help.
To find quality family lawyers, consult listings kept by the Fellowship in the American Academy of Matrimonial Lawyers. Also consider consulting the financial advisors at Charles Schwab (SCHW) - Get Report , TD Ameritrade (AMTD) - Get Report , or T. Rowe Price (TROW) - Get Report .
Ultimate Retirement Guide: Are you making the right investment moves for your retirement, or are you blowing it by making all-too-common money mistakes? There are crucial steps that you should be taking now, to build wealth over the long haul. To find out whether you'll have enough money in your later years, download our free report: Your Ultimate Retirement Guide.
This article is commentary by an independent contributor. At the time of publication, the author held no positions in the stocks mentioned. In addition to writing about investments, Tom Scarlett is a lawyer.