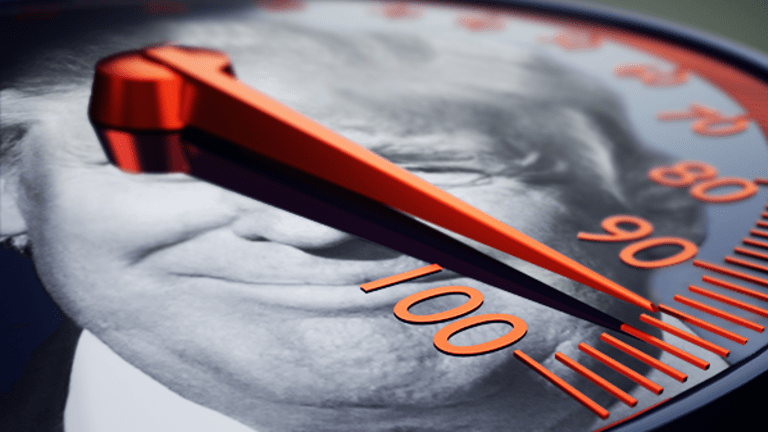 Markets Volatility Reaches 10-Year Lows Despite Geopolitical Risks, Trump -- Should Investors Worry?
Investors are more complacent than they have been in a decade, according to Wall Street's so-called fear gauge.
Investors are more complacent than they have been in a decade, according to Wall Street's so-called fear gauge.
Investors are more complacent than they have been in a decade, according to Wall Street's so-called fear gauge.
The CBOE Volatility Index, which measures volatility, on Monday fell to to 9.90, its lowest level since 2007. It rebounded slightly to 10.3 on Tuesday, but the index remains generally low, signaling investors are feeling generally optimistic about the state of affairs on Wall Street, despite potential headwinds from geopolitical events, earnings and Donald Trump in the White House.
The Vix has fallen by about 27% this year and hasn't traded above its long-term average of 20 since November.
"It's been low for a while, and it's had a little bit more of a drop lately," said Ed Cissold, chief U.S. Strategist at Ned Davis Research Group. "What this is saying is that right now there's plenty of complacency, but it's probably not a problem for the market in terms of signaling a correction until it starts to reverse higher."
The Vix has seen similarly extended low periods on two occasions in recent history -- in the mid-1990s, and in the years leading up to the 2008 financial crisis.
The mid-90s period saw the Vix spike as the Federal Reserve raised interest rates in 1994 then settle back down in 1995. From there, it rose steadily as the stock market went on a historic run.
The mid-2000s, of course, was a different story. The index remained low from 2005 to 2007, only to explode to historically high levels when the financial crisis hit and financial giants Bear Stearns and Lehman Brothers went under. On October 24, 2008, the Vix reached an intraday high of 89.53.
In other words, the complacency in today's market could really go either way.
"As an investor, you file that away as a warning sign," said Cissold.
Many investors looking to get into the market have already done so, so if there's a problem -- a surprise from the White House, a geopolitical incident, etc. -- market shock absorbers won't be as strong. Investors don't have a huge amount of cash on the sidelines to inject if there is weakness in the market.
JJ Kinahan, chief market strategist at TD Ameritrade, said the Vix trading so low right now makes sense. Stocks are trading near record highs, and corporate earnings are strong.
"It is what it is, so to speak," he said. "Many people have the expectation about what's going on geopolitically...that it doesn't make sense that it's low. On the other hand, if you think of what drives the market, earnings drive the market. Earnings are good and have been getting better over the last couple of quarters."
Geopolitical events like the Brexit vote and Trump's election have caused temporary shocks and sell-offs but have been followed by quick recoveries.
Kinahan said investors worried about current low volatility levels would be wise to take some profits now.
"One of the things that many people do is they tend to think of themselves as all in or all out when it comes to the market," he said. "If you're nervous, and even if you don't trade options, why not think about taking some profits and letting some go? That way, if it goes higher, you can participate, and if not, you're taking some risk off the table."
Billionaire investor Warren Buffett is sure to weigh in on the state of the market at this year's annual Berkshire Hathaway (BRK.A) - Get Report (BRK.B) - Get Report meeting. Jim Cramer on Real Money weighs in on what to expect.
You can also find out what Cramer and the Action Alerts PLUS team are telling their investment club members with a free trial subscription.