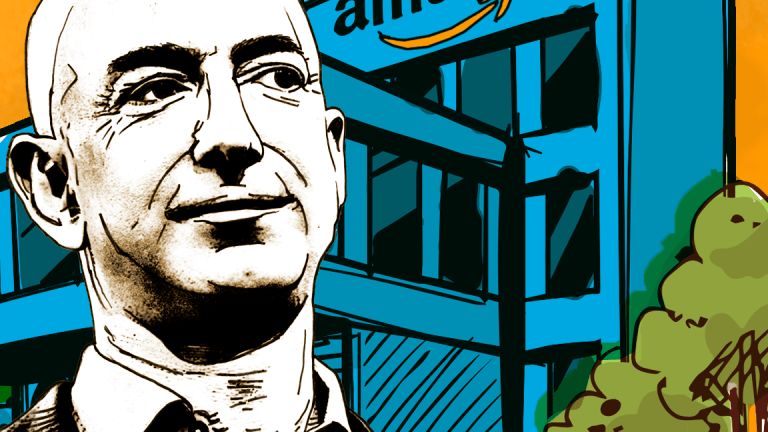 At a near-$1 trillion valuation, Amazon.com's (AMZN) - Get Amazon.com, Inc. Report stock is clearly pricing in a lot of future sales and profit growth.
And though Jeff Bezos's company can deliver some of this growth simply by continuing to invest in and pursue e-commerce, subscription and cloud opportunities for which it has already seen large-scale success, markets also appear to be betting that Amazon will be very successful in some fields where it currently doesn't produce a lot of revenue and/or has low penetration rates,
Here's a look at some of those fields, and what Amazon has been doing to expand its footprint within them.
1) Groceries
On a dollar basis, Amazon now has a sizable grocery business, courtesy of both Whole Foods's physical retail sales and -- with the help of services such as Prime Now, Prime Pantry and AmzonFresh -- sales handled via Amazon's site and apps. However, Amazon still only claims a small fraction of the $600 billion-plus U.S. grocery market, and its shares remains well below that of market leaders Walmart (WMT) - Get Walmart Inc. Report and Kroger (KR) - Get Kroger Co. (KR) Report .
Amazon definitely isn't content with this status quo. Among other things, the company is building new Whole Foods stores, rolling out same-day grocery delivery and pickup services for online Whole Foods orders and expanding its selection of private-label grocery items sold through its site. As Amazon better integrates Whole Foods with the rest of the company and -- by building new warehouses and Whole Foods stores -- keeps lowering its grocery shipping costs and delivery/pickup times -- its grocery market share should grow meaningfully.
Amazon.com is a holding in Jim Cramer's Action Alerts PLUS member club. Want to be alerted before Jim Cramer buys or sells AMZN? Learn more now.
2) Untapped and Lightly-Tapped International Markets
A large portion of Amazon's International segment revenue (28% of its Q2 revenue) still comes from three countries: The U.K., Germany and Japan. However, India has started to become a larger contributor, as Amazon's giant investments in the world's second-most-populous country start bearing fruit. With India possessing both low e-commerce penetration rates and a swelling middle class, there's clearly a lot of long-term headroom here.
And though MercadoLibre's (MELI) - Get MercadoLibre, Inc. (MELI) Report large presence in the region can't be ignored, Amazon might also have a lot of room to grow in Latin America; the company currently has a limited Latin American e-commerce share, but has begun stepping up its investments in markets such as Mexico and Brazil. European markets where Amazon has a relatively small retail share, such as France, Italy and Spain, are also opportunities.
3) Large Enterprise AWS Deals
While Amazon Web Services (AWS) is now at or near $25 billion annual revenue run rate, there are still quite a lot of large traditional enterprise data centers in operation. Some of these data centers will remain in place, but a healthy percentage will probably be shuttered as companies get sold on the benefits of moving to a public cloud (e.g., lower operational costs/headaches, access to cutting-edge services, faster deployment times). And AWS is well-positioned to claim a large portion of these data center migrations.
The budding market for serverless cloud computing services is another big long-term opportunity for AWS, which is the early leader in the space via its AWS Lambda platform. Though (contrary to its name) serverless computing still requires the use of servers, it doesn't require companies to manage individual server machines -- a cloud provider takes care of that, and bills a company when resources are used. Thus for a price, and perhaps also a higher level of vendor lock-in, serverless dials up the convenience of cloud computing to another level.
4) Pharmacy Services
Amazon made waves in June by announcing it's buying leading online pharmacy PillPack, reportedly for a near-$1 billion price. The move stands to make Amazon a licensed provider of online pharmacy services in 49 out of 50 states.
Research firm IQVIA estimates U.S. spending on prescription drugs totaled $452.6 billion last year, or $324.4 billion after backing out discounts and rebates to payers. Obtaining even just 5% of that market would be a big deal. Amazon Prime, the company's fulfillment infrastructure and Whole Foods stores could all be leveraged to help Amazon become a major provider of pharmacy services in the coming years.
5) New Ad Services
Amazon's "Other" revenue, which to a large degree consists of ads, is now on an $8 billion-plus revenue run rate, and (after adjusting for an accounting change) grew 64% annually in Q2. And judging by the flurry of moves Amazon is planning for the business, ads now seem to be a larger company priority.
Some of these moves stand to grow the addressable market for Amazon's ad business, which for the moment is driven in large part by ads for product listings that appear on search and product pages within Amazon's site/apps. If Amazon sees good traction for newer offerings such as video ads and the displaying of its popular Sponsored Products ads on third-party sites and apps, the business could keep growing a strong double-digit clip for quite a while.
6) New Bricks-and-Mortar Markets
It wouldn't be surprising to see Amazon eventually follow up on the Whole Foods deal by making another large bricks-and-mortar acquisition or two. As was the case with Whole Foods, Amazon could target markets for which a solid majority of retail sales are expected to remain offline for some time. It could also look for businesses where it can deploy the instant-checkout technology used by its Amazon Go stores.
A dollar-store chain is one possibility that come to mind. A convenience store/gas station chain (potentially a good fit for Amazon Go's technology) is another. Amazon already has a deal with Kohl's  (KSS) - Get Kohl's Corporation (KSS) Report where the department store will accept returns on select merchandise purchased on Amazon in select stores. Recently Amazon partnered with Sears (SHLD) that allows a tire installation and balance offer available for Amazon customers to be used at Sears Auto Center locations. To be sure, its unlikely Amazon would go after a big department store given they are already taking a lot of apparel market share online.
7) Logistics Services
Third-party seller services now account for close to a fifth of Amazon's revenue, and almost certainly a larger portion of its gross profit. And much of this business either directly consists of fulfillment services that Amazon provides to sellers on its marketplace, or is enabled by them.
The tremendous growth of Amazon's FBA fulfillment services business, together with the giant warehouse and logistics investments that have made it possible, have fueled speculation that Amazon will make a serious attempt to take on the likes of UPS (UPS) - Get United Parcel Service, Inc. Class B Report  and FedEx (FDX) - Get FedEx Corporation Report  in the logistics/delivery services space. While success for any such effort certainly wouldn't happen overnight, given all of the competitive strengths that logistics incumbents have, it's hard to overlook the fact that some of Amazon's recent delivery services moves encroach on UPS and FedEx's turf.