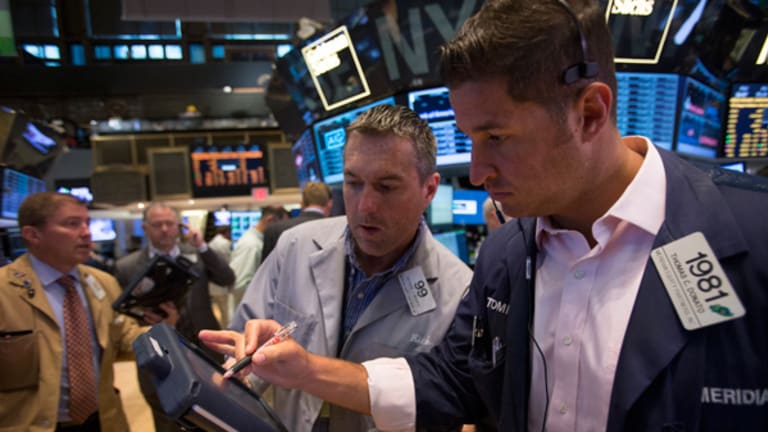 Markets Move Lower? A Chance to Buy
Fed uncertainty will continue to put pressure on stocks. That's a buying opportunity longer term.
NEW YORK (TheStreet) -- Last week, I cited a confluence of fundamental events and technical chart signals that suggested a near-term top was developing in the S&P 500. In the last two sessions, the SPDR S&P 500 Trust ETF (SPY) - Get SPDR S&P 500 ETF Trust Report has hit lows 3.5% below the all-time peak posted on Aug. 2. After six straight days of losses, this marks the worst bear streak in more than a year. All 10 industry groups in the S&P are moving lower, and the Dow Jones Industrial Average is in the midst of its biggest slump since July 2012, now trading firmly below the 15,000 mark.
The latest run lower has been driven by minutes detailing the
Federal Reserve's
July Federal Open Market Committee meeting, which open the door for reductions in quantitative easing if the economy improves. That added element of uncertainty has spooked investors and led to another round of risk aversion, which means lower stock prices, renewed selloffs in emerging markets, and a higher U.S. dollar.
Read: Forget Growth vs. Dividend; Buy Both
The stance expressed in the FOMC minutes indicates the Fed is "broadly comfortable" with plans to start phasing out monthly bond purchases before the end of 2013. The Fed's assessment is that the growth will continue to strengthen throughout the second half of the year, a view supported by the lowest unemployment rate in four years.
Expectations about changes in Fed policy have been in flux since the end of May, when Fed Chairman Ben Bernanke suggested a more refined timeline for when cuts in quantitative easing would begin. Stock volatility since then has contradicted the market slowdowns traditionally expected during the summer.
Read: Dividends: Taste Great or Less Filling?
Bernanke's statements in May prompted a drop of nearly 6% in the S&P before the end of June. Then, as Fed members attempted to calm markets and pull back on their hawkish comments, the index rallied by nearly 9% and pushed to record highs above 1,700. But with corporate earnings and labor market reports falling largely in line with market expectations, the whipsaw moves in the S&P index indicate that investors are much more concerned with the intentions of the Federal Reserve than with corporate earnings or real economic data.
These trends will likely continue, at least until the results of the central bank's September meeting are made public. Longer term, however, there are still reasons to be bullish, and the additional pullbacks we will likely see in coming weeks should be viewed as new buying opportunities.
As the earnings season comes to a close, remember that more than 70% of the companies in the S&P 500 have beaten profit estimates, indicating a stronger corporate position that should support markets in 2014.
Read: These Are Products That Defy Inflation
Given investors' focus on the Fed, recent declines aren't surprising. Fed stimulus has helped drive the S&P 500 higher by over 150% from the lows seen after the 2008 financial crisis. The prospect of removing this supportive leg from the economy has put investors on edge and damped investors' appetite for risk. The decision to begin to cut quantitative easing will mark a seminal moment for the economy, and any dips will be a chance to buy U.S. equities.
At the time of publication the author had no position in any of the stocks mentioned.
This article was written by an independent contributor, separate from TheStreet's regular news coverage.
Richard Cox is based in China, and has lectured at several universities there on international trade and finance, focusing primarily on macroeconomics and price behavior in equity markets. His articles appear on a variety of Web sites, including MarketBulls.net, Seeking Alpha, FX Street and others. Investing strategies are based on technical and fundamental analysis of all the major asset classes (stock indices, currencies, and commodities). Trade ideas are generally based on time horizons of one to six months.