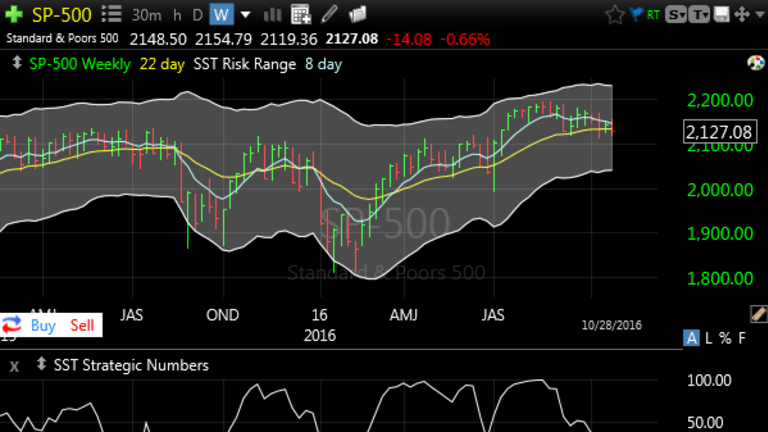 Publish date:
Markets Are Poised to Head Higher Next Week
Three of the four major indexes are oversold on a weekly time frame.
Three of the four major indexes are oversold on a weekly time frame.
Three of the four stock indexes closed to the downside for the week ended today.  Only the Dow Jones Industrial Average closed to the upside.
The DJIA gained 15.5 points for the week while the S&P 500 closed lower by nearly 15 points. The Nasdaq lost 67 points while the Russell 2000 was lower by 2.5%.
The  S&P 500 Trust Series ETF traded just under 418 million shares, nearly 50 million more shares versus last week.
The big question now becomes, where do the markets go from here?
There are signals that markets are set up for a surge next week.
Perhaps the most important signal is the fact that three of the four stock indexes are oversold on a weekly time frame. The Nasdaq is the only index that is not oversold on a weekly time frame.
Attached is the weekly chart of the S&P 500 that shows the oversold weekly condition.  This is the first time that the S&P 500 has been oversold on a weekly time frame since the week ended Sept. 4, 2015.  So, the probabilities of a move higher from here are much stronger than a downside move.
The SST Strategic Weekly Number shows a 7.24.  With a red open next Monday, that number would be a 3.62, the lowest weekly number in over two years.
The same can be said for the Nasdaq and Russell 2000.
In addition, our Monthly New High / New Low Index is currently near a -1000 New High versus New Low.  When we receive readings this low, the markets are poised for a snap back rally.  The extent of that rally is currently not known.
Regardless of the news, especially the latest revelation that the FBI has found new emails related to Hillary Clinton's possible compromising of classified information, an oversold condition is an oversold condition.
In sum, prepare for the market to move higher next week.
Gold and the gold miner asset class, such as Direxion Daily Gold Miners Bull 3X ETF, continue to be good plays. With all the uncertainty, having exposure to the yellow metal is a good idea.
This article is commentary by an independent contributor. At the time of publication, the author was long NUGT.