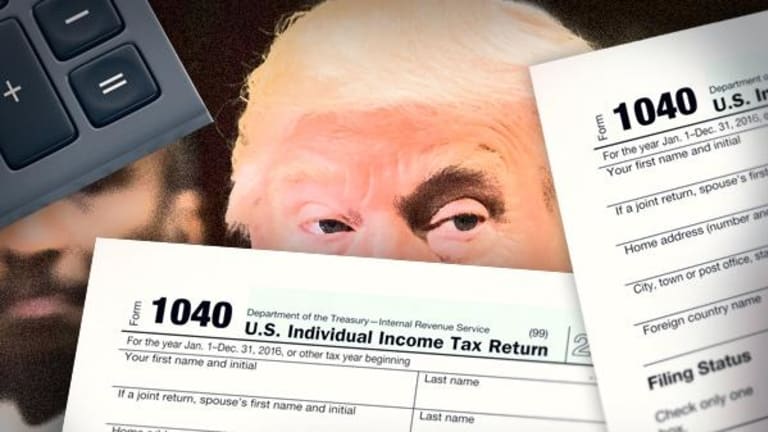 Market Recon: You Know That 'Phenomenal' Tax Reform? It Better Be
That tax plan is the number one item on the laundry list of hopes, and dreams.
"If you could kick the person in the pants responsible for most of your trouble, you wouldn't sit for a month" -- Theodore Roosevelt
Finally, a Pause
It did not seem to be much of a pause, really. The S&P 500, Nasdaq Composite, and the Dow Jones Industrial Average had closed at new highs for five consecutive days. This came on top of a post-election rally that many felt had gone too far, too fast prior to those five sessions. The Dow is nice, but its scope is narrow. The Nasdaq is more tech-centric than the other, so traders are left referring to the S&P 500 when referring to the broad marketplace. The S&P 500 closed down small on Thursday. Going into a three-day weekend, and ahead of a week heavy in retail earnings, markets could become sloppier today.
Buy the Rumor, Sell the News?
I've been asked often by readers over the last few days about when I thought this surge that has brought the S&P 500 from 2270 to the mid-2340s just in the first two weeks of February alone would peter out. The index is up almost 8% since stabilizing after the electoral swoon. What I have been telling folks is that we have had confidence-support earnings, which in turn have supported confidence. You saw the CPI, you saw retail sales. Apparel, for crying out loud!
The new administration's pro-business economic agenda was such a drastic sea change in direction for Washington, that investors went all in. Why wouldn't they? Tax reform, deregulation, repatriation of funds from abroad and increased fiscal spending all sound terrific, at least for the short run. The president himself has been cheerleading all the way, telling folks how "phenomenal" the coming tax plan will be. I hope it is, because it better be. A tax reform bill with thorns such as a border adjustment or a value added tax would make it more like a shell game, and a lot less phenomenal.
That tax plan is the number one item on the laundry list of hopes, and dreams. Not just for corporations, but for the average guy and gal out there. Thanks to the market's recent moves and the supportive rhetoric, the environment is now priced to perfection. The stage has been set for a "sell the news" event. Ever tell your Mom that you thought you aced a test? Me neither. Modern day corporations often do the same thing with earnings per share. Far better to exceed lowered expectations than to disappoint the masses. Too late for that.
I am not going to tell you that the market will go to heck in a hand-basket. Until we see the tax plan, we are likely to see protectionist behavior by investors. What I try to do is maintain core positions that represent what I feel is the overall trajectory of market trend, and trade off of the top of those positions. I likely will be flatter tonight than I am this morning, but not close to flat. This is a three-day weekend. I will also be looking to buy stocks on the cheap near the close that I missed on the way up. That may be dreaming, but there are a few, and I know where I am willing to buy them. Know your levels.
Return of Political Risk
You guys did see, or at least read about that press conference yesterday, right? Have an opinion? Me too. Doesn't matter, kids. What does matter is the return of political risk. Political risk? Yeah; remember that. Seems like we haven't talked about that since the early days of the Trump administration (less than a month ago). We are witnessing battles with the media, distrust within the president's inner circle, as well as the Senate's intentional low-crawl approval rate for nominated cabinet members. All this, while very little progress appears to have been made toward those pillars of economic progress already mentioned. Distraction from the agenda is bad for the agenda, and ultimately for this market.
The reiteration of health care reform before tax reform is a different kind of political risk. Maybe the market's priorities and the administration's priorities do not perfectly align. That could leave a mark, particularly if it puts certain members of the nation's legislative bodies in an even less cooperative place than they might have otherwise been. Investors now have a whole lot more to lose than they did not too long ago. They will surely move to protect those gains should they even begin to think said gains are at risk.
The business end of this administration is one heck of a team on paper. Gary Cohn, Steve Mnuchin, Rex Tillerson, and Wibur Ross. Look at those names. Remember the Olympic dream team. This is our sport's version, and part of the reason for all of the public confidence. We are probably at the place on the chart, however, where new money will find difficulty going to work without quantifiable progress. Volumes are already drying up a bit. The next step is capital preservation. Unless they feed the beast, that is.
Watch More: Here Is How to Trade the Stock Market Ahead of Donald Trump's 'Massive' Tax Plan
Macro
10:00 - Leading Indicators (January):Expecting 0.5%, December 0.5% m/m. The Conference Board's Leading Indicator index showed significant improvement in December after having run around the flat-line for four months. Another strong report is expected today. Meant to be a forward looking indicator, this item tends to have little to no impact on the marketplace, as traders have already digested the ten individual components, one of which already happens to be a broad measure of equity prices.
13:00 - Baker Hughes Rig Count (Weekly):Last Week total 741, oil 591. Crude has had a couple of decent days this week, despite another very large inventory build, and despite still trading at a lower price than it was last Friday. Still with $52.75 support having been repeatedly tested this week (and successfully so), I would not be one bit surprised to see the number of active rigs continue to grow at the rapid pace seen over the last few weeks.
Sarge's Trading Levels
These are my levels to watch today for where I think that the S&P 500, and the Russell 2000 might either pause or turn.
SPX: 2371, 2358, 2351, 2344, 2337, 2327
RUT: 1424, 1414, 1405, 1397, 1392, 1387
Friday's Earnings Highlights (Consensus EPS Expectations)
Before the Open: (AAN) - Get Aaron's, Inc. Report ($0.45), (B) - Get Barnes Group Inc. Report ($0.64), (BLMN) - Get Bloomin' Brands, Inc. Report ($0.32), (CPB) - Get Campbell Soup Company Report ($0.89), (CTB) - Get Cooper Tire & Rubber Company Report ($0.96), (DE) - Get Deere & Company Report ($0.51), (FLR) - Get Fluor Corporation Report ($0.79), (SJM) - Get J.M. Smucker Company (SJM) Report ($2.02), (MCO) - Get Moody's Corporation (MCO) Report ($1.13), (VFC) - Get V.F. Corporation Report ($0.99)
At the time of publication, Stephen Guilfoyle had no positions in the stocks mentioned.