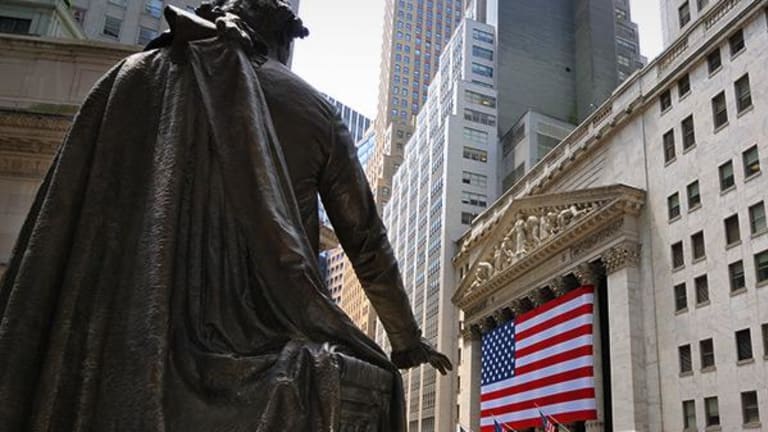 Market Recon: You Can't Put Your Head in the Sand
The move in equities and bonds has put U.S. pension funds in a position to rebalance sharply.
"Optimism is the faith that leads to achievement. Nothing can be done without hope and confidence." -- Helen Keller
On the Horizon
Going forward, investors will have to measure the extent that the President-Elect's proposed policy shifts have pulled forward into 2016, the gains that otherwise might have been realized in 2017. Measure against what, exactly? Currently, the S&P 500 is trading at more than 22x 12 month trailing earnings. In the past, this has been dangerous territory.
Simply put, the yardstick will be the actual execution and implementation of lowered corporate taxes, deregulation, repatriation, public spending, and healthcare reform vs. a utopian result. Everything is still in the idea and hope stage, and potential disappointment in meeting Wall Street expectations lurks. The market will either have to allow the economy to catch up ... or it won't.
This, however, is not today's fight. This fight will wait until well beyond January, and perhaps far beyond.
Trader Focus
This week into next week is when investors usually see the fabled "Santa Claus Rally". Not that we've penciled in the next correction, or even the next severe test for Jan. 4, but we all know that a test to the downside is out there, somewhere. Equity markets have gone sideways for about two weeks now, and the first order of business for the bulls will be taking back the 2267 level for the S&P 500, as well as the 1377 level for the Russell 2000.
The seasonal rally that seems to surface most years over the last week of the year, ending after a couple of days of January inflows, would seem the ideal environment. But, there is a big but. The parabolic move in the equity space and the harsh beat-down that the bond market has experienced in the wake of the U.S. election have put U.S. pension funds in a position to rebalance sharply.
Many U.S. pension funds have mandates that require them to rebalance every month and/or quarter, and projection models show that the rebalance could be exceptionally harsh this time around, perhaps a $35 billion to $45 billion shift out of equities and into bonds. I have seen some models that show the move to be even greater than that in dollar terms.
In other words, you can't put your head in the sand, and close your book for the year. This week will not be a layup.
Japanese Data
Since we, here in the U.S. and in many other countries around the world have been off celebrating, Japan has been close to the only major economy releasing key economic data. It hasn't been very pretty. A sharply weaker Japanese yen, especially vs. the U.S. dollar since early November, has had many Japanese firms ratcheting up earnings expectations based on an advantageous exchange rate for exporters. The performance of the Nikkei 225 has easily exceeded that of U.S. equity markets over that time.
However, the data released over the last two days is somewhat disappointing from a domestic point of view. Core consumer prices contracted for both November and December more than expected, and now are running at a streak of nine straight months in a state of contraction. November Household Spending and November Housing Starts also missed very badly. Tonight (if you're in NY), we'll get November data on Industrial Production, and Retail Sales.
While all of these numbers are about a month behind, I think the last thing that the Bank of Japan wants to have to do at this point is to push back its calendar on reaching inflation targets yet again. The BOJ will likely have to give the poor November data a pass, and wait on December numbers to be released a month from now; the Bank does not meet again on policy until Jan. 30.
Macro
09:00 - Case-Shiller HPI (October):Expecting 5.0%, September 5.1% y/y. The progress of the 20-city, year-over-year print in this space, which is the one that the marketplace follows closely, has been slowing somewhat of late. Don't get me wrong, 5% year-over-year growth is not awful; it just happens to be the slowest that home prices have increased on a national basis all year.
When broken down city by city, a tale of multiple fortunes is told. Most western and southern cities are outperforming national averages by a wide margin, led by Seattle. Seattle's home prices are up 11% y/y as opposed to the northeast, where home prices are rather stagnant. New York City homes are a distant last place among the 20 cities, showing y/y growth of just 1.8% in September.
10:00 - Consumer Confidence (December):Expecting 108.6, November 107.1. While many of our recent macroeconomic data points have come in well below expectations, consumer based surveys have continued to explode with optimism ever since the U.S. election. This item, in particular, easily beat expectations for November, illustrating U.S. consumers as more confident in November than they have been at any time since August 2007. The similar University of Michigan Consumer Sentiment number has also been showing a similar kind of strength. Remember, consumer surveys can and do move markets. This one will be released amid what will likely be thin volume.
10:00 - Richmond Fed Manufacturing Index (December):Expecting 5, November 4. The Kansas City Fed went to the tape at +11 last week, the fourth consecutive headline number showing expansion in that space. Richmond will go for its second in a row today and will be trying to make it four for four among regional Federal Reserve districts, after expansion was evident earlier in the month for both the New York and Philadelphia regions.
10:30 - Dallas Fed Manufacturing Index (December):Expecting 7.5, November 10.2. If we can assume (we never assume) that Richmond has already printed in expansion, then it will be up to Dallas to compete the sweep. The five major regional Fed districts that publish manufacturing data all printed in expansion in November. This could make it two months in a row. Dallas, like Richmond, will also be going for its second straight month of expansion after snapping a 22-month losing streak last month.
Is manufacturing back? More likely that manufacturing is simply finding it's new level, which is greatly reduced from where it was in decades gone by.
Sarge's Cash Levels
SPX: 2279, 2273, 2267, 2259, 2253, 2247
RUT: 1392, 1383, 1377, 1369, 1363, 1355
There are no quarterly earnings releases scheduled for today that caught my attention.
At the time of publication, Stephen Guilfoyle had no positions in the stocks mentioned.