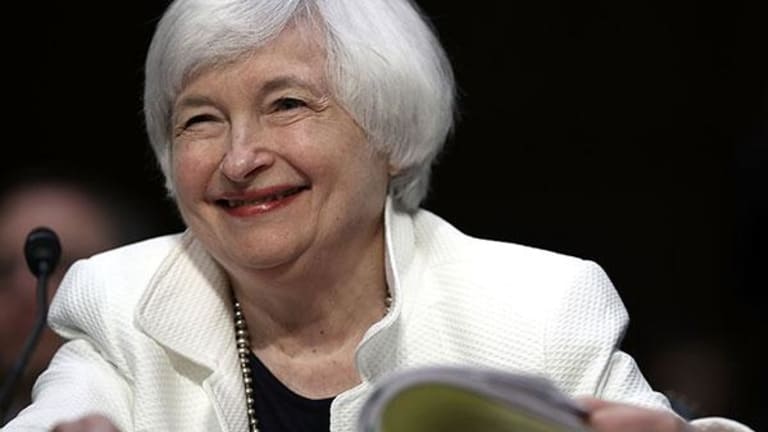 The Federal Reserve Is Scared, So It's Hiking Interest Rates: Market Recon
Somebody is going to be way off here.
"Our greatest glory is not in never falling, but in rising every time we fall." -- Confucius
Fire in the Hole
Durable goods orders for May disappointed badly yesterday morning. The month of May brought more than a 30% drop in orders for military aircraft that somehow nobody saw coming. Orders for aircraft and parts on the civilian side also rolled off a cliff, down a crisp 11%. Strip out transportation purchases, and month-over-month growth still brings a surprise miss versus the consensus view. Oh, and the April data was revised lower from what had already been a month of contraction across the space. Most of the recent domestic macroeconomic data has been inconsistent. Job creation, retail sales, consumer level inflation, construction spending, inventory building, industrial production and capacity utilization have all disappointed in their latest releases. Only some of the housing numbers seem to have corrected themselves back to trend. Housing and some of the regional Fed manufacturing surveys. Outside of that, it's been rough.
What does this mean to us? Well, gang, it puts pressure on the long end of the yield curve. U.S. 10-year paper went out last night at a yield of 2.135%, which was the lowest closing yield for that item since Nov. 10. For the 30-year bond, it was even worse. The U.S. 30-year closed at a yield of 2.696%, the lowest close seen there since Nov. 8. Why, oh why is there such pressure on yields?
Funny you ask. We went into falling commodity prices in yesterday's column. Falling commodity prices, at least for now, appear to have a lot more to do with consumer level inflation than do current employment models. Models that were obviously built for a different era. We just discussed the softer-than-hoped-for U.S. economy. Toss in a lack of what was expected to be a pro-growth, pro-business set of policies that were to include a sizable fiscal bump. The short of it is really that the Fed is tightening into weakness out of fear, and bond traders to this point have been calling the FOMC's bluff. Just doesn't feel like much of a bluff, now, does it? Dr. Yellen speaks today, and like her or not, one thing she has done very well, is prepare the marketplace for policy change. The marketplace does not trust the trajectory. Somebody is going to be way off here.
Oh, Canada!
Under the radar, yesterday, the Department of Commerce added preliminary anti-dumping duties on Canadian lumber (excluding three provinces). It was only this April that Commerce initiated preliminary anti-subsidy duties on Canadian lumber. Combining the two, and depending on where in Canada the wood comes from, total duties on the wood now range from 17.41% to 30.88%. NAFTA talks are expected to start in mid-August and a final decision on these duties is expected by early September. Hmm, see how that works. Mr. Ross didn't get where he is by accident, did he?
Lumber is interesting, but more than a few of us got ourselves long our favorite steel stocks in expectation of the current administration throwing some trade tariffs on imported steel based on national security grounds. I thought that we might hear from Commerce on this matter late last week, and the fact that it at least seems to be dragging on a bit could mean that the U.S. will not be very aggressive here, as NATO allies and others have lobbied the Defense Department and others in government against taking action. This remains an unknown. I think could be, aside from Janet Yellen's speech this afternoon and the second tranche of stress test results from the banks, one of the more interesting market twists that we'll see prior to the data on consumer level inflation and the end of the quarter shenanigans that Friday will bring with it.
The Score
The Congressional Budget Office got around to scoring the Senate's version of the bill to repeal and replace the Affordable Care Act. The bottom line is really a savings of $321 billion over a decade for the government, which is considerably more than the savings that the CBO scored for the House version. The CBO also estimates that the ranks of the uninsured would grow by 22 million, which is slightly less than the House version. Most of those losing coverage would come from the repeal of the Medicaid expansion. On a happier note, the CBO does not expect that this plan would destabilize the individual health insurance market due to lower premiums, lower premiums that would likely come with higher deductibles.
The left will ask: "How is this better than Obamacare?" The right will point out that this is better than doing nothing and letting Obamacare completely collapse. These are tough questions to ask, and people from different walks of life will have very different answers. Tough to allow poorer folks to fall off the rolls. Tough to keep asking middle class small business owners to keep paying far more than their fair share.
The final score for us, regardless of our opinions (we have them), and our needs (we have those too) will be measured by how well we navigate the investment side of this. The Senate is looking to vote on this item this week if they think they can pull it off. We know that health care stocks led the marketplace last week (as well as for eons), and that may have just been out of relief that health care laws would change, not so much a vote of confidence in this bill. Yesterday, the health care seemed listless, experiencing some mild profit-taking. Health care, tech, and life sciences took it on the nose yesterday, but pharma and biotech hung fairly tough.
Though there will be much uncertainty going forward, and eventually hospital bills may go back to being unpaid, any changes made will be phased in over time. I think that, as you almost always have, you will continue to need exposure to the sector. Drug stocks do not seem to be in the immediate cross-hairs, but that really is one tweet away from changing at any time. I think a decent yield has to be part of any decision made, unless one is clearly tolerant of the risk being taken. This story will evolve, probably rapidly.
Macro
04:05 - Fed Speaker:San Francisco Fed Pres. John Williams spoke earlier for the second of three consecutive mornings from New South Wales, this time from Sydney. This morning, Williams warned that the U.S. economy (and other advanced economies) will be mired in a state of long-term slow growth unless fiscal authorities get more aggressive. Yes, folks, this is the same guy who told us yesterday that we need to keep raising rates in order to continue growing and avoid overheating the economy. Guess he really took the negative durable goods orders for May to heart.
08:55 - Redbook (Weekly):Last Week 2.8% y/y. This series showed the kind of year-over-year strength that we were looking for last week. Now the trick will be to put a week with a three handle to the tape, while maintaining a month-over-month number that stays in the green. The trend is higher here. The hope is that this item regains a certain level of relevance in the near future.
09:00 - Case-Shiller HPI (April):Expecting 5.9%, March 5.9% y/y. This data will be broken down several ways, as well as regionally. The number that market watchers are most likely to react to in any way is the 20-city, year-over-year, non-seasonally adjusted print. That specific item has been a bright spot in what has become an inconsistent at best macro-economic picture. For those interested in individual data for the 20 cities, Seattle was the national champ in March, sporting 12.2% y/y growth. Home prices in New York grew just 1.1%.
10:00 - Consumer Confidence (June):Expecting 116.2, May 117.9. Though still skating close enough to multi-year highs, this series fell well short of expectations in May. On top of that, the semi-similar University of Michigan also missed consensus for the mid-month June flash. For this series, today, the entire miss last month came from expectations as current conditions were stable. This number will have as much potential to impact the marketplace as any other data released during the day's trading session.
10:00 - Richmond Fed Manufacturing Index (June):Expecting 5, May 1. Richmond needs to be watched closely today. The headline number for May might have barely printed in expansion, but many key components did not. New orders, the single most important sub-component of any manufacturing survey, dropped all the way from 26 to zero last month. On top of this, backlog of orders, capacity utilization, and average workweek all showed contraction.
11:15 - Fed Speaker:Philadelphia Fed Pres. Patrick Harker will speak on economic and international trade from London, England. Just last Wednesday, Harker, who is thought of as a hawk (and votes this year) spoke about kicking off the Fed's quantitative tightening (managing the balance sheet) program in September. Harker will take questions from the audience.
13:00 - Fed Speaker:Federal Reserve Chair Janet Yellen is expected to speak on global economic issues from London, England. I think we all know where the Fed would like to go on policy. I, for one, would like to hear her take on the still-deteriorating macroeconomic data that we have been seeing of late, as well as her take (though I doubt it has changed much) on inflation. Perhaps she'll clue us in to her intentions regarding her future at the Fed. This speech is the economic event of the day.
17:30 - Fed Speaker:Minneapolis Fed Pres. Neel Kashkari is set to speak from Houghton, Michigan. Kashkari, possibly the most dovish (at least these days) voting member of the FOMC will take questions from the audience at this event. Kashkari has become a regular voice of dissent against the Fed's trajectory of tightening monetary policy.
Sarge's Trading Levels
These are my levels to watch today for where I think that the S&P 500, and the Russell 2000 might either pause or turn.
SPX: 2457, 2449, 2440, 2432, 2421, 2411
RUT: 1433, 1426, 1420, 1410, 1403, 1397
Today's Earnings Highlights (Consensus EPS Expectations)
Before the Open: (DRI) - Get Report ($1.15)
After the Close: (KBH) - Get Report ($0.26)
What's Hot On TheStreet
Another bank is bullish on Alibaba: JP Morgan initiated Chinese e-commerce giant Alibaba (BABA) - Get Report with an overweight rating and $190 price target in a new note Tuesday, representing more than 30% growth over Monday's closing price of $142.73. In JP Morgan's eyes, Alibaba is entering a transformation from a pure play e-commerce company to a data-driven beast that stands to power its bottom line more than most expect.
"We believe Alibaba's core commerce is expanding from traffic monetization to data monetization and such trend will quickly expand to its media/cloud businesses," writes JP Morgan analyst Alex Yao. "Such expansion not only allows Alibaba to tap into non-transaction-based corporate budget (e.g. market research, brand awareness, and customer service), but also supports our investment thesis based on sustainable revenue/earnings growth."
A key Walmart business springs back to life: Walmart (WMT) - Get Report is starting to see long-awaited sales growth at its U.K. Asda division as Britons shift their shopping habits towards food purchases with a slump in consumer confidence and surging inflation, TheStreet's Lisa Botter reports. Sales at Asda rose by 2.2% for the 12-weeks ended June 18, well ahead of the 0.9% pace notched in the 12 weeks to May 21, according to new data from research firm Kantar.
Different strategies emerge in driver-less cars: Alphabet Inc.'s (GOOGL) - Get Report deal with rental car giant Avis Budget Group Inc. (CAR) - Get Reportto have Avis manage some self-driving test cars developed by Alphabet's Waymo unit and Fiat Chrysler (FCAU) - Get Report feels a little overblown, writes TheStreet's Eric Jhonsa. The deal only covers test cars deployed in one metro area (Phoenix, Ariz.), and isn't exclusive, Jhonsa points out.
Meanwhile, Apple Inc.'s (AAPL) - Get Report deal with Avis rival Hertz Global Holdings Inc. (HTZ) - Get Report feels even smaller. Apple, which has reportedly been testing a half-dozen self-driving cars around the San Francisco Bay Area, is just leasing a small number of Lexus RX450h SUVs from Hertz, with the idea of retrofitting them with self-driving test systems.
Either way, Jhonsa says both deals represent quite the contrast with what Tesla Inc. (TSLA) - Get Report is trying to pull off. Elon Musk seems to want to go it all alone.
More of What's Trending on TheStreet:
A Sales Warning by General Motors Has Been Heard Around the World -- European Stocks Get Hit
Visit here for the latest business headlines.
At the time of publication, Stephen Guilfoyle had no positions in the stocks mentioned.