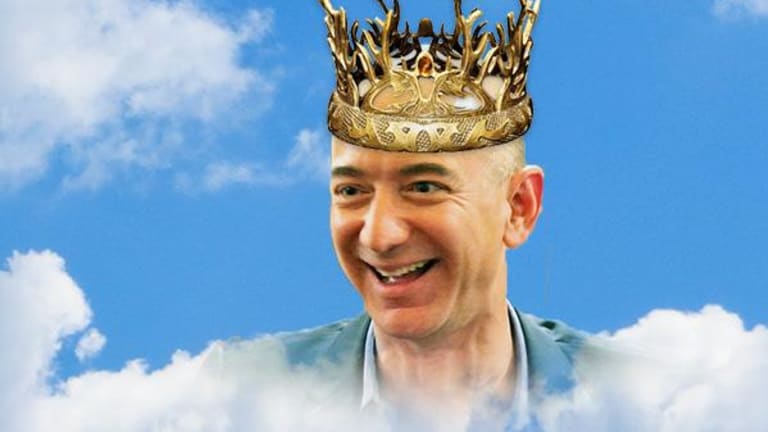 Amazon Is Becoming So Powerful That It's Jaw-Dropping: Market Recon
What the Nike deal really says.
"All action results from thought, so it is thoughts that matter."-- Sai Baba
In ancient Greek mythology, Nike was known as the goddess of speed, strength, and victory. The oldest known statue of Nike, located on the Greek isle of Delos, dates back before 550 BC. It was with great interest yesterday that I learned of the note penned by Goldman Sachs analysts regarding the possibility of a blossoming relationship between Nike (NKE) - Get Report and Amazon (AMZN) - Get Report . If somehow you were otherwise distracted, the note indicates that the first could be close to a direct selling relationship through the latter. Suddenly, the winged goddess is in need of some help. If you haven't thought too much about this, think about it now. If suddenly struggling heavyweights of commerce look to Amazon for help when starting to hit turbulence, rather than try to adapt independently, or form alliances with similarly beleaguered companies, then one must ask two questions:
1) Just how powerful has Amazon become?2) Just how powerful will Amazon become?
The possible answers to these questions, I would think, are both jaw-dropping and exciting. Take a look at equity performance within these business lines yesterday. Amazon has galloped forward over the last few days, even though it has announced its intentions to swallow a grocery market chain. Most corporations deciding to swallow a new business that might bring nearly as much overhead as growth might hit a speed bump themselves. Not these guys.
Nike ran 2% yesterday to $52.59, although the name had recently sold off after announcing news to streamline the company (though labor force reduction) and suffering through having seen profit estimates lowered at Cowen. Stepping back, this name has been trending lower since mid-March, when the firm simultaneously reported withering margins and rising inventories. Now take a look at Nike's performance yesterday as a member of what one would consider to be its business community. The consumer discretionary sector actually closed slightly higher on the day, while multiline retailers sold off again, and specialty retailers took an even nastier hit. More specifically, retail outlets that sell products manufactured by Nike were smashed. Foot Locker (FL) - Get Report took a 5% spanking, while Dick's Sporting Goods (DKS) - Get Report was hit in the teeth for 3.8%. Telling.
What does this mean to us trader types? Well, I sure am glad that I bought back my Amazon early last week. The move by Nike seems aggressive, but intelligent. Do I just buy it here, if I'm currently flat the name? (I am flat the name). It definitely puts the Nike name on my radar. It would help if I saw more young people sporting the gear locally. That, to me, would be my buy signal, even if not on a dip... but not yet. As for competitor Under Armor (UAA) - Get Report . I'll also stay away from that one for now. Exciting? Definitely. Compelling? No.
The Mauling
When travelling by foot through bear country, the possibility of surprising an unsuspecting bear can happen. If forced into a chance encounter with such an animal, some say to climb a tree (does not work), some say to play dead (worked for me once, not looking to enlarge my sample size). Others would wisely advise us to simply avoid the bear altogether by whistling, kicking rocks, and just plain being noisy as well as noticeable so that the individual and the bear might just not have this chance encounter to begin with.
Such advice would have been the obvious best choice for those investors who are both long and wrong the oil patch of late (hand raised). Hindsight is always 20/20. One day after WTI crude fell into bear market territory for the year, oil took another beating, falling recklessly through the $42.75 level that I had targeted. A tenth headline inventory draw in eleven weeks reported by the EIA did not offer support. The first draw in gasoline stocks in three weeks did not help.
The problems are many. Demand for gasoline across the country is lower this June than it was last June. This comes while inventory levels are the highest at this time of the year than they have been at any point since the end of World War Two. That goes back to 1945, for the historically challenged. We have talked often about the inability of the former cartel known as OPEC to impact market oil prices through the extension of their production cuts. What if those guys break? What if actual competition breaks out among OPEC's membership? Competition for market share? For revenue? Can this cartel then negatively impact the market?
What then does Russia do? Rosneft has already indicated a willingness to defend what it considers its turf. The only thing for OPEC and their friends to do at this point might just be to push market prices to the point where U.S. producers and others simply back off. For the Permian crowd, that price point might be pretty low. Nobody relishes that thought. Nobody except consumers, and eventually transportation companies. Transportation companies that view crude as overhead, not those that view it as cargo, mind you.
Survival
What to do, if it's you who are long the oil patch? You know that earnings estimates across the energy sector are going to have to be adjusted, as will estimates for the S&P 500 in general. That might not be too pretty. I am not about to go flat all of my energy positions at these levels, but I am certainly going to cut bait on what I consider my speculative longs on any rebound. Good bye to you. This group has prevented an otherwise great year from being just that. Discipline is what always differentiates. Discipline outranks ego. Every time. I will continue to write calls against my two best oil names, as I have been doing, just to soften the blow, and because I truly believe in those two. There is still some premium to be found there. Two fists, gang.
Macro
08:30 - Initial Jobless Claims (Weekly):Expecting 240,000, Last Week 237,000. This incredibly consistent series has printed in contraction in consecutive weeks, but has remained within its recent range. The four-week moving average is currently 243,000, and consensus view is for 237,000, with the range of expectations spanning from 235,000 to just 240,000. The futures markets will not likely move much in reaction to this print.
09:00 - FHFA HPI (April):Expecting 0.4%, March 0.6% m/m. Home prices have been an overall strength. Growth in this series is expected to slow somewhat in April. That said, this series does not impact financial markets greatly, as this is dated material. When markets do focus on home prices, they tend to focus on Case-Shiller, as the FHFA data is narrowly focused on single family homes with mortgages back by either Fannie Mae, or Freddie Mac. That series is due for April next Tuesday.
10:00 - Fed Speaker:Federal Reserve Gov. Jerome Powell will testify before the Senate Banking Committee on fostering economic growth from the perspective of the regulator. There will obviously be questions, and while this event is ongoing, one would think that the financials would be in some play.
10:00 - Leading Indicators (May):Expecting 0.4%, April 0.3% m/m. This "lagging indicator" of 10 macroeconomic data-points tends to have little impact on our marketplace, as all of the ingredients have already been priced in. This series, despite its name, tends not to lead any trader that I know into doing anything. Oddly, there tends to be a plethora of data scheduled for release today that all tend to punch well below their weight in terms of market impact.
10:30 - Natural Gas Inventories (Weekly):Expecting 70 billion, Last Week 78 billion cubic feet. Supplies of natural gas appear to be headed for their 12th consecutive weekly build. The underlying commodity, after having gone through an obviously awful spring, does seem to have founded support in the low $2.90s. I would think that a prolonged build in this space would put pressure on Natty Gas, which desperately needs to hang onto this level. Prices it the $2.50s are out there as downside risk.
11:00 - Kansas City Fed Manufacturing Index (June):May 8. We have already seen improving results from regional manufacturing surveys out of the New York district, as well as Philadelphia results that stayed rather strong. Of the five major regional surveys in this space, this one tends to pass the most quietly. Both Dallas and Richmond report early next week.
Sarge's Trading Levels
These are my levels to watch today for where I think that the S&P 500 and the Russell 2000 might either pause or turn.
SPX: 2448, 2441, 2436, 2430, 2421, 2411
RUT: 1419, 1411, 1404, 1398, 1390, 1385
Today's Earnings Highlights (Consensus EPS Expectations)
Before the Open: (ACN) - Get Report ($1.52), (BKS) - Get Report (-$0.23), (CCL) - Get Report ($0.467)
After the Close: (BBBY) - Get Report ($0.66), (SONC) ($0.41)
Read More Trending Articles on TheStreet:
Is Gilead Sciences on the Verge of a Powerful Rally?
'Walmart Rx' Takes Center Stage as Walgreens Rite Aid Saga Nears Long Overdue End
Visit here for the latest business headlines.
At the time of publication, Stephen Guilfoyle was long Amazon, although positions may change at any time.