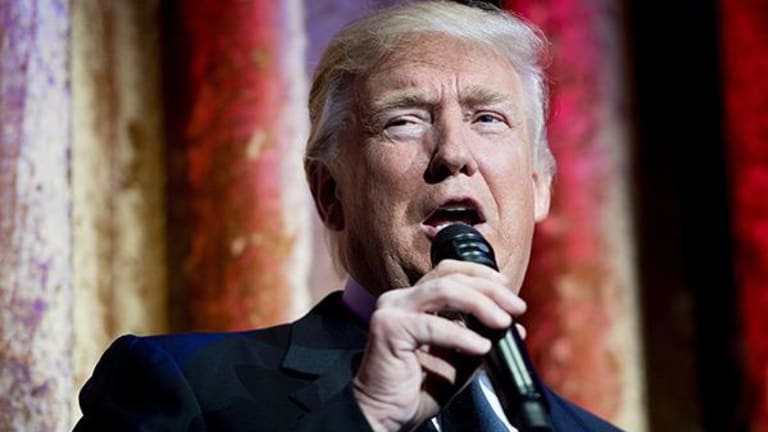 Market Recon: What to Expect From the Inauguration Speech
Will President Donald Trump disappoint, as he more or less did in his press conference last week?
"I am loath to close. We are not enemies, but friends. We must not be enemies. Though passion may have strained it must not break our bonds of affection." -- From Abraham Lincoln's inaugural address on March 4, 1861.
The President of the United States
The day is upon us. Today is the day that we drop the word "Elect" from Donald J. Trump's title, and he simply becomes the "President". While the election in November was clearly a game-changing market event from a strategic point of view, today's inaugural speech possibly becomes such an event, at least from a tactical perspective. Though the speech does not bind anyone to anything, I can't imagine the marketplace being focused on anything else around lunchtime today. Will the president lay out his growth-driven agenda? Will he clearly prioritize the goals of this administration? Will he disappoint, as he more or less did in his press conference last week?
What do I think? I don't think President Trump will focus this speech on those things that may take longer than desirable to tackle. That could mean items like lower taxes and fiscal spending may get less of a mention than many investors would like. What can be accomplished rather quickly is where I think he will go in what otherwise will likely be a glossy address. That means keeping an eye on the healthcare, financial and energy sectors in particular, as reducing regulation seems to be a priority, as does replacing the Affordable Care Act. We do know that what is said or not said today will lend the marketplace some direction going into the weekend.
British Stumble
Interestingly, U.K. retail sales fell off of a cliff for December on a month-over-month basis, and though up 4.9% on the yearly read, that number was also well below expectations. Core U.K. inflation has surprised to the upside for two consecutive months and for three of the last four. These twin developments will have to be watched very closely by traders who engage internationally. As the U.K. moves forward in its negotiations with the EU on to their ultimate divorce, a non-participating public starting to feel a squeeze at the household level could shake their collective resolve. Make that "will" shake their resolve. As "Brexit" drags on, public support will likely become an underlying concern. Traders who piled into British exporters such as Unilever (UN) - Get Free Report and Diageo (DEO) - Get Free Report on hopes for cheaper pound valuations are probably up on those trades, but now face increased volatility in currency markets and possibly lower domestic sales. A trailing stop on longs in that space might be prudent.
China's Situation
You know who else will be watching events in Washington today? The Chinese, that's who. Last night, China's Bureau of National Statistics reported a fourth-quarter bump in GDP up to 6.8%. This was the first uptick in growth for that economy since the second quarter of 2014 and came after "bottoming" for three quarters at 6.7%. That headline number, as always, could be somewhat fudgy and is heavily reliant upon both government debt and exports. By the way, Chinese data for December showed an upside surprise for retail sales and a miss on industrial production. More importantly, earlier in the week consumer price inflation showed evidence of starting to fade and the trade surplus came in well below expectations. That was both in yuan, and dollar terms.
This is part of the reason why the "globalist" President Xi showed up in Davos trying to protect his nation's outsized average tariffs. Although the Chinese government has been trying for some time to make its economy less reliant on exports, they are still a long way from where they would consider themselves comfortable. Anything the new U.S. President might say today (or sometime soon) regarding exchange rates, or US tariffs will reverberate over there. Count on it.
Macro
09:00 - Fed Speaker:Philadelphia Fed Pres. Patrick Harker will discuss his outlook for the US economy from Somerset, New Jersey. Harker, who is a voting member of the FOMC, said just last week that he sees three rate hikes coming in 2017. This is where it gets interesting, gang. In that same speech, Harker referred to the labor market as being "more or less at full health", yet he still expressed concern over "prime age males" dropping out of the workforce. Hmm, would seem some facts got in the way of the narrative. Oh, and just for giggles, Harker also said "confidence is strong, retail is solid". Retail is what ? Next.
13:00 - Baker Hughes Rig Count (weekly):Last Week total 659, oil 522. As market prices for WTI crude have largely gone sideways, or even slightly lower over the last few weeks, the U.S. rig count still kept climbing ... until last week. That's when we saw a minor contraction in the number of rigs in production. As I wrote yesterday, U.S. production, due to its high tech, highly efficient and low cost extraction methods, is becoming more and more of a player in this space. OPEC's overextended group hug may just play into the hands of those doing business from the Permian Basin of Texas, and New Mexico. That's why you've seen major players like ExxonMobil (XOM) - Get Free Report and Noble Energy (NBL) - Get Free Report recently purchase their way into a larger slice of this pie. This weekly item will become more and more important as 2017 develops.
13:00 - Fed Speaker:San Francisco Fed Pres. John Williams is set to speak (third time this week) yet again. This time, he will be actually be in San Francisco. Yesterday, Williams said "I and most of my colleagues, view today's uncertainty as kind of the same, broadly the same as what we've experienced throughout our careers." Really? That's a quote. I don't know about you, but I feel much, much better knowing that Williams and his colleagues view dealing with the uncertainty produced by an incoming administration that wants to lower corporate taxes, repatriate money from abroad, deregulate the financial industry, and implement a large fiscal stimulus package all while changing the rules for healthcare as more of the same. Wow, wonder where he got that kind of experience.
Sarge's Trading Levels
These are my levels to watch today for where I think that the S&P 500, and the Russell 2000 might either pause or turn.
SPX: 2282, 2273, 2265, 2259, 2253, 2245
RUT: 1358, 1352, 1346, 1340, 1331, 1327
Friday's Earnings Highlights
Before the Open: (GE) - Get Free Report ($0.46), (KSU) - Get Free Report ($1.19), (SLB) - Get Free Report ($0.27)
At the time of publication, Stephen Guilfoyle was long SLB, although positions may change at any time.