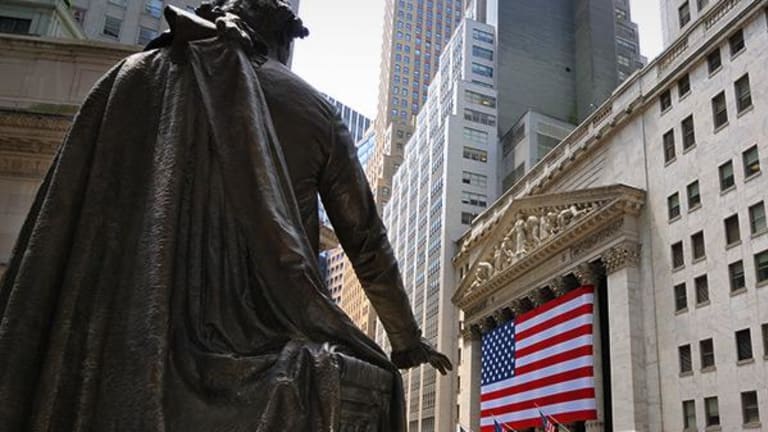 Market Recon: We're Drowning in Macro Today
There is almost no way to exaggerate the amount of macro on your plate today as a trader.
"I attribute much of my success in New York to my ability to understand and avoid unnecessary distractions." -- Derek Jeter.
I doubt that the Yankee legend was referring to Dow 20,000, but he might as well have been.
Just Enough Hands
Bang !! Phone rings. "What the ??"
Bang !! Second phone rings. "What was that? This was the spot, right?"
Thinking: Sure hope a third call doesn't come in.
One phone up against each ear. "Notebook says that was the spot guys, but the volume isn't there. See what the futures markets do overnight. Won't know how meaningful this is until morning."
"How far can this go?"
"The S&P, or the R2K?"
"The S&P, stupid. Sorry."
"There's help at 2260, but they retested 2267 from below right before the close. They will probably re-test once or twice more in the morning, if global markets stay put."
"Alright, thanks, man."
"No problem, glad I could help. I did help, right?"
"I don't know. My guy's calling"
What Gives?
Confusion? You bet. Ever try to move through the forest quietly, only to step on a twig or kick a rock? While half of the financial industry seemed to be out, and the other half at least pretending to watch Dow 20,000, there actually was something that could matter developing. Very late in yesterday's session, in light trading, the algorithms acted. You see, the algos, they know their levels, because they are written by folks who can read charts. Oh, and they don't care who's out, or who's paying attention.
Almost simultaneously, pressure materialized as the S&P 500 approached 2267 and the Russell 2000 approached 1377. That 2267 level is the same one that we told you to watch in Tuesday's Market Recon note. Both levels had acted as support over the last two sessions after presenting resistance earlier in the week. For this morning, retaking both of these levels is of far more importance to the short-term resumption of the "Trump Rally". At least, more important than some round number in a narrowly focused index.
Whole Lot of Data
There is almost no way to exaggerate the amount of macro on your plate today as a trader. Some of this stuff is the stuff of impact, too. There will be plenty of what probably turns out to be tertiary noise, at least as far as traders are concerned. There will also be some data of significance released. Chief among these will be the Core Capital Goods component of the Census Bureau's Durable Goods report, and the Core PCE price index that is brought to us by the Bureau of Economic Analysis. That Core Capital Goods number could be the difference as far as which side of those levels mentioned above markets open at. A shock in either of those two spots will move markets. It's also getting near time to watch Natural Gas inventories more closely. Never the headline event that Oil Inventories have been, Nat Gas is starting to get more focus over the last couple of weeks than we have seen in years.
Macro
08:30 - Initial Jobless Claims (Weekly):Expecting 256,000, Last Week 254,000. Possibly the most consistent data-point series in our world is heading for an incredible 94th consecutive weekly print below 300K today. The entire consensus range for this item spans just 10,000, from 250,000 to 260,000, and the likelihood that this release impacts the financial markets is almost nil.
08:30 - GDP (Q3 -f):Expecting 3.3%, Q3 -p 3.2% q/q SAAR. This will be our final look at the third quarter. We all know now that the quarter was supported by agricultural exports, personal consumption, gross domestic investment, and gross domestic income though disposable personal income cooled some. We do not see major revisions in this space today. Even if we do, given the fact that this information is three months old does take something off of the intensity of this print.
08:30 - Durable Goods Orders (November):Expecting -4.3%, October 4.8% m/m.
08:30 - Durable Goods Orders ex-Transportation (November):Expecting 0.2%, October 1.0% m/m.
08:30 - Durable Goods Orders ex-Defense (November): Expecting -0.1%, October 5.2% m/m.
08:30 - Core Capital Goods Orders (November):October -0.4% m/m. We know from the final update to October, released on Dec. 6, that the headline month-over-month increase will be revised down to 4.6%. That number, though strong, was heavily reliant on transportation orders, and we do not expect to see a repeat of that for November. In fact, we are looking for one giant step backwards for this print today. Last week's November Industrial Production numbers do not offer any encouragement. There is some hope for month-over-month growth ex-transportation, and futures traders could possibly take that as a positive.
09:00 - FHFA House Price Index (October):Expecting 0.4%, September 0.6% m/m. All of our pricing data points are quite dated when it comes to housing. This is the least closely watched item in the space, covering only single homes with mortgages backed by either Freddie Mac or Fannie Mae. Market participants will take a pass on reacting to this release today, and wait on October Case-Shiller which will hit the tape next Tuesday.
10:00 - Leading Indicators (November):Expecting 0.2%, October 0.1% m/m. It's back... the least focused upon. most unloved data-point in the macro-sphere. They'll release it, but honestly, will anyone know?
10:00 - Personal Income (November):Expecting 0.3%, October 0.6% m/m.
10:00 - Consumer Spending (November):Expecting 0.4%, October 0.3% m/m. After a terrible losing streak earlier in the year, Personal Income actually beat Consumer Spending in October, and has won that race in two of the last three months. I have long said that when spending runs ahead of income for long stretches of time, it means that people are struggling just to maintains their standard of living. The velocity of money is usually a good thing, just not always. This bit of catch-up for income can only help as the consumer will only resume his or her aggressive behavior one said consumer is comfortable. Did you see November Retail Sales? We're not there yet.
10:00 - PCE Price Index (November):Expecting 0.2% '' 1.4%, October 0.2% m/m '' 1.4% y/y.
10:00 - Core PCE Price Index (November):Expecting 0.1% '' 1.7%, October 0.1% m/m '' 1.7% y/y. Simply put, this may be the most important macro-economic release of the day. The Core year over year print is the one that the FOMC focuses on, and it's the one that the markets will react to. Last week, November CPI, the other measure of consumer level inflation, hit the tape precisely on expectations, leaving that Core year-over-year number at a growth rate of 2.1%. This implies an unchanged print in this space today.
10:30 - Natural Gas Inventories (Weekly):Expecting -160 billion, Last Week -147 billion cubic feet. The inventory draws seem to be getting larger and larger as Natural Gas prices have worked their way higher in December. Today should bring us a fifth consecutive reduction in supply.
11:00 - Kansas City Manufacturing Index (December):November 1. In November, all five major regional Federal Reserve districts that release manufacturing surveys actually printed in a headline state of expansion, even Dallas. That was the first time since December of 2014 that this happened. New York, and Philadelphia both beat to the upside this month, and Kansas City will try to make it three for three. KC just barely squeezed out a positive number last month, and should be close again this month. This is the least focused upon of the five, and will likely not move the marketplace.
Sarge's Cash Levels
SPX: 2279, 2273, 2267, 2260, 2254, 2248
RUT: 1392, 1383, 1377, 1369, 1364, 1356
Thursday's Earnings Highlights
Before the Open: CAG ($0.45), RAD ($0.05)
After the Close: CTAS ($1.15)
At the time of publication, Stephen Guilfoyle had no positions in the stocks mentioned.