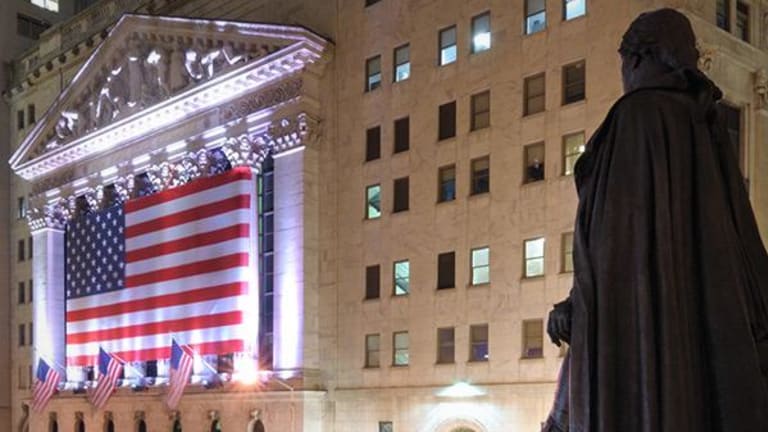 Market Recon: Watch Trading Volumes on This 'Quadruple Witch' Friday
Expect volumes, and volatility, to increase around the bells today, especially in health care and energy.
"The man who can drive himself further once the effort gets painful is the man who will win."
--Roger Bannister
The Land of the Rising Yield?
They call Japan "The Land of the Rising Sun." Maybe we should just call it "The Land of Rising Stock Prices," as the Nikkei 225 has seemingly landed at a higher level every day. What's going on? Well, there are a couple of forces at work here. First off, the yen is far weaker versus the U.S. dollar than it was prior to the U.S. election.
This morning, one U.S. dollar still buys you 118 Japanese yen, as it could yesterday. One month ago, that exchange rate could produce less than 109 yen. Many Japanese exporters, particularly the automakers, are going to be able to revise first-quarter profit forecasts sharply upward if the 115 level holds long-term.
Japanese banks have also been performing very well, as interest rates have seen positive movement ahead of (as well as coming out of) this week's U.S. Federal Open Market Committee rate hike. The yield on the Japanese 10-year has held above 0% for most of the week and even ticked at 0.1% today. Bank of Japan policy? Pay no attention to that man behind the curtain.
In separate unrelated news, we also learned last night that Chinese holdings of U.S. Treasuries dropped by a net $41.3 billion in October. Japanese holdings now (or at least as of Oct. 31) exceed those of Chinese accounts. Winner, winner, chicken dinner.
Semi-Spectacular
Anyone else watching the technology sector recently? Of course you are. The sector performed with the S&P 500 yesterday, but has easily outperformed the broader index over the week, as this sector continues to catch up to the crowd, post-election.
What's the strength within the sector? Yesterday, it was the semiconductors. Heck all year it's been the semis. The semiconductors -- as a stand alone sector, not dragged down by the other industries within the tech space -- are outperforming even the energy, and financial sectors this year.
Particularly hot of late have been such names as Advanced Micro Devices (AMD) - Get Report  and NVIDIA (NVDA) - Get Report , but Western Digital (WDC) - Get Report , Seagate Technology (STX) - Get Report , Micron Technology (MU) - Get Report  and Intel (INTC) - Get Report have all performed well. Jim Cramer explained on last night's Mad Money show the nature of the leapfrogging activity that we have seen in this space, among others. It is worth catching up on for someone looking for greater understanding of this phenomenon.
Trader Focus
Today is a "quadruple witch" expiration Friday. That may not mean all that much to the retail investor, but in the business, this means that trading volumes will increase dramatically around the bells. This will be particularly true as we approach, and go into the closing bell.
Because I am asked about this (by really smart people, pros even) every time it comes up, which is four times a year, here is the explanation. Quadruple witch expirations include stock options, index options, index futures, and single-stock futures. Many old-timers such myself still often call this day a "triple witch" expiration. That term actually became obsolete in 2002, with the creation of single-stock futures. With the sharp moves made in the health care space this week, and the round trip made by the energy group, I would think that those areas would be the ones that see the heaviest action, and highest volatility after 3 p.m. ET this afternoon.
Macro
08:30 -- Housing Starts (November):Expecting 1.22 million, October 1.32 million SAAR.
08:30 -- Building Permits (November):Expecting 1.24 million, October 1.26 million SAAR. Building Permits are nice, and obviously can be a leading indicator for Housing Starts, but Starts are where the rubber meets the road in this space. Starts actually mean that someone has spent money, and someone is working.
October brought this series what was easily it's strongest print of the year, just one month after the disappointment that was September. In fact, that seasonally adjusted, annualized rate (SAAR) of 1.32 million was the best number put up in this space since August of 2007. Nine long years. Today, we are looking for something of a slackening of that heady pace, but if the consensus view nails it, this will still be the second-best print in nine years. This release is highly focused upon, and will also impact, GDP expectations, so you can count on hearing fro the Atlanta Fed in a couple of hours.
12:30 - Fed Speaker:Richmond Fed President Jeffrey Lacker will speak from Charlotte, North Carolina on the outlook for the U.S. economy. Lacker has been an outspoken policy hawk for most of the year, and has stated his preference for getting out ahead of inflation. Atlanta will not cast an FOMC policy vote until 2018.
13:00 - Baker Hughes Rig Count (Weekly):Last Week total 624, oil 498. I would expect these numbers to keep climbing as long as crude prices are able to hold the $50 level, just maybe not to the degree that last week's sharp move higher brought us. That said, even with WTI trading in the high $40s, we were seeing gradual week to week increases in this space.
Sarge's Cash Levels
SPX: 2278, 2271, 2264, 2257, 2249, 2242
RUT: 1383, 1377, 1370, 1364, 1356, 1349
There are no quarterly earnings releases scheduled for today that have caught my fancy.
At the time of publication, Guilfoyle was long INTC, although positions may change at any time.