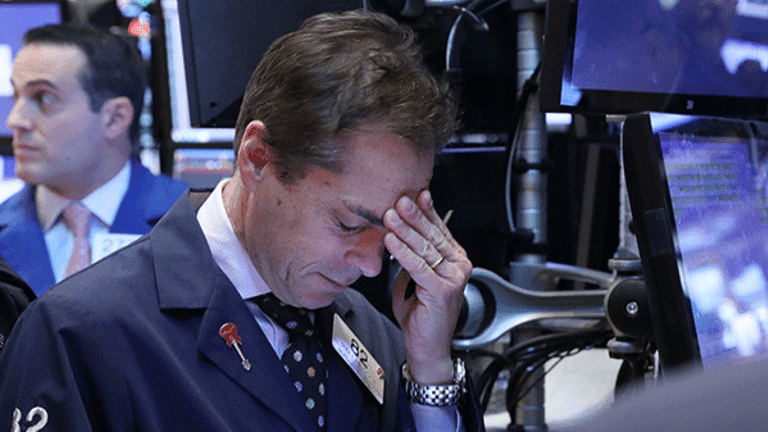 Market Recon: Watch Out for Consumer Discretionary Froth
If you are already long the space, you likely need some protection at this point.
"Every man has a wild beast within him." -- Frederick the Great
Household Products Gone Wild
You know what's been hot as heck lately? The market? Sure. Record after record. Almost boring. Not really. You can bang the drum, slowly, just keep banging it. This morning, I am talking about the Consumer Discretionary sector. The big swing and miss by the "Oracle of Omaha" has set the space on fire. In other words, the attempt by Action Alerts PLUS charity portfolio holding Kraft Heinz (KHC) - Get Kraft Heinz Company (KHC) Report at an expensive get-together with Anglo-Dutch consumer giant Unilever (UN) - Get Unilever NV ADR Report , (UL) - Get Unilever PLC Sponsored ADR Report has sent Unilever's personal products space contemporaries to the surface.
Do they all deserve this much oxygen? I don't know. Over the last five sessions, which will take us back past Unilever's rejection of Kraft, the Consumer Staples SPDR ETF (XLP) - Get Consumer Staples Select Sector SPDR Fund Report has scored a 1.55% gain. This measures well against a 0.6% upward move for the S&P 500, and tops all of the other sector SPDR ETF's with the exception of those that we identify as bond proxies.
The top performers within the XLP over that time? Kimberly Clark (KMB) - Get Kimberly-Clark Corporation (KMB) Report +8.4%, despite missing revenue projections back in late January, and showing no year-over-year growth. Colgate-Palmolive (CL) - Get Colgate-Palmolive Company Report +7.1%, despite also missing revenue projections in late January, and suffering a Citigroup rating cut shortly afterward. Clorox (CLX) - Get Clorox Company Report +5.8% ... OK, OK at least CLX did actually beat fourth-quarter EPS expectations, and did show year-over-year revenue growth. Are these names all in play? There is some obvious collateral pressure to consolidate, and you already know that "the Oracle" is looking to throw some money around. Still, if you are already long the space, you likely need some protection at this point. If you are not already in the space, I think the spec play is just going long a small program of puts expiring on March 17 across the three names.
Going out an additional month will get costly, and may be an unnecessary expense, but buying a minimal lot at the nearest downside increment? That's something that you could probably get done for about three bucks today, if you find this idea fanciful. Those not in the space can take a pass if such a strategy scares them a bit, your tolerance for risk is known only to you. Those long the space, however... Do you really think these all end up winning from here? May the odds be forever in your favor.
Runnin' the Bone
I like football. I really like option football, the kind run by the academies. The FOMC ran the option yesterday. The fullback hit the line. The quarterback slipped around the tackle. The halfback scampered downfield. Who had the ball? Janet Yellen's gang called the ultimate misdirection play in February, and that was evident in the Minutes released yesterday. The probability of a March hike as displayed by the CME's website did indeed spike to nearly 40% at one point, but then dropped to 17%, which is where it is this morning. That's lower than it was yesterday morning. The Minutes used the words "fairly soon" to describe FOMC intent on rates "if the risks of overshooting the Committee's maximum employment and inflation objectives increases". Markets saw this as somewhat dovish, despite the usually quiet Jerome Powell almost simultaneously openly joining the "three rate hikes in 2017" club from New York City.
The balance sheet? You all know that's been my pet peeve for quite some time now. Well, the Minutes do state that at some vague future meeting, there should be discussion on making changes to "the existing policy of re-investing proceeds from maturing Treasury securities, and principal payments from agency debt, and mortgage backed securities". Like the wishbone offense, they showed you something, but left you wondering where the ball was. Guess we have to be happy that they even realize that they have an oversized balance sheet that will ultimately have to be dealt with. Not the way I might have handled it, but yet again, I have not been asked for advice on these matters. Janet, Stanley ... I do answer e-mails.
The Dog Days
We already know that Treasury Secretary Steve Mnuchin has seemed supportive of a stronger U.S. dollar, while not really taking on the president's apparent leanings toward a weaker dollar policy. We all know that everyone involved is trying to get the potential for U.S. economic growth to levels not seen since before the "Great Recession", and that the developing tax plan is the most aggressive part of any agenda meant to get us there. That tax plan will probably have a component or two that not everyone will like, and for procedural purposes, health care reform must come first. Mnuchin mentioned yesterday that having that tax plan on the table by August is one of his goals. Now, I have been thinking August even mentioning that month in interviews. I know that Washington moves slowly. As a private sector practitioner, I usually discount anything said in our nation's capital. Mnuchin comes from the private sector as well. Does that make August a realistic projection, or should we indeed subject this timetable to the usual discounting? If tax reform slips into 2018, this presents enormous political risk to market values, in my opinion. Even the temporary perception could leave a mark. This is one dream we need to keep alive.
Macro
08:30 - Initial Jobless Claims (Weekly):Expecting 242,000, Last Week 239,000. We'll start the day off with a couple of numbers that have fallen by the macro wayside. None more so than the weekly print for first time unemployment benefits. In this economy, due to low participation and an overly high percentage of the labor force having been reduced to part-time status, firms don't cut overhead by reducing headcount as much as they do by cutting hours. This item has lost the ability to surprise. Now, with the economy truly showing some signs of strength, this number has a chance to remain low, but for a much better reason.
08:35 - Fed Speaker:Atlanta Fed Pres. Dennis Lockhart will speak retrospectively on his 10 years as the honcho in Atlanta. Lockhart is retiring in a matter of days, and this speech should have little bearing on today's markets. Then again, Lockhart has always been outspoken.
09:00 - FHFA HPI (December):Expecting 0.4%, November 0.5% m/m. The home price index that traders actually do watch is due next Tuesday, that being Case-Shiller. This item is far less focused upon due to its much narrower scope. The FHFA number only tallies data from single-family homes with mortgages backed by either Feddie Mac, or Fannie Mae.
10:30 - Natural Gas Inventories (Weekly):Expecting -100 billion, Last Week -114 billion cubic feet. This series seems headed for its 14th consecutive weekly draw on supplies, despite the warm weather. The size of this week's draw is really anybody's guess, as I have seen projections everywhere from -80 billion cf to -125 billion cf. Unfortunately for the Nat Gas crowd, the only dropping faster than inventory is demand.
11:00 - Oil Inventories (Weekly):API -884,000 , Last Week +9.5 million barrels.
11:00 - Gasoline Inventories (Weekly):API -893,000, Last Week +2.8 million barrels. The American Petroleum Institution reported a headline Crude inventories draw of -884,000, while expectation had been for a 3.0-million-barrel build. Gasoline came in close enough to expectations. Crude prices, which had obviously had a rough day on Wednesday, responded well to this data, early in the overnight session; still knocking on that $54 door, which only gives us a little less than a dollar until we hit the next one.
11:00 - Kansas City Fed Manufacturing Index (February):Jan. 9. Kansas City already has a nice run of its own going in the manufacturing space. New York, and Philadelphia have already put up very strong data this month, including good numbers in the right spots. A show of expansion here today would be the sixth in a row for KC. The Dallas, and Richmond districts both report their manufacturing surveys next week.
13;00 - Fed Speaker:Dallas Fed Pres. Robert Kaplan is set to speak from Ft. Worth, Texas. Kaplan is a voting member of the FOMC this year. He has already made abundantly clear his view that the next hike for the fed funds rate should take place "sooner rather than later", if the Fed is going to be able to continue normalizing gradually. Both the media, and the audience will be welcome to ask questions at the conclusion of this event.
Sarge's Trading Levels
These are my levels to watch today for where I think that the S&P 500, and the Russell 2000 might either pause or turn.
SPX: 2389, 2377, 2365, 2358, 2351, 2344
RUT: 1419, 1411, 1405, 1397, 1392, 1387
Thursday's Earnings Highlights (Consensus EPS Expectations)
Before the Open: (APA) - Get Apache Corporation Report ($0.05), (CHK) - Get Chesapeake Energy Corporation Report ($0.06), (CCE) ($0.42), (HRL) - Get Hormel Foods Corporation (HRL) Report ($0.45), (KSS) - Get Kohl's Corporation (KSS) Report ($1.33), (SHLD) (-$3.00), (TTC) - Get Toro Company Report ($0.36), (VC) - Get Visteon Corporation Report ($1.31)
After the Close: (BGS) - Get B&G Foods, Inc. Report ($0.40), (GPS) - Get Gap, Inc. (GPS) Report ($0.45), (HLF) - Get Herbalife Nutrition Ltd. Report ($0.97), (HPE) - Get Hewlett Packard Enterprise Co. (HPE) Report ($0.44), (JWN) - Get Nordstrom, Inc. (JWN) Report ($1.17), ZOES (-$0.06)
At the time of publication, Stephen Guilfoyle was long KSS, HPE, although positions may change at any time.