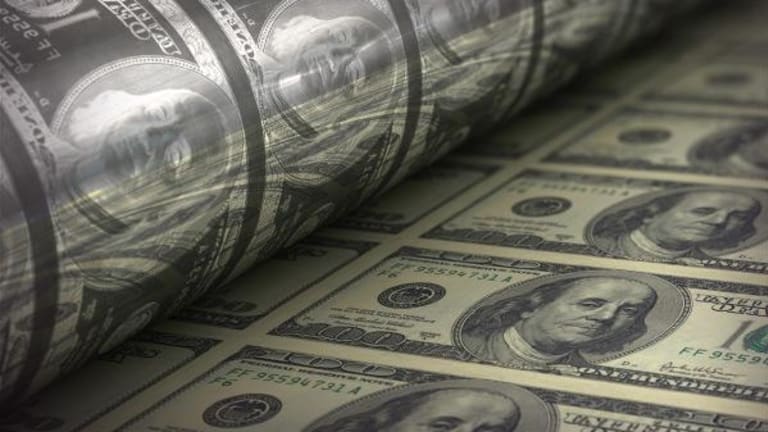 Market Recon: U.S. Dollar and Treasury Yields Are Still the Biggest Sources of Risk
But you are also going to have to pay attention to the Federal Reserve and OPEC this week.
"The dogs with the loudest bark are the ones that are most afraid." -- Norman Reedus
The Lay of the Land
A new week dawns. Last week, evident of a change in volatility, cages were rattled. Some harder than others. Nightly leaks exacerbated political risk to the marketplace -- a threat that so many of us had referred to so often. Still, even those fears that did come to a head on Wednesday had clearly calloused over by Friday. So now, with a less nervous but still cautious footing, we must survey the land we stand on. We must, while acknowledging persistent headline risk, understand what presents the greater risk to our immediate front as investors.
The way I see it, the two primary sources of market risk will continue to be U.S. dollar valuations and Treasury yields. Any escalation of investigations into the administration of the sitting president should put unwanted pressure on these markets, but you are also going to have to pay attention to the Federal Reserve and OPEC this week. The Minutes of the FOMC meeting held earlier this month will be released this Wednesday, in the center of a week in which you will be pounded with relentless Fed speak.
Like a pack of wild dogs following the scent of hunted prey, (or a specific agenda), at least five public appearances are scheduled for today, and at least 12 are scheduled for the week. The CME website is currently displaying fed funds futures that are pricing in a 78% probability of a June rate this morning. However, those probabilities were all over the map last week. It would not seem far-fetched to see an attempt by the group to keep markets on mission -- their mission, as far as expectations for monetary policy are concerned.
The Pack
Let's look at that. Just where will these wild dogs head this week? It seems likely to me that they'll continue to talk up the expected June rate hike. There is an outlier, though. Minneapolis Fed Pres. Neel Kashkari has been dovish and has dissented against the den mother on tightening policy. He'll speak twice today. He'll also speak tomorrow and Wednesday. This individual is the wild card. With no assurance that he'll toe the line, the possibility exists that Kashkari will turn solid ground into quicksand for market participants. Keep in mind, if you're long, you're probably rooting for the financials, which in turn, means rooting for higher rates.
The Minutes this Wednesday will also be combed over for any mention of balance sheet management. When and how will the central bank withdraw from the policy of reinvesting the proceeds of maturing securities? The debate there is really going to be the size of the balance sheet when the Fed feels that they are comfortable enough to leave the portfolio alone for a while. This will be in focus even before actual management begins. Both New York Fed Pres. William Dudley and San Francisco Fed Pres. John Williams have indicated in recent weeks that the balance sheet will not likely return to its pre-crisis size. At least not in any timeline likely to be covered by current planning.
Vienna Dreaming
Speaking of elevated expectations, there is this certain shindig being held in Vienna this Thursday by the OPEC cartel and their pals. Last week, Russia and Saudi Arabia made a joint statement that put a bid under crude prices as the week evolved. Yesterday, while the U.S. president was visiting Saudi Arabia, the Saudi energy minister, Khalid al-Falih was at it again, speaking to the enthusiasm of oil producers to extend those production cuts for another nine months.
For those trying to keep track of all of this at home, last year the 13 members of OPEC and 11 non-OPEC put together a deal that cut production by 1.8 million barrels a day. That deal, on which there appears to have been very little cheating, expires this June. At least seven of OPEC's 13 members have made public statements supporting such an extension. Bear in mind that the energy sector performed very well late in the week and was the only sector within the S&P 500 that could be classified as non-defensive in nature that also finished in the green for the week.
This makes the group trade-able this week. My concern would be a "sell the news" event upon completion of this meeting in Vienna. Inventories remain elevated and U.S. shale production is not going away. Yes, these 24 nations can eventually impact supplies and pricing over time. There is just a chance that markets get ahead of reality here. This group may have to remain untied for longer than any of them had ever bargained for.
If It's Not One Thing...
As "earnings season" winds down to a trickle this week, it remains obvious that U.S. corporations had a solid quarter. Earnings growth remains up 14% or so, on a year-over-year basis, and this is after most retailers have gone to the tape with their numbers. Market-wide, it would appear that a rough 73% of corporations have exceeded first-quarter EPS expectations, while revenues ramped up 7.4% vs. expectations of 7.1%. Revenue is what's truly important. Now that there really are too few corporations left unreported to completely screw up the first-quarter narrative, the focus for equities will turn elsewhere.
Just where? My thought would be the continued underperformance of the small caps and the transports. This is glaring, and has become almost impossible to miss when analyzing markets. Last week, the S&P 500 lost some ground -0.4%. For the Russell 2000, it was worse, -1.1%, and the Dow Transports at -1.4% was even worse. Go out 30 days, and S&P 500 has seen a 1.4% gain. That's nice, but the fun stops there. The Russell 2000 (-0.9%) and the DJTA (-2.8%) are doing the "ugly". Yes, you can go back to start of the year. The results do not change. The gap in performance is only exacerbated by the extension of time.
This divergence in performance is as much an investor survey on policy as anything else. The lack of faith in passing tax reform legislation and a softer U.S. dollar weigh heavily on most small-cap firms. Small-caps as a group are over-taxed relative to larger firms. They also conduct most of their business domestically, so the boost that the weaker dollar affords a multinational firm just is not there for them as a group.
The under-performance of the Transports is really a statement on expectations for growth. That's scary. It's also considered, by fundamental analysts, to be the harbinger of future performance by the Industrials as a group. This does not negate strong first-quarter performance, but it is one more avenue of attack that you will have to guard your portfolio against.
Release The Hounds
10:00 - Fed Speaker:Minneapolis Fed Pres. Neel Kashkari will speak on economic growth from Minneapolis, Minnesota. Kashkari does vote on policy this year. He has become perhaps the most dovish member of the committee, just last week remarking on his opposition to using interest rate hikes in order to fight bubbles in asset prices.
10:00 - Fed Speaker:Philadelphia Fed Pres. Patrick Harker, who is a voting member of the FOMC, will speak this morning from Philadelphia. The topic looks to be the impact of economic well-being on overall well-being. Harker has held steadfast on his position that two more rate hikes are appropriate this year.
18:45 - Fed Speaker:Minneapolis Fed Pres. Neel Kashkari speaks for the second time today, again on growth. This time, the media will be invited to participate. This is where Kashkari's inherent caution will likely be visible. Fortunately, this address comes well after US markets are closed for the day.
19:00 - Fed Speaker:Federal Reserve Gov. Lael Brainard, who as a member of the Federal Reserve Board of Governors holds a permanent voting slot at the FOMC. She will also speak from Minneapolis. Brainard was known as a staunch dove, perhaps the most dovish member of the committee until January.
21:10 - Fed Speaker:Chicago Fed Pres. Charles Evans, another voting member of the FOMC, will speak tonight from Shanghai, China, at a forum on policy and practice. The focus is expected to be over-the-counter derivative products, so I don't know how much of an opportunity Evans will get to opine on policy.
Sarge's Trading Levels
These are my levels to watch today for where I think that the S&P 500, and the Russell 2000 might either pause or turn.
SPX: 2405, 2396, 2388, 2378, 2368, 2357
RUT: 1386, 1380, 1374, 1366, 1357, 1351
Today's Earnings Highlights (Consensus EPS Expectations)
Before the Open: (CMCM) ($0.22), (BAH) ($0.43)
After the Close: (A) ($0.48)

Read more of TheStreet's top stories:
We Quickly Learned Why Ford's New Truck Named After a Killer Dinosaur Is a Beast
Cisco Could Be Looking to Acquisitions to Help Solve Its Biggest Challenge
At the time of publication, Stephen Guilfoyle had no positions in the stocks mentioned.