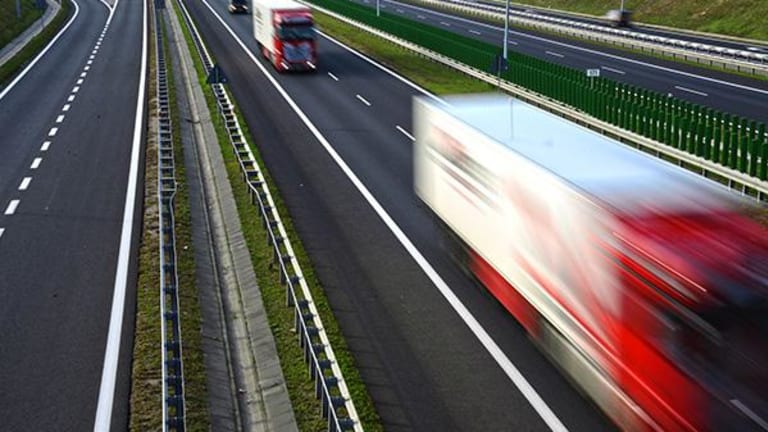 The Trump Tax Plan Will Make These 15 Stocks Huge Winners: Market Recon
The Trump Trade is back. Here are some stocks that stand to win big-time.
"If you don't believe in winning, you don't believe in free enterprise, capitalism, our way of life."
--Football Coach Tom Landry
Party On, Dudes
Like kids in a candy store, traders and investors alike are going over and over the GOP's proposed new tax plan. One, we are all trying to figure out where the bodies lie -- and where the bodies are going. Two, we still have to figure out just how likely the passage of such a plan really is. How much of said plan may we start pricing in? Already started on that one, haven't you?
This will be difficult. Obviously, the plan will still evolve as it makes it's way toward, and ultimately through, our legislative bodies. (Oh, yeah... those guys) Obviously, there will be problems when reaching the debate stage where even Republican lawmakers from high-tax, high-benefit states that are used to federally subsidizing benefits through the deductability of state and local taxes are forced into opposition.
That is not to say that this just-released framework is a non-starter. Most professionals are giving this tax plan proposal a rough one-in-three chance of surviving through the process either in tact or close enough to the way the outline now stands. While equity markets worked their way higher yesterday, certain sectors that would see greater benefit really excelled, while in other places, such as those sectors known as the bond-proxies (utilities, real estate, staples), the "ugly stick" made an appearance.
The violent moves higher for both U.S. dollar valuations and Treasury yields, on top of Janet Yellen's bizarre openness regarding her bewilderment on the development of current economic trends, illustrate for us the fact that getting something done this year had not been taken seriously, and now it must be. Trump Trade, anyone?
Setting Up The Winners
Wow. I think that you just have to look at yesterday's sector performance to see who the obvious winners might be. We will dig deeper, but I have been telling you all along that domestically based firms would benefit most from a reduction in the corporate tax rate. As this proposal states, the idea is to get that rate from its current level of 35% down to 20%.
Who is currently stuck with a net effective rate close to that 35%? The small-caps are obvious. The Russell 2000 ramped up close to 2% in yesterday's trade, easily outperforming all of the other major indices, as well as each and every sector. So far this month, the Russell 2000 has "popped" to the tune of 7.5%, while the S&P 500 has picked up a "mere" 2.5% in value. (ETF ideas: iShares Russell 2000 ETF (IWM) - Get iShares Russell 2000 ETF Report , Vanguard Russell 2000 ETF (VTWO) - Get Vanguard Russell 2000 ETF Report , SPDR Russell 2000 ETF  (TWOK) )
The benefit will still be broad though, even for those not purely domestic in nature -- just less so. Among sectors, energy corporations are considered high tax payers, while tech stocks and health care names pay very low effective tax rates. The energy sector, riding on recent support for WTI and Brent Crude oil prices, has rocketed to month-over-month gains approaching 9%. That has happened while the health care sector has posted more pedestrian gains for the month as well as losses for the week.
The feeling on Wall Street has long been that for every one percentage point cut in the headline corporate tax rate, a rough dollar could be added to expectations for S&P 500 2018 earnings expectations. Expectations for next year at this time seem to be running from $130 to $145. Now, in very simplistic terms, add 15 clams to the expectation -- and suddenly you are talking about $145 to $160 fully priced in.
In a purely fundamental world, taking nothing else into consideration, you would then have to add somewhere between 9.5% to 11.5% to the S&P 500 just to "price in" a 20% headline corporate tax rate. The S&P 500 went out last night at 2507. Simplistically, this puts the index above 2750 sometime next year, in a world where all other conditions remain constant. Yeah. Party on, dudes.
Meanwhile on Trump....
Factors
On top of the wonderfully lower headline corporate tax rate, there are other tidbits of information here that might make mouths water in anticipation. The "in your face" items would be the abandonment of the border adjustment tax, with no mention of a value added tax (oh, thank goodness), and a one-time repatriation tax -- which is why I think you can't go out and get rid of your longs in Apple (AAPL) - Get Apple Inc. Report , Microsoft (MSFT) - Get Microsoft Corporation Report , Oracle (ORCL) - Get Oracle Corporation Report , Cisco Systems (CSCO) - Get Cisco Systems, Inc. Report , Alphabet (GOOGL) - Get Alphabet Inc. Class A Report . Talk about a life raft for tech! Oh, and yes, like the guy with the hockey mask that can't be killed -- even GE (GE) - Get General Electric Company Report .
There is another interesting item that's getting a little less media fanfare than a lot of these other highly focused-upon items. That would be the move to permit businesses to expense (write off) immediately all new depreciable investments except for buildings for at least five years. Too complex? Not really. Right now they expense those investment over time. Action Alerts PLUS holds AAPL, GE, GOOGL and LUV in the portfolio)
Do you see what this one item can do for the economy? Shazam! Think United Rentals (URI) - Get United Rentals, Inc. Report , think Waste Management (WM) - Get Waste Management, Inc. Report . Heck, think about almost any business that has to purchase a lot of anything. The list is endless. Planes, trains, automobiles, computers, construction equipment, manufacturers, defense contractors... the list is endless. Picking out firms that would see immediate benefit from something like this would be like throwing a dart at a wall. You're going to hit something. 
This lowers the cost of capital and encourages both investment as well as productivity. From a macro perspective, this one item could do more for economic growth (including wage growth and maybe even consumer level inflation) than anything the FOMC has tried. Think about what this does for the transports. This pops commerce. As commerce pops, so pop the railroads, delivery services and business travel. So who benefits more than businesses that move the economy, and need to buy fleets of vehicles and equipment to do it? Delta Air Lines (DAL) - Get Delta Air Lines, Inc. Report , Southwest Airlines (LUV) - Get Southwest Airlines Co. Report , CSX Corp (CSX) - Get CSX Corporation Report , Norfolk Southern Corp (NSC) - Get Norfolk Southern Corporation Report , Kansas City Southern (KSU) - Get Kansas City Southern Report , Kirby Corp (KEX) - Get Kirby Corporation Report , FedEx Corp (FDX) - Get FedEx Corporation Report , United Parcel Service Inc (UPS) - Get United Parcel Service, Inc. Class B Report , and it just keeps going. Some goods are going to roll, baby.
Tempered Enthusiasm
My friends, as I said, this tax plan is  only given a one-in-three chance of survival, so you can't bet the farm just yet. There are some negatives. Those will cause debate in congress and slow things down a bit. The proposal would limit interest rate deductions for businesses as a way to partially pay for the immediate expensing of capital goods. Firms with no short-term plans for business purchasing will fight this.
As I said earlier, the repeal of state and local tax deductions will be a big deal, depending on your location. The idea that the fat states will have to get skinny will not go down easy. My thinking is this: I am excited by the possibilities. I also know that as the plans evolve, it becomes more complex, which will perhaps reduce the potential for positive impact.
That said, I'll be exploring office space in Florida, Texas, and Tennessee, should I decide that living in a "fat" state just ain't worth it.
Dunkin' Brands (DNKN) - Get Dunkin' Brands Group, Inc. Report CEO sits down with TheStreet.
Macro
08:30 - GDP (Q2-f): Expecting 3.0%, Revised 3.0%, Q1 1.2% q/q SAAR. Last month's revision to second-quarter data surprised all when it printed as high as it did. The strength came from an upward revision to Consumer Spending, as well as a healthy print for non-residential investment. I see other economists out there as high as 3.2% for this one, today. I'll be happy just to book the 3% we showed up with. By the way, Q3 is tracking at 2.1% according to the Atlanta Fed. We should hear from them again tomorrow, after August income and Outlays hit the tape.
08:30 - Initial Jobless Claims (Weekly): Expecting 272K, Last Week 259K. Jobless Claims have been running well below recent expectations in the wake of the spate of natural disasters that hit different parts of our country. Though some of that might be due to under-reporting, this is still a very encouraging sign. Incredibly, this series has still not broken above 300K, after that close call (298K) thee weeks ago.
08:30 - Goods Trade Balance (August): Expecting $-65.2B, July $-65.1B.Though this item greatly impacts GDP expectations, Atlanta will not respond to the trade balance until the mosaic is complete and services are added to this number. That grand moment arrives one week from today. These numbers tend to not impact the marketplace upon release.
08:30 - Wholesale Inventories (August-adv): Expecting 0.4%, July 0.6% m/m. This item ends up being well-developed. It's that important. That said, this advance reading can be greatly revised as the Census Bureau fine tunes the data. This particular number will be revised on Friday, Oct. 6. It is then combined with Retail Inventories and Manufacturing Inventories in what is referred to as Business Inventories. That headline release is set for Friday, Oct. 13.
09:45 - Fed Speaker: Kansas City Fed Pres. Esther George is set to speak on the economy, and on monetary policy, from Kansas City. George is thought of as one of the most hawkish personalities at the central bank. No word on Q&A. Kansas City does not vote on policy again until 2019.
10:15 - Fed Speaker: Federal Reserve Vice Chair Stanley Fischer is expected to speak on independence in central banking from London, England. Fischer is expected to retire in just a few weeks as both Vice Chair and as Governor. That takes him out of the December discussion. He will take questions from the audience at this event.
10:30 - Natural Gas Inventories (Weekly): Expecting 56B, Last Week 97B cubic feet. U.S. dollar valuations got tough this week, and Natty Gas has manged to hang on to $3 support by a thread. Expectations are for this series to go to the tape for a 26th consecutive weekly build in this space. You thought oil had it's problems.
11:00 - Kansas City Fed Manufacturing Index (September): August 16. Kansas City looks to complete the sweep today, after New York, Philadelphia, Richmond and Dallas all turned in strong performances in their manufacturing surveys for the month of September. This may not be as closely followed as, say Philly, or Richmond, but is considered on of the five majors.
Sarge's Trading Levels
These are my levels to watch today for where I think that the S&P 500, and the Russell 2000 might either pause or turn.
SPX: 2537, 2524, 2512, 2505, 2497, 2489
RUT: 1498, 1491, 1484, 1477, 1470, 1463
Today's Earnings Highlights (Consensus EPS Expectations)
Before the Open: ACN (1.46), BBRY (0.00), CAG (0.40), MKC (1.06), RAD (-0.01), MTN (-1.85)
After the Close: KBH (0.47)
Get Morning Recon delivered directly to your inbox each market day. Click here to sign up for e-mail delivery of Stephen "Sarge" Guilfoyle's Morning Recon, Jim Cramer's Daily Booyah! or other great free newsletters from TheStreet.
More of What's Trending on TheStreet:
At the time of publication, Guilfoyle was long AAPL, ORCL, GOOGL, GE, URI and LUV, although positions may change at any time.